Alumni create Women in Technology scholarship 
  Friday, November 22, 2019 2:00 PM
  News, Alumni, Giving Back, People and Society
Pittsburg, KS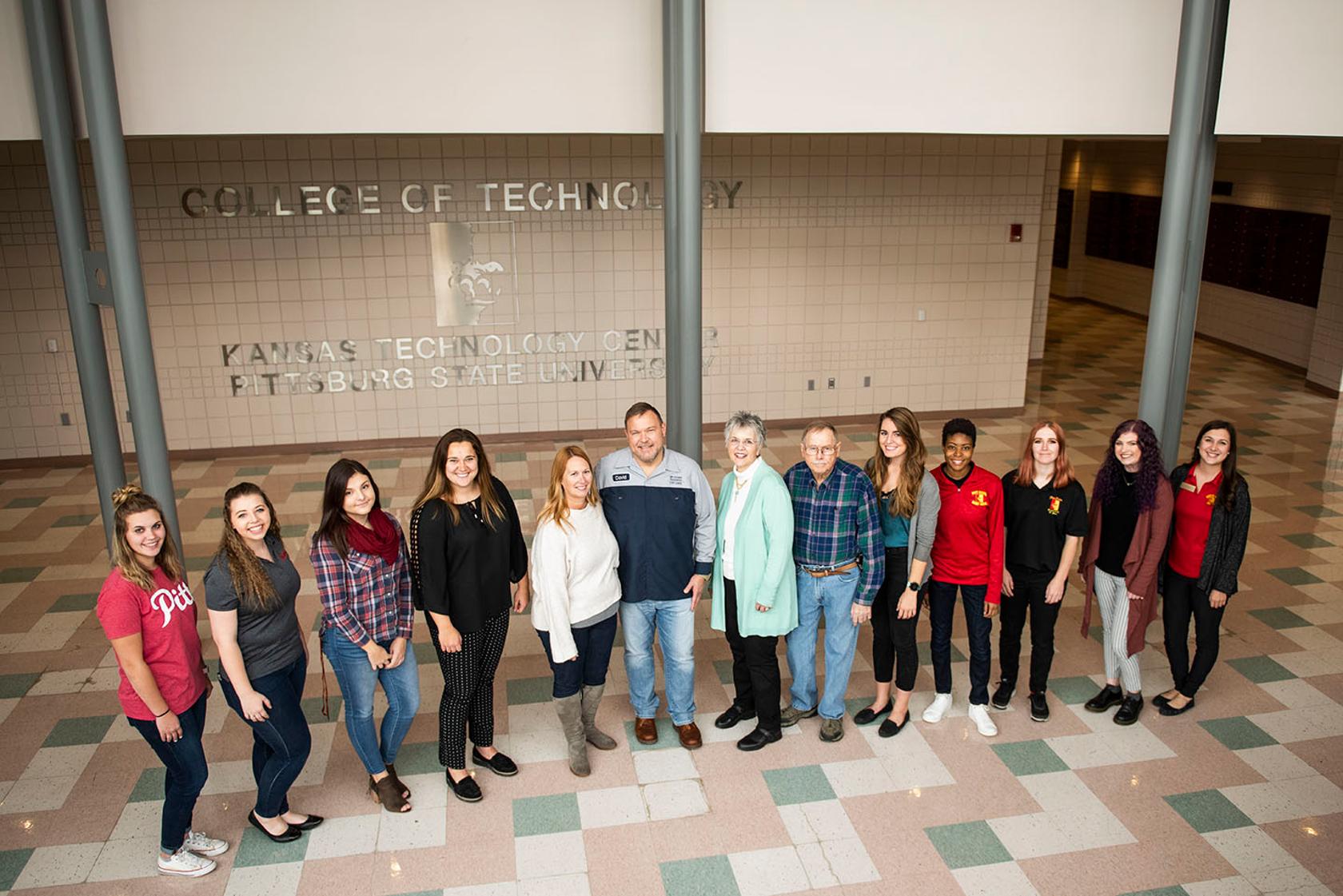 A couple who met as students at PSU and credit it with their success have created an endowed Women in Technology Scholarship to honor two female family members. 
"It means so much to both Dave and I to be able to invest in the future of PSU students and at the same time honor my mother and my husband's grandmother — both leaders in their families and profoundly independent women for their time," said Susan VandeLinde, who with her husband, Dave, came to campus this week to tour the Kansas Technology Center and meet with female students from several departments in the College of Technology.  
"We also owe much gratitude towards PSU for the success and adventures we have had in our 30 years of life together."  
Dave, now director of service and parts operations for Hyundai Motor America in Fountain Valley, California, earned his bachelor's degree in Automotive Technology from PSU in 1989. Susan attended PSU from 1987-89, then moved with Dave to begin his career in New York City. Today, the couple lives in Irvine, California. 
 Jean Cruce, Dave's grandmother, was born in Rose, Kansas, in 1926, and after working as a school lunch lady and in the catalog department at Sears Roebuck for many years, she began a new career with the Kansas Resource Center for Independent Living, and was instrumental in starting the Heartland Share Food Network out of the Resource Center. In her mid-70s, she became tech-savvy, Susan said, quickly mastering texting when it became available in the early 2000s.  
"And as the matriarch of her family, which meant the world to her, she was the first in the family to create a Facebook account," Susan said. "She loved modern technology!" 
Cruce, who died in 2015, helped Dave land his first job in the automotive industry at the Sears Tire Center in Overland Park, Kansas. 
"I credit much of my success to her encouragement," he said. 
Lois (Grotheer) Hosier, who died on Aug. 9, was born in Pittsburg in 1938. As a teenager, she got her foray into technology as a phone operator at Southwestern Bell just as phone numbers were changing from four digits to seven. 
She met her husband, Bob, at the Pittsburg icon, the White Grill Drive-In, and married in 1962. Lois was on duty as an operator the day that President John F. Kennedy was assassinated. 
In the '70s and '80s, her industry was quickly evolving and expanding, and Lois learned computing skills, how to read electrical blueprints, and many other aspects of telecommunications at a rapid pace. Throughout her career, she worked underground in manholes, in equipment sheds throughout the area, and translated blueprints to teams laying the underground wiring. 
"She was one of a handful of female pioneers in her trade during the time," Susan said. "I love the fact that there are so many female students in the College of Technology today. I think my mom would be ecstatic to see all of them." 
One, Navit Hill, was one of several female students who gave the couple a tour and said she's grateful to those like the VandeLindes who contribute to scholarships. 
"Scholarships are really important to me being here," said Hill, a senior in Automotive Technology who came to PSU from Carollton, Georgia. She has worked full-time while in college, took out student loans, and filled the gaps with scholarships. 
"Receiving scholarships made a big difference because it took so much stress away from me," said Hill. "I don't think I would have been able to do what I did otherwise." 
College of Technology Dean Robert Frisbee said that in recent years, he's seen more demand by industry to hire female graduates, and that scholarships are vital to the college's recruitment efforts to attract more female students to fill that need. 
"It's very special to have alumni come back to support the college, and clearly their gift will have a far-reaching impact," he said.