Students marvel over chance to sit on panel with Condoleezza Rice
  Friday, October 11, 2019 9:00 AM
  News, Milestones, People and Society
Pittsburg, KS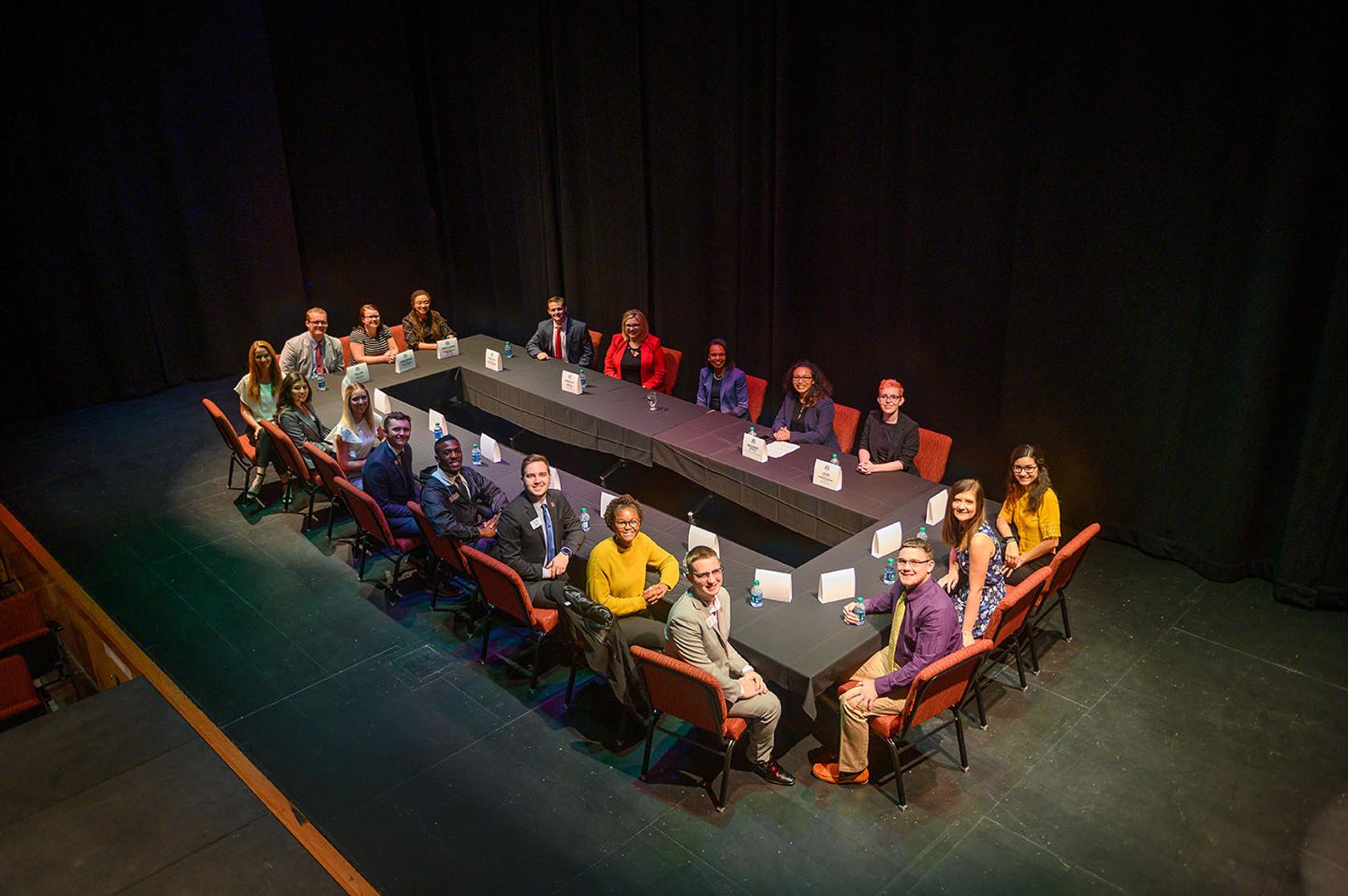 Samantha Rodriguez, a construction management major from Texas, is still marveling over where she wound up the afternoon of the 66th Secretary of State Condoleezza Rice's visit to Pittsburg State University. 
So are 16 other students, all of whom were chosen for what they each agree was a once-in-a-lifetime experience: the opportunity to sit around a table with Rice and have a conversation with her.  
The students represented a diverse cross section of degree programs, including political science, mathematics, nursing, psychology, biology, hospitality management, communications, and early childhood, and were chosen as representatives of their student organizations. 
"When my mom heard Secretary Rice was going to speak here at Pitt State, she told me to be sure to go hear her," Rodriguez said.  
Before Rodriguez had even picked up a ticket, she received a call from the Campus Activities Center; she was being invited to sit on a student panel with Rice, the third speaker in the H. Lee Scott Speaker Series: An Examination of American Life. 
Prior to her public address to an audience of more than 1,000 in the Linda & Lee Scott Performance Hall — named for the couple who established the speaker series — Rice met for an hour with the students in the nearby Dotty and Bill Miller Theater. 
Rodriguez moderated the panel of her fellow students, sitting just to the left of Rice.  
"It was the chance of a lifetime," Rodriguez said. "I was nervous and excited, but I think she put us all at ease because she seemed to really care about our questions and perspectives." 
Among the student panelists: Kali Chatmon, a political science major from Kansas City, Kansas; and former president of the Black Student Association. 
"It was an amazing opportunity," Chatmon said. "Coming to a small-town school, you don't expect that. But coming here to PSU has broadened my horizons in so many ways with experiences I wouldn't have had otherwise."  
Those experiences include sitting in on previous panels with notable historic and famous figures —  former presidential nominee Gov. Mitt Romney, former White House Chief of Staff Tina Tchen, and television journalist Soledad O'Brien.  
Chatmon dreams of running for office one day and said she found Rice's visit to campus "inspirational." 
"My passion is advocating for people who look like me, and to have someone of her authority seated across from me giving insight is incredible," Chatmon said. 
Sumner Mackey, a political science major from Springdale, Arkansas, wants to go to law school and eventually seek a government position in Washington, D.C. 
"It means a lot — the opportunity to have had a conversation with someone who has had such a high-level position," said Mackey, who is active in Student Government Association and Gorilla Activities Board. "It's awe-inspiring." 
D'Andre Phillips, a junior math education major from Topeka, Kansas, is a member of ROTC and  president of the Black Student Association, said "to be able to sit across the table from someone who looks like you, and who has achieved such an honorable position, and be able to ask her, 'What can I do to impact and influence others?'" was an amazing opportunity. 
James Cox, a senior from Ft. Scott, Kansas, majoring in political science, said he was grateful to people who contribute financially to make such experiences happen at Pittsburg State. 
"This is the first panel I've been on with someone of her caliber," Cox said. "For students to have the ability to learn outside the classroom like we do here at PSU is really special, and we owe a big thank you to the Scotts for making this happen," he said. 
During the panel discussion, Rice commended them for being articulate and great representatives of the student body at Pittsburg State.  
During her address, she praised them for their interest, enthusiasm at making a difference, and for being extremely well-prepared with their questions, which ranged from climate concerns to how to affect change as a young person in America today. 
In fact, said Rice, who is now a professor at Stanford University, today's students in general give her optimism.  
"This is the most public-minded generation of students I've taught; they want to do something bigger than themselves," she said. 
About the speaker series 
Rice was the third speaker in the H. Lee Scott Speaker Series: An Examination of American Life, created in 2015 as the result of a $2.079 million gift made by PSU alum and former Walmart CEO Lee Scott and his wife, Linda. Former President Bill Clinton came to campus in 2015, Mitt Romney came to campus in 2017.  
The mission of the H. Lee Scott Speaker Series is to deepen the level of discourse, enrich the university experience, and elevate the university's reputation by examining American life from the perspective of nationally prominent leaders and innovators. 
In making the gift for the speaker series, Lee Scott said: "We hope that the exposure to these successful leaders will enhance the educational experiences for students and inspire them to someday be invited to speak about leadership on this same stage."