Rice draws audience of more than 1,000 at Pittsburg State University 
  Friday, October 4, 2019 3:30 PM
  Milestones, News, People and Society
Pittsburg, KS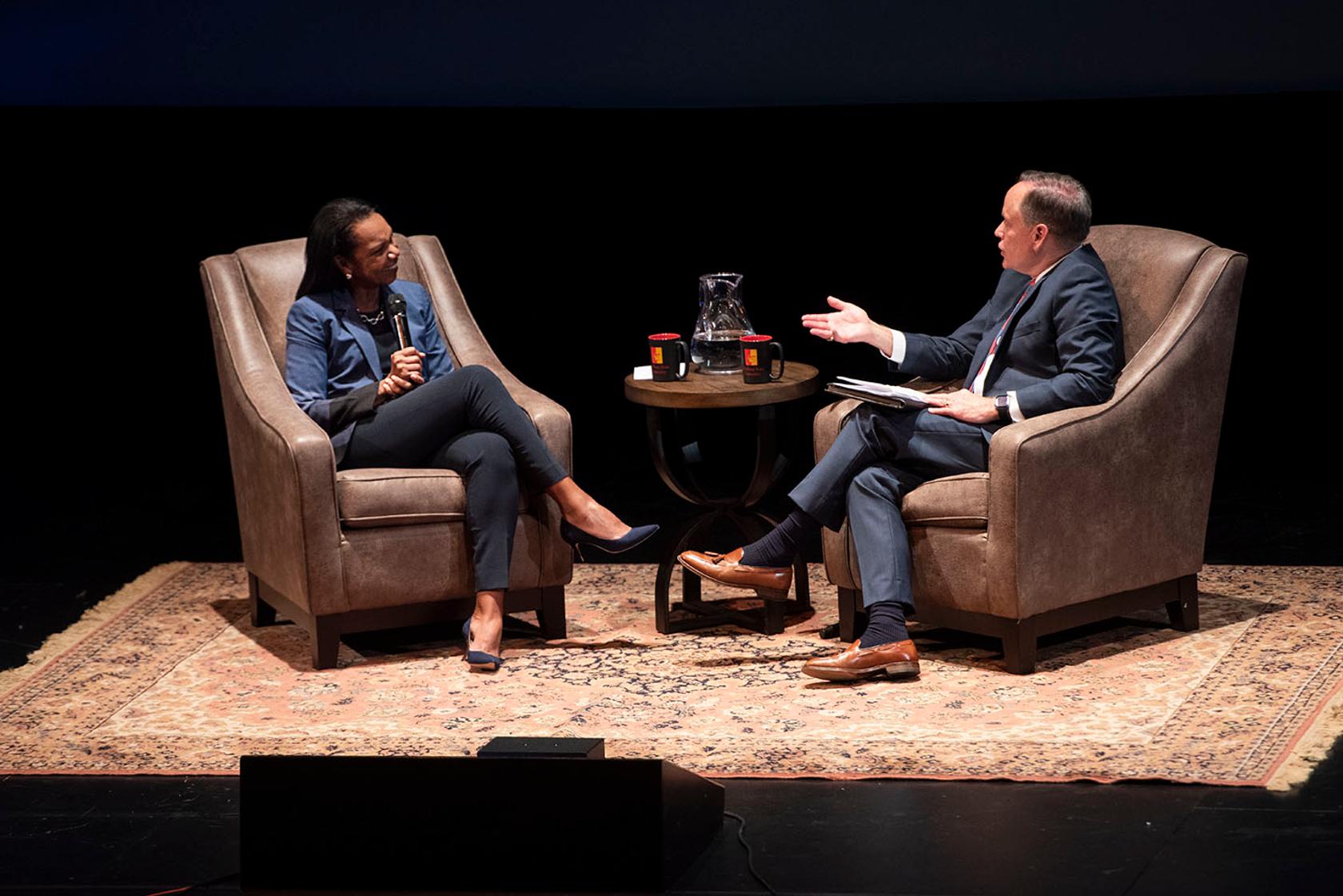 Had it not been for a university course and, more specifically, a university professor, Condoleezza Rice might have been on stage at the Bicknell Family Center for the Arts Thursday night as a concert pianist instead of as a former Secretary of State and National Security Advisor to President George W. Bush. 
"I had a couple of false starts," Rice, an accomplished pianist who once had every intention of playing at Carnegie Hall, told the audience of more than 1,000. 
A course her junior year in international politics taught by Madeline Albright's father helped her chart a new path. 
In 1990, standing on the White House Lawn watching Mikhail Gorbachev and his wife board a helicopter, "it crossed my mind that I'm glad I changed my major," she said with a smile. 
Today, Rice is the Denning Professor in Global Business and the Economy at the Stanford Graduate School of Business; a senior fellow on public policy at the Hoover Institution, and a founding partner of RiceHardleyGates, LLC, an international strategic consulting firm in Silicon Valley and Washington, D.C.  
During her time in office, Rice had a front seat to history as an active participant and she shared several of the more poignant stories during her address, including watching as the Berlin Wall came down and Germany reunified, and the day that U.S. came under terrorist attack.  
Rice also gave the audience glimpses into her life as a child growing up in Civil Rights-era Birmingham, Alabama, where she and her parents lived with segregation and one of her classmates was killed in the bombing of a black church by white supremacists. 
She was sworn in as the first female black Secretary of State by Justice Ruth Bader Ginsburg, a Jewish female, holding up a copy of the U.S. Constitution that once had a provision allowing slaves to be counted as "three-fifths of a man." 
But people, and society, can change, she said, noting that her father taught her to work twice as hard and to not allow herself to be a victim when she was wronged  — advice that can apply to anyone in any station in life, she added.  
She noted that although racial inequality and tensions still exist in America today, she believes there has been progress. 
"I believe the great majority of people want it to work," she said. 
Rice's underlying message was one of optimism that the nation can heal divides and move past troubling political times. 
"I think the country's been through harder," she said, referring to the assassinations and race riots of the 1960s. 
She praised PSU students with whom she met in a private panel earlier in the day, describing them as "extremely well prepared, and they wanted to know how to make a difference." 
Rice said today's students in general give her optimism.  
"This is the most public-minded generation of students I've taught; they want to do something bigger than themselves," she said.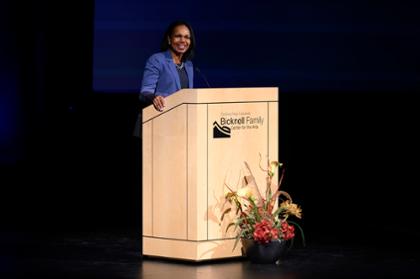 She was passionate about driving home several points:  
The nation will continue to be politically polarized until people stop narrowing their intellectual focus to include only sources of information, associates, and friends that

endors

e

 their world view

, and until people begin "counting to 10" before using social media.

 

I

nnovation and technology a

re

key

 to the nation's future

, particularly 

with regard

s

 to

 climate change, access to education, medicine, and health care.

 

 

K-12 education is one of our biggest national security threats; it is "cheating the poorest of kids

" in inner cities — children who have no mobility to move to wealthier districts — and the system needs to be rebuilt.

Obtaining a higher education is vital. She praised PSU for doing well at

"the job-skills match,"

and 

noted that those with a college degree make $1 million more over the course of their lifetime than those without

.

 

To get the nation back on track, "we must own our democracies," she said, and that includes caring about elections, but also doing small things at the community level — including random acts of kindness.

"Democracy is at its strongest when citizens help other citizens," she said.

 "Find the one thing you can do."

 
During a "fireside chat" in two armchairs on the stage, Scott asked Rice questions ranging from her stance on intercollegiate athletics to her view on the impeachment proceedings to her recently published book, "To Build a Better World." 
And, he broached a subject that might have been the elephant in the room: "She needs to run for president," he said, turning to the audience, to which there was loud and sustained applause. 
"Thank you," she said with a smile and a pause, "but no." 
Speaker series 
Rice was the third speaker in the H. Lee Scott Speaker Series: An Examination of American Life, created in 2015 as the result of a $2.079 million gift made by PSU alum and former Walmart CEO Lee Scott and his wife, Linda. Former President Bill Clinton came to campus in 2015, Mitt Romney came to campus in 2017.  
The mission of the H. Lee Scott Speaker Series is to deepen the level of discourse, enrich the university experience, and elevate the university's reputation by examining American life from the perspective of nationally prominent leaders and innovators. 
In making the gift for the speaker series, Lee Scott said: "We hope that the exposure to these successful leaders will enhance the educational experiences for students and inspire them to someday be invited to speak about leadership on this same stage."