PSU students compete in virtual Code-a-thon  
  Tuesday, October 29, 2019 3:30 PM
  Academics, News, Science and Technology, People and Society
Pittsburg, KS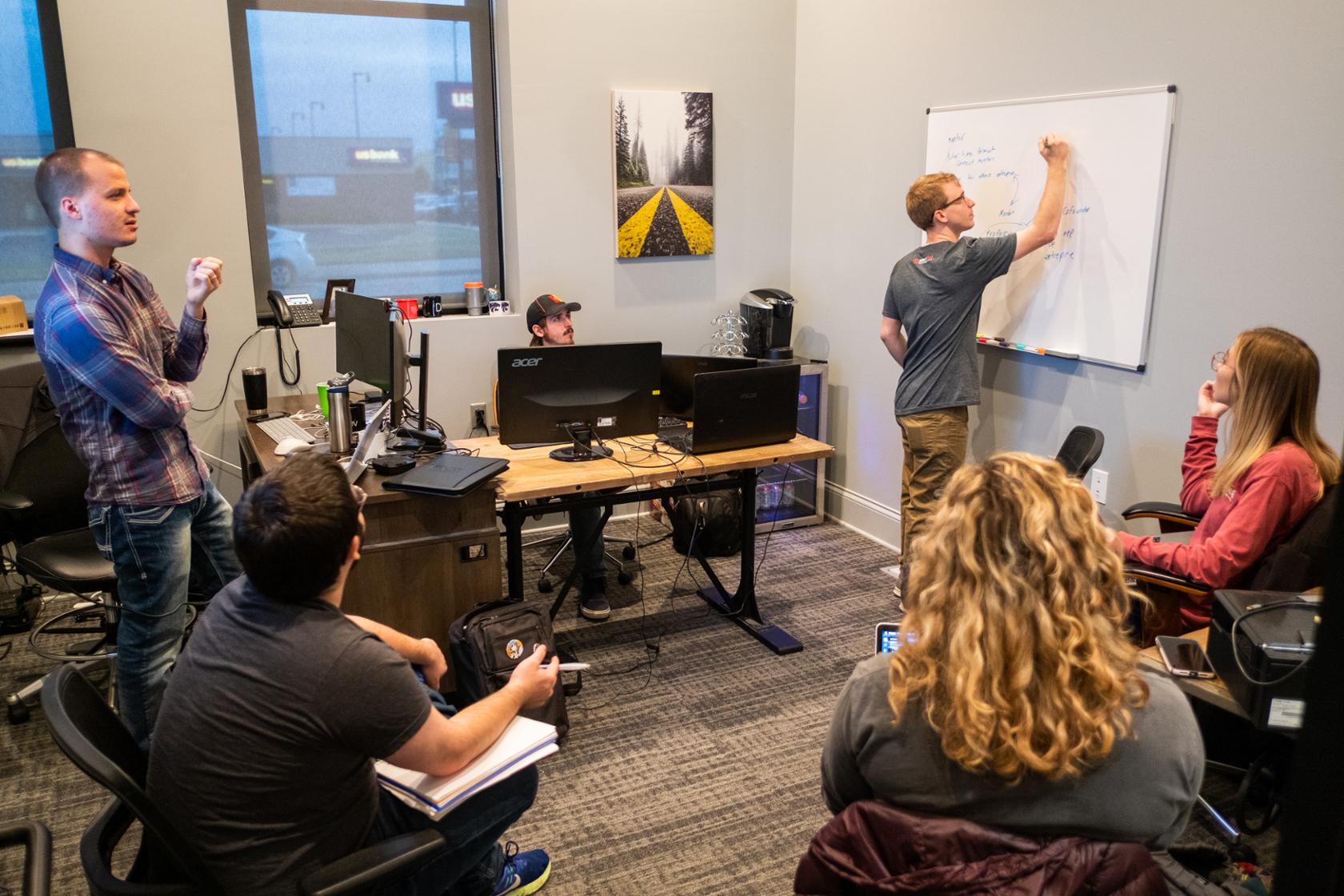 Five PSU students huddled with their computers, coffee, and snacks at Block22 in Downtown Pittsburg for an entire weekend, but they weren't binge watching on Netflix. 
They were competing against other schools virtually in a unique event hosted by the Kansas City Federal Reserve: Code-a-thon 2019. 
Armed with what they've learned from John Kuefler, their instructor in Computer Information Systems in the Kelce College of Business at PSU, they collaborated as a team to create a software solution to a challenge revealed to them just before beginning.  
Kuefler also owns DevSquared, a business that operates out of Block22's Foundry. 
"As a small business owner, it's encouraging to see that these students who will be entering the workforce soon are going to be so well prepared," he said. "We need people like this in the IT/programming field now more than ever. With as difficult as it is to find/hire them, especially in this area, it was great to see five people who I feel like I could be comfortable hiring at some point if needed." 
The team was comprised of David Sexton, a CIS major from Carthage, Missouri; Devon Tinsley, a CIS major from Pittsburg; Chris Evans, a CIS major from Nevada, Missouri; Lydia Winters, a Graphics Communication/Web Design major from Pittsburg; and Aubri Stahl, a CIS and Graphics Communication/Web Design major from Pittsburg. 
Their challenge: to create a web-based application that matches entrepreneurs willing to mentor new entrepreneurs. 
The competition theme has real-world value: in another room at Block22, nearly 30 PSU students interested in becoming entrepreneurs were engaged in 3 Day Startup, making pitches and learning from experts. In the not-too-distant future, they could one day use the app. 
"From my perspective, the Code-a-thon was an opportunity that any student would be crazy to pass up," Winters said. "Not only did we get to work together as a team to solve a problem, but we also made this fully operating application, which is something students don't always get to do in their everyday classes." 
Each student contributed expertise, from coding on the back end to using graphic design and layout skills to make it aesthetically pleasing. They also finished with time to spare, wrapping up by 6 p.m. Sunday; the deadline was 11 p.m. 
Kuefler said students in such degree programs will be highly sought-after; there are more than 1 million positions open for programmers across the U.S.  
Stahl already has a job locked down at Koch when she graduates in December, Sexton has had interest from local employers, Winters works on campus doing back-end work on the university website, and Evans already is employed as a full-time programmer at Peerless Products in Fort Scott, Kansas, where Tinsley also has been offered a part-time position while he finishes his education.  
"I think all of that is a testament to the kinds of experience we are providing students here at Pitt State," Kuefler said. "These students certainly don't need to do this Code-a-thon to have stacked resumes; they're all already incredible. They want to go above and beyond and show everybody what they can do and represent Pitt State because that's the kind of people they are." 
First round results will be announced on Oct. 31, and the final presentation and award ceremony for the top three teams and the naming of a university champion will be held at the Kansas City Federal Reserve on Nov. 7. 
Submissions will be evaluated based on the following criteria: innovation, user experience/polish, functionality, impact/potential, and presentation.
Learn more about PSU's Computer Information Systems program.