PCMS students take the field at Carnie Smith Stadium for "Fuel Up to Play 60!" program  
  Thursday, October 17, 2019 3:00 PM
  Academics, Giving Back, News
Pittsburg, KS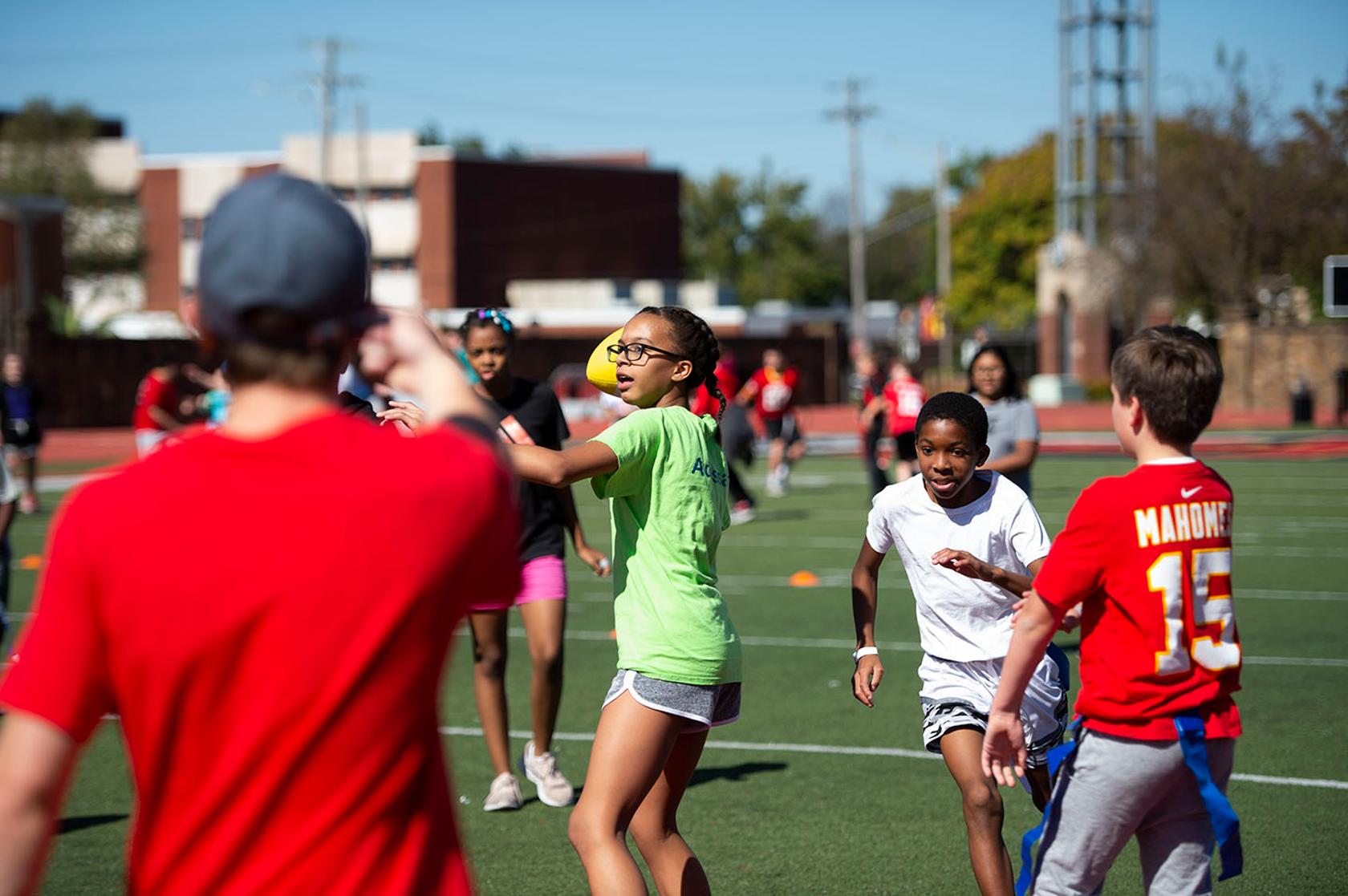 Football games were underway at Carnie Smith Stadium Thursday afternoon under a picture-perfect blue sky, and "Welcome to the Jungle" played on the Jungletron.  
But no crowd filled the stands, nor were Gorillas Kyler Ray (tight end), Minsok Lee (offensive lineman), and Morgan Selemaea (safety), and Brendan Bradbury (quarterback) suited out in uniform.  
Instead, they were coaching.  
Their teams? More than 200 students from Pittsburg Community Middle School.  
The event was part of the "Fuel Up to Play 60!" program in cooperation with the Kansas City Chiefs and the Midwest Dairy Council — an NFL initiative intended to get all students actively moving for 60 minutes every day and making healthy food choices, including eating more dairy.  
Coordinated locally by Pittsburg State University's Health, Human Performance, and Recreation Department faculty member Shelly Grimes and PCMS teacher Amy Bartlow, it featured flag football as the sport.  
Some 20 PSU physical education majors — including Ray, Lee, Selemaea, and Bradbury  — from Grimes' Theories and Fundamentals of Activities II class were on the field as coaches, while Gus Gorilla offered high fives.  
"It's a lot different being on this side of things, and it's good experience for me to get before I graduate," said Ray, a junior from Idaho who hopes to become a middle or high school physical education teacher. "I like seeing them take what we tell them and make adjustments and learn from it. It's fun."  
Sixth grader Ashner Miranda, who has attended a game at Carnie Smith Stadium before but hadn't had a chance to be on the field, described it as "awesome."  
"I'm excited to be here," he said.  
Bartlow said it was an amazing opportunity for the students of which PCMS was appreciative.  
"This event motivates students to be active while engaging them with inspiring adults who model excellence," she said.  
Grimes and her students will repeat the event at 2 p.m. Oct. 24 in the Robert W. Plaster Center at PSU as the HHPR Department hosts the annual convention of the Kansas Association for Health, Physical Education, Recreation, and Dance. Organizers anticipate the convention will draw 500 attendees.  
About Fuel Up  
Fuel Up to Play 60 is a leading national in-school health and wellness program launched by the National Football League and National Dairy Council. The program's primary focus is to help schools meet their wellness goals and encourage youth to consume nutrient-rich foods, whole grains and lean protein and achieve at least 60 minutes of physical activity each day. Since its launch in 2009, more than 73,000 schools have enrolled in the program.   
For more information about the HHPR Department visit https://www.pittstate.edu/education/hhpr/