Outstanding Alumni Award winner: Frankenbery makes impact in hands-on STEM education 
  Monday, October 21, 2019 10:00 AM
  Alumni, News, Academics, People and Society, Milestones
Pittsburg, KS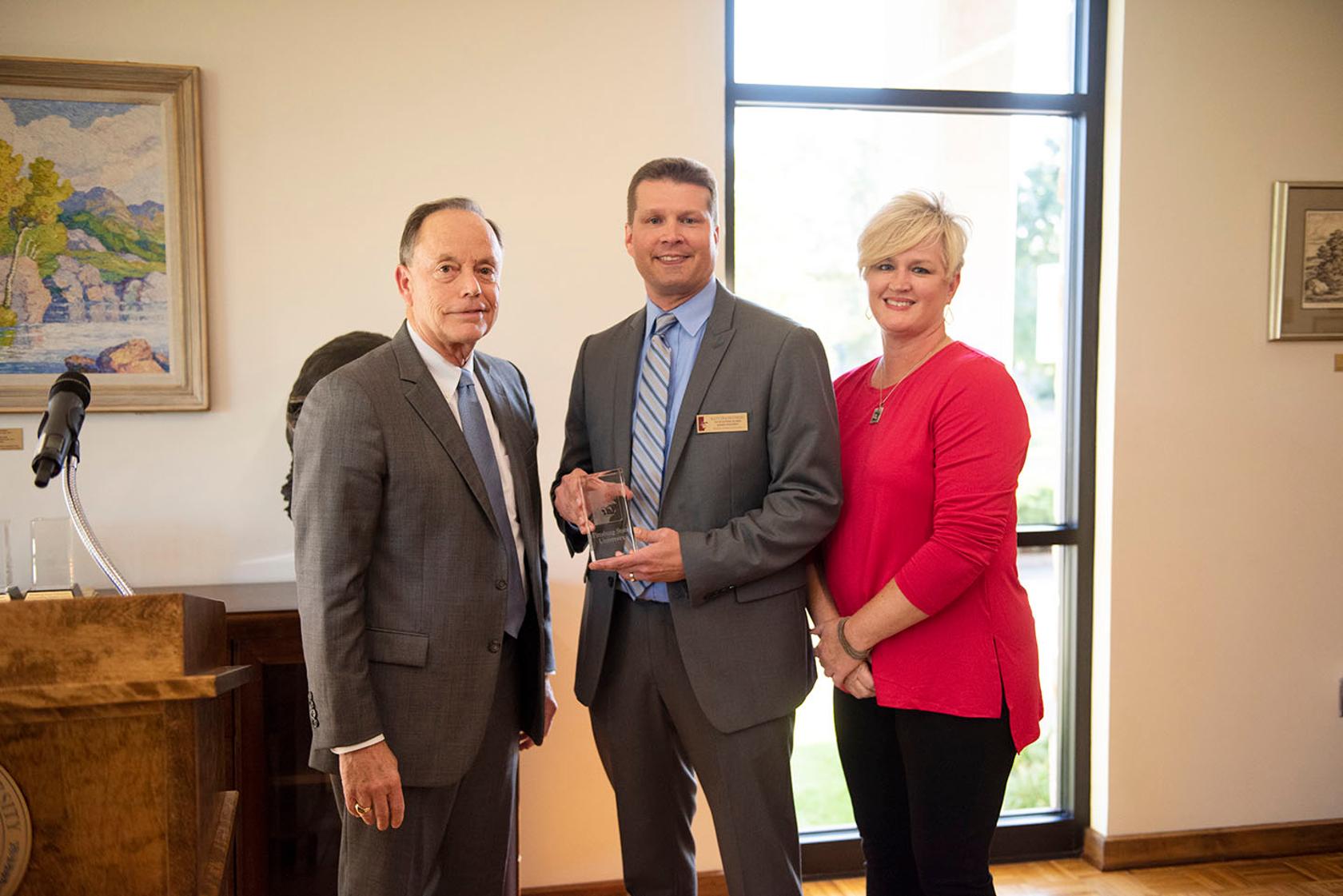 A transformational moment while Matt Frankenbery was a student at Pittsburg State University pointed him toward a career that would one day have global reach. 
Frankenbery was chosen as one of four recipients of the 2019 Dr. Kenneth K. Bateman Outstanding Alumni Award, an award that will be presented in a ceremony on Oct. 18 as part of PSU Homecoming festivities. Other recipients included Amy Trowbridge-Yates, Kimberly Young, and Rebecca Light.  
"I remember coaching my younger brother's baseball team," said Frankenbery of the experience that would determine his path.  
An encounter at the dugout with a belligerent parent caused him to reflect that there are youth in need of positive male role models. 
So Frankenbery set his sights on earning a degree in education from PSU, following in the footsteps of his mother, also a teacher whom he'd helped grade papers as a child growing up in Altoona, Kansas. 
Before he even graduated in December 1994, he'd landed his first teaching job. 
"I was student teaching at St. Mary's-Colgan, and the principal of St. Peter's Middle School in Joplin came to the door to speak to me," he said. "He offered me a job right there." 
He spent four years there teaching middle school science, social studies, English, and math, earning a Golden Apple Teacher of the Year Award from the Joplin Chamber of Commerce in the process, and learning more about how youth learn. 
Drawn to the hands-on aspect of education, he opened his own company, Duct-Tape Learning, LLC. Then, in 1999, the opportunity to work for a national leader in hands-on education products and curriculum without having to leave Pittsburg seemed like a perfect fit, and he accepted a position with Pitsco Education, Inc., as a curriculum specialist. 
Since then, he's served as director of education, director of educational affairs, and senior curriculum specialist for the company. Today, he is vice president, overseeing the development of new products, activities, and curriculum for Grades K-12, which includes extensive collaboration with education partners. He also travels with members of the Sales Team to collaborate with school districts and STEM Ecosystems to design education implementations for students and teachers. 
He and his wife, Shirley, are active in the lives of their three children and in Frontenac school district, where Frankenbery serves as vice president of the Frontenac Education Foundation. 
He also plays an active role at his church, speaking at community outreach events on the topics of leadership and business. 
Frankenbery was recognized at a reception and awards ceremony at 4:30 p.m. on Friday, Oct. 18, at the Wilkinson Alumni Center.