No Place Like Home: Homecoming traditions cater to alumni, community, students  
  Thursday, October 10, 2019 9:00 AM
  Alumni, Milestones, News
Pittsburg, KS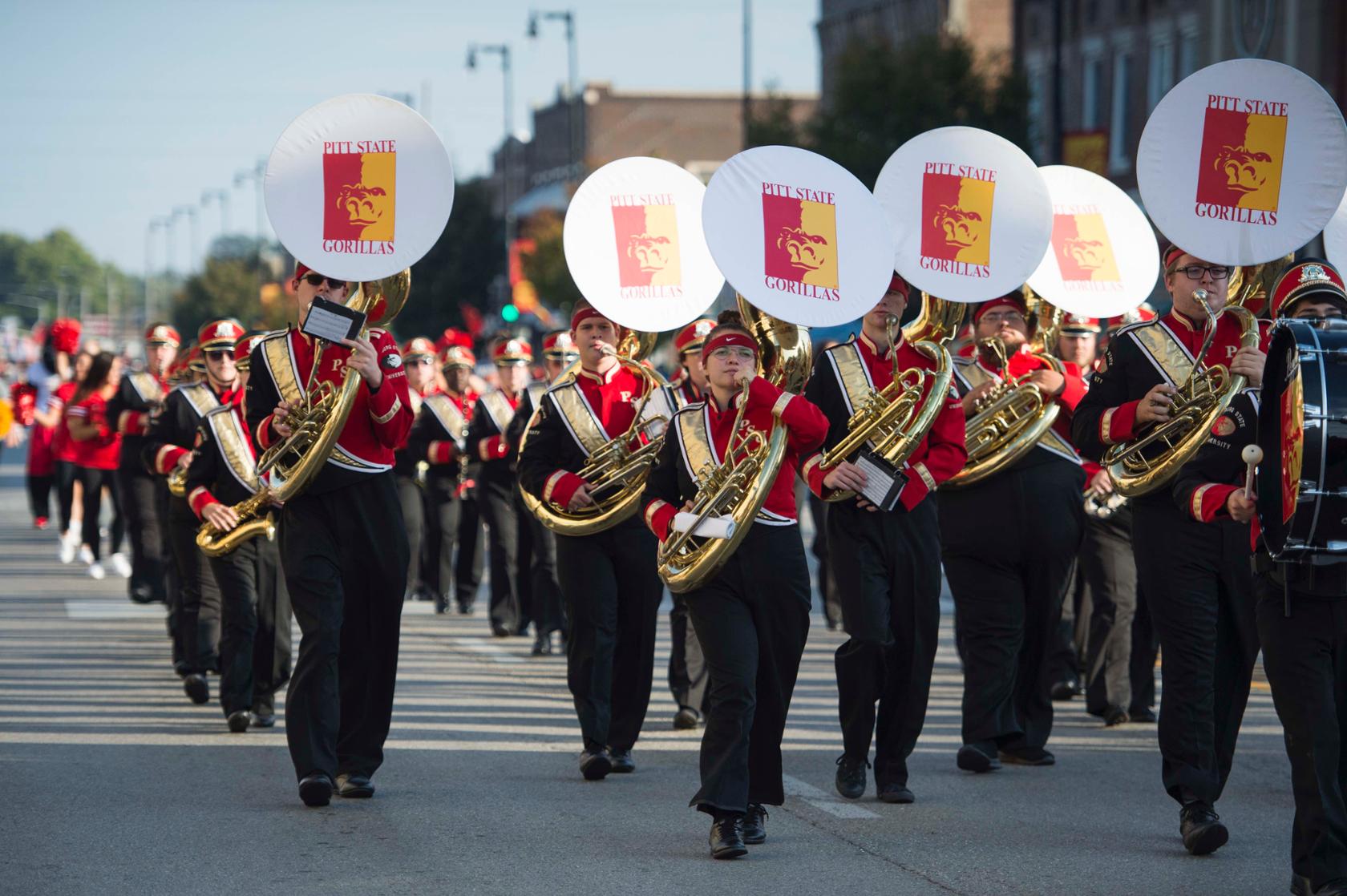 Homecoming activities will get underway at Pittsburg State University on Monday, Oct. 14, and continue through Saturday, Oct. 19, engaging current students, bringing alumni back to town, and injecting crimson and gold spirit throughout the community.  
This year's theme: No Place Like Home. 
A few events, like Monday's Kickoff Night at 6 p.m. in the Robert W. Plaster Center, are specifically for students and are under the direction of Campus Activities. Others, like Thursday's Yell Like Hell at 7 p.m. at Carnie Smith Stadium, are aimed at students but are open to the community.  
Homecoming royalty also will be crowned at the Yell Like Hell competition immediately after the winners of Yell Like Hell competition are announced. Rain location: Garfield Weede Building.  
The 100th anniversary reunion for PSU Student Government Association will be held Thursday, Oct. 17, through Saturday, Oct. 19. It's being sponsored by PSU Alumni & Constituent Relations and SGA. Details: 620-235-4758.  
Four Outstanding Alumni Award recipients will be recognized in a ceremony and reception at 4:30 p.m. Friday, Oct. 18, at the Wilkinson Alumni Center; it is open to the public.  
Following that on Friday will be the Taste of Pittsburg from 6 to 8 p.m. at the Crimson and Gold Ballroom in the Overman Student Center, sponsored by PSU Alumni & Constituent Relations. Tickets are required; call 620-235-4758 by 4:30 p.m. Monday, Oct. 14.  
The Homecoming Parade in Downtown Pittsburg will begin at 9 a.m. on Saturday and attracts marching bands, floats, and other parade entries from numerous surrounding towns. Leading the way will be the PSU Pride of the Plains Marching Band. The parade route extends from 11th and Broadway to Second Street.  
GorillaFest is open to the public at no charge and is a favorite event for families because many activities are geared toward children. It begins at 10 a.m. at Gorilla Village east of Carnie Smith Stadium and continues until 12:45 p.m., just before football game kickoff time at 1 p.m.  
Bands will perform, and attendees can make the rounds between bounce houses, balloon animals, food vendors, and enjoy a pre-game pep rally featuring the PSU Dance Team, PSU Spirit Squad, and the PSU Pride of the Plains Marching Band.  
Football fans won't want to miss the Gorillas as they take on Fort Hays in Carnie Smith Stadium starting at 1 p.m. For those who can't attend, the game can be heard on the radio at http://espn1007.com/go.