Opossums, armadillos, and bobcats — oh my! 
  Monday, September 30, 2019 2:00 PM
  Science and Technology, Academics, News
Pittsburg, KS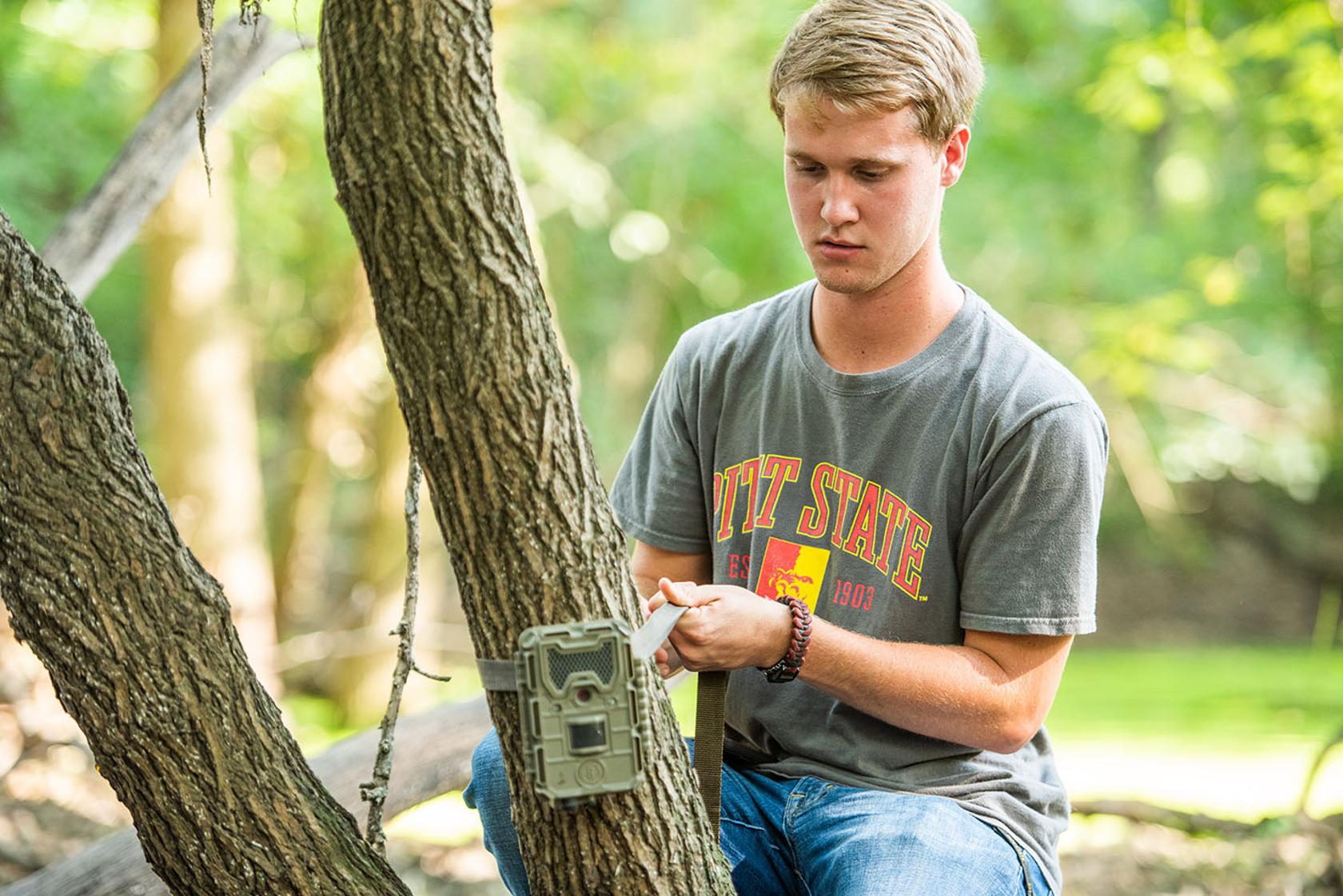 Assistant Professor Christine Brodsky couldn't stop staring and smiling at a couple of photos all weekend. 
The photos, taken by one of 10 motion-activated camera "traps" that she and her students set out, were of a bobcat that calls a wooded area in Pittsburg "home." Soon, those photos will become part of the Smithsonian Institution's national wildlife database. 
Brodsky, who teaches in the Pittsburg State University Biology Department, and biology major Caleb Durbin, of Chanute, Kansas, are collaborating on the project along with seven undergraduate students. 
Called #SnapshotUSA, it's an effort to analyze the diversity of mammals that exist in communities in all 50 states and the impact of humans on them. PSU was chosen to represent Kansas after Smithsonian personnel found Durbin's research on urban ecology published via PSU's Digital Commons — an open-access collection of data and scholarly work maintained by PSU's Library Services and the Office of Graduate and Continuing Studies. 
For the #SnapshotUSA project, Durbin and Brodksy set out motion-activated camera traps in nature areas throughout Pittsburg at the start of September. By Sept. 30, one month into the project, they had captured images of 11 mammal species: deer, raccoon, gray and fox squirrel, opossum, eastern cottontail rabbit, mouse, armadillo, coyote, groundhog, and a bobcat. 
"We've been thrilled to find such a diverse mammal community in Pittsburg so far," Brodsky said. "Even though some species are not rare, it's still exciting to have captured them on camera, like the bobcat." 
Getting shots of these species meant students sorting through the 2,300+ photos taken on 210 trap nights. 
"There are too many favorite photos to count," Brodksy said. 
The project has not been without challenges: Since setting out the cameras, the Pittsburg area has had five inches of rain. Two cameras were stolen, which meant Brodsky and her students had to apply for additional funding, purchase replacements, and set them out. 
The cameras will be in place until Oct. 31, when the project concludes nationally. 
"Caleb and I feel very honored to be asked to participate in this nationwide survey," Brodsky said. "It has introduced us to so many interesting researchers across the U.S. and it has been really thrilling to thrust Pittsburg into the national spotlight. We're excited to see the future of the project and the data that everyone submits at the end of next month." 
Durbin said he's honored to have been chosen for the project. 
"It's mind blowing," he said. "I'm thankful, really thankful, to have a professor who keeps me engaged — she's one of the greatest professors I've ever had. It's really crazy to think my name will be in a paper in the Smithsonian." 
Durbin and his classmates will present results at a research colloquium in April, and the results will be uploaded to Digital Commons. The public will be able to access it there and via eMammal, a database for camera trap projects.