Growing number of companies head to Pitt State to make hires
  Thursday, September 19, 2019 4:30 PM
  Alumni, Science and Technology, News, Academics
Pittsburg, KS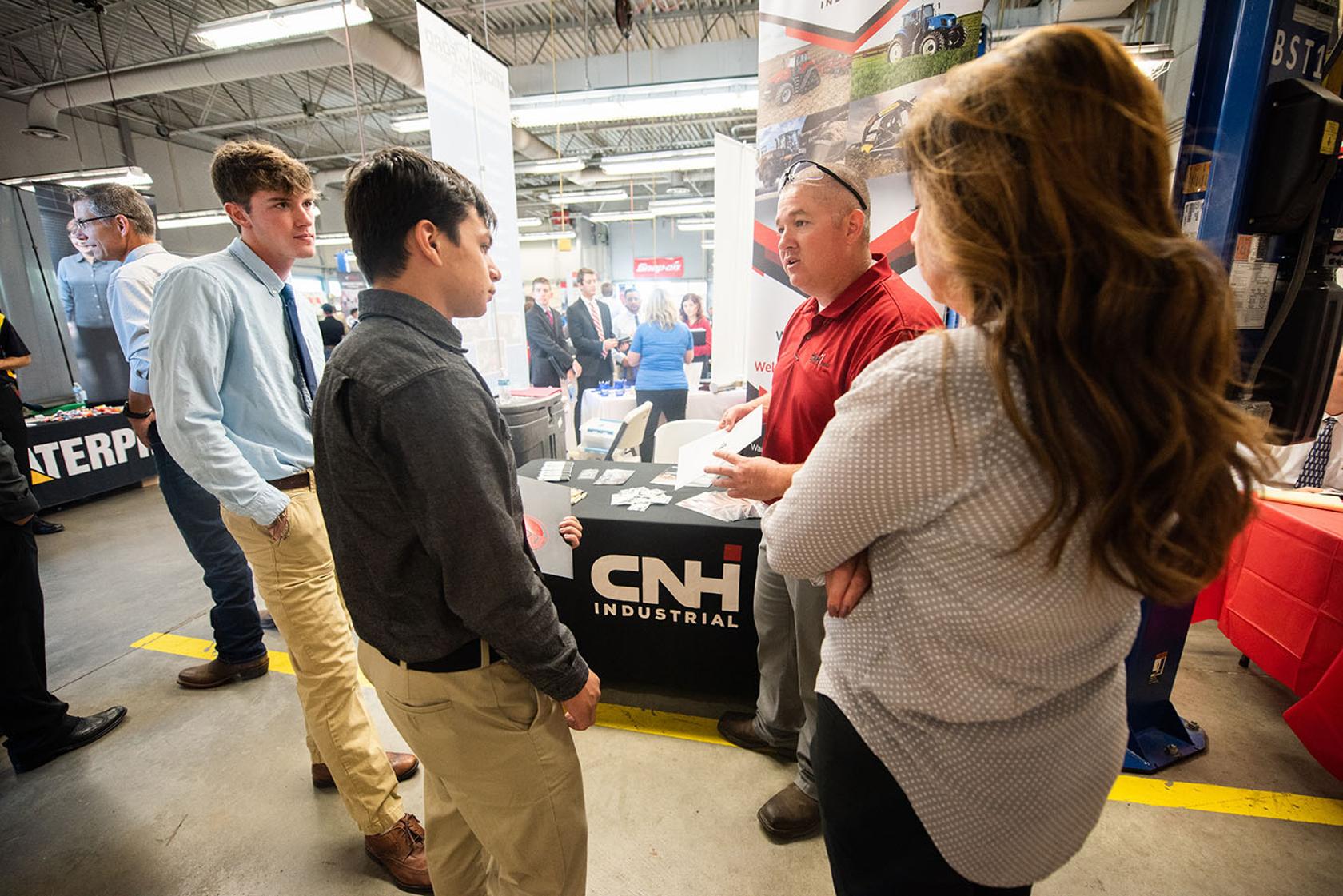 The number of companies coming to Pittsburg State to hire graduates from key programs is growing. 
This year, a record number participated in Company Days, a two-day event at the Kansas Technology Center on the PSU campus. Specifically designed for students in the College of Technology to make connections, network, and submit resumés, and for companies to recruit, the event yielded results. 
Peerless Architectural Windows and Doors in Ft. Scott, Kansas, is expanding its facilities to Nevada, Missouri, after growth in the company. When they packed up at the end of the event, they were taking home resumés from more than a dozen qualified students in Construction Management, and 20 with an engineering background. 
"We have developed a great relationship with Pitt State," said Peerless recruiter Christopher Lamb, who graduated with a business management degree from PSU in 2015. "We've found most of our successes in terms of hiring right here."  
Ducommum, which manufactures aerospace, electronic, and structural components for defense and military, came to campus seeking mechanical and manufacturing students to work as interns at their facilities in Parsons, Kansas, and Joplin, Missouri. 
"We have a lot of Pitt State grads in both locations," said Ducommum recruiter Summer Pommier, who graduated with a plastics degree from PSU in 2001. "We know we're getting quality when we hire them." 
Plastics Engineering Technology major Jarod Mortensen, a junior from Bonner Springs, Kansas, said the event helped him secure an offer from a local company seeking interns for immediate positions, while classmate Devyn Rexwinkle, a senior from Coffeyville, Kansas, said she landed an interview for a fulltime position. 
"It's nice to be able to talk with people from all aspects of the industry so I can decide where my interests are and options available," she said. 
Construction Management major Derek McCarthy, a senior from Shawnee, Kansas, said that he shook hands and handed out resumés from 9 a.m. to 1 p.m. with the nearly 100 companies that came to recruit in his program of study, and anticipates job offers next week. 
"Construction is doing well all over the country right now, and there were several new companies here this year," said McCarthy, who wants to be a project manager. "This event is so beneficial — it gives us so many options all in one spot, so much access to possible jobs." 
Participating companies over the course of two days focused on the School of Construction, Environmental and Safety Management, Graphics and Imaging Technologies, Architectural Manufacturing Management and Technology, Automotive-Diesel Technology and Engineering Technology, including Electronics Engineering, Manufacturing Engineering Technology, Mechanical Engineering Technology, and Plastics Engineering Technology. 
Learn more about the College of Technology at https://www.pittstate.edu/technology/index.html