Full circle: Daydreams of Axe Library renovation become reality for PSU graduate
  Friday, September 20, 2019 11:00 AM
  People and Society, Alumni, News, Science and Technology, Milestones, Academics
Pittsburg, KS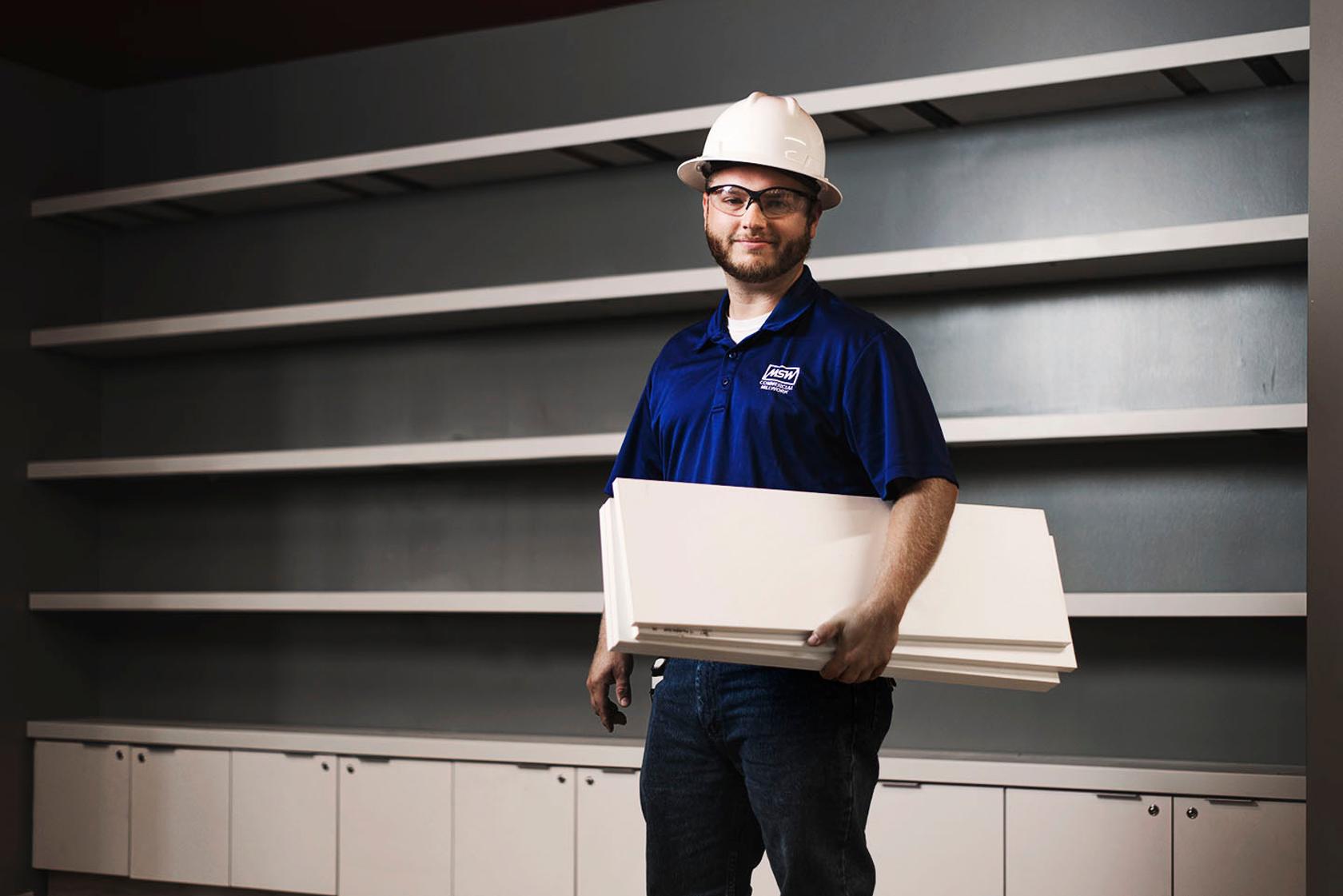 Matt Dennett admits that when he was a student at Pittsburg State, he daydreamed a bit while working at the reference desk in Axe Library.  
"One of my classes was furniture design, and as I learned, I realized the furniture and the finishings at Axe were outdated," he said. "I'd sit there and daydream a little about how it could be redesigned. I could picture how it would look."  
Four years later, Dennett's daydreams are becoming a reality: he's serving as the project engineer for a $926,000 renovation of the entire first floor at Axe — Phase IV of an overall renovation of the library designed to meet the needs of 21st Century students and faculty.   
Funded by state rehabilitation and repair dollars, the project will conclude in early October and be celebrated with a ribbon cutting and grand opening on Oct. 8. The public is invited. 
Dennett, a 2015 of PSU's Architectural Manufacturing Management and Technology program (previously called Wood Tech), is employed by MSW Engineering in Joplin, Missouri. He did the estimating for the library project before it was awarded to MSW.  
"I learned to do that — estimating — when I was a student at Pitt State," he said. "So much of what I learned at Pitt prepared me for this job."  
A native of Winfield, Kansas, he worked at the library his sophomore, junior, and senior years as a student employee.  
"A strong passion for woodworking led me to the Wood Tech program at Pitt," he said. "Everything we did in class provided a foundation for me to build on."  
Dennett landed an internship the summer before his senior year at a millwork in Peoria, Illinois, which took his education beyond the classroom. He's worked at MSW for three years and said he couldn't believe he wound up back at Axe Library doing what he'd once daydreamed about.  
"When I saw the project come across our bid board, I jumped on it. I thought It would be so cool to be able to work on it, because it's Pitt State, but even more exciting, it's the very place I worked for three years as a student." 
His job scope included millwork walls, desks, cabinetry, and countertops, and began with creating a set of millwork drawings based on architectural drawings.  
"Once the drawings were approved, I started creating a materials list and detailed drawings for our production floor to actually create the products," he said.  
Dennett has been working on it since mid-June, making weekly trips to PSU to get measurements and attend project meetings with other trades and the general contractor. Since early September, he's been taking product to PSU from Joplin to install. 
"I guess it's pretty cool to see a dream come true, when you think about it," Dennett said. "And it's neat that I get to play a role in a project here, since this is where the foundation was laid to my career."  
Ceremony  
The ribbon cutting ceremony and grand opening ceremony will be held at 2 p.m. on Oct. 8. The event is open to the public. The brief program, followed by informal tours, will include remarks from Randy Roberts, dean of Library Services, Steve Cox, curator of University Special Collections, Christine Brodsky, assistant professor of biology, and Grace Hendrickson, a student. Provost Howard Smith will serve as emcee.  
Learn more about the AMMT program.