Event to recognize the 50th anniversary of plastics education at PSU 
  Friday, September 13, 2019 4:00 PM
  Alumni, Science and Technology, Academics, Milestones, News
Pittsburg, KS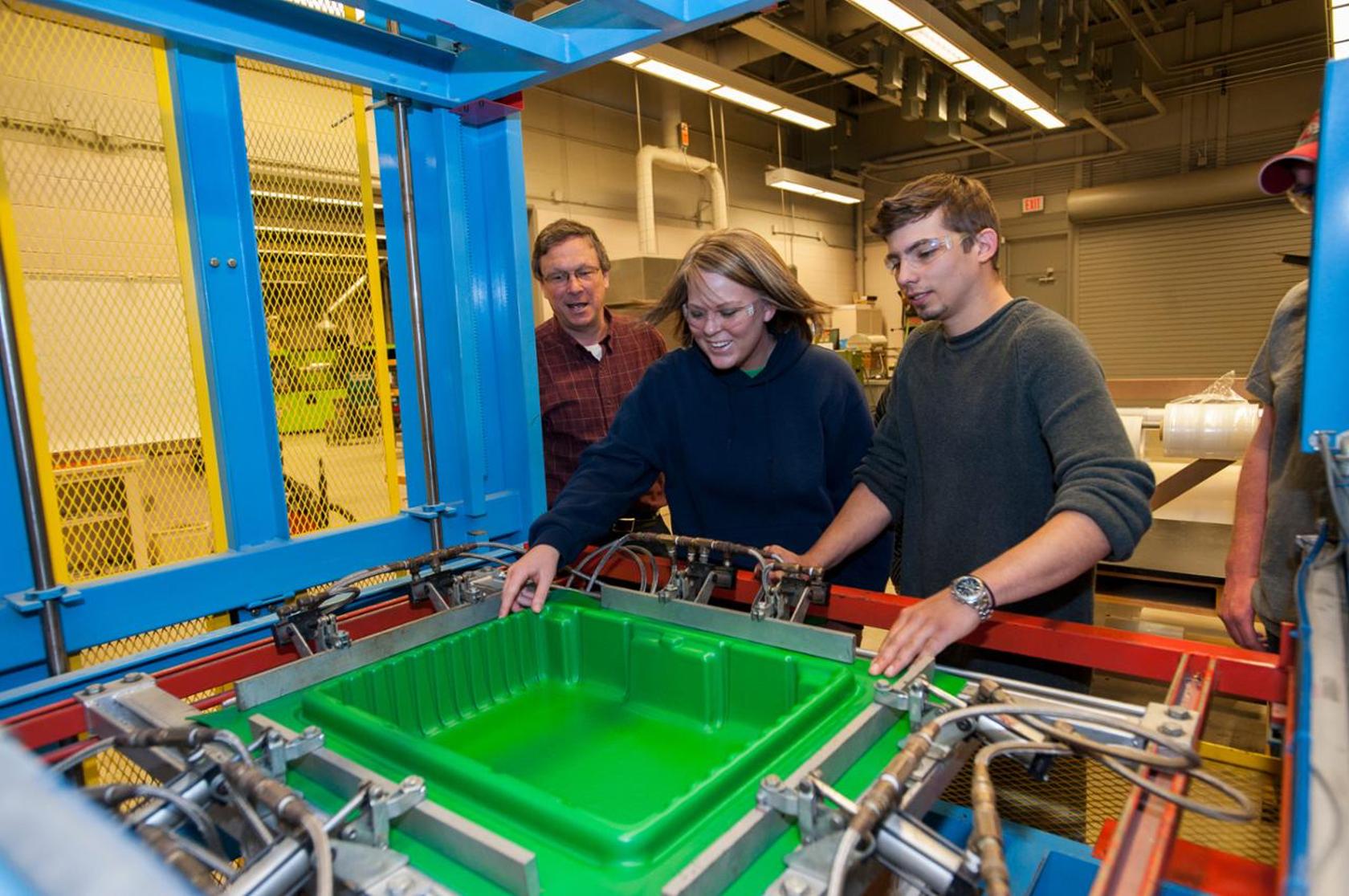 Fifty years ago, the nation was focused on the inauguration of Richard Nixon, man setting foot on the moon, and Woodstock. 
And at Pittsburg State, faculty and staff were focused on starting a program that would go on to become recognized as a model by industry leaders.  
At 3 p.m. on Tuesday, Sept. 17, a reception and recognition for the 50th anniversary of the Plastics Engineering Technology program will be held in the Rotunda of the Kansas Technology Center to celebrate the milestone year. Speakers will include Mayor Patrick O'Bryan and Vice President and Provost Howard Smith. 
The Plastics Engineering Program looks very different than it did in the early days: it's now housed in the KTC, a modern facility with state-of-the-art equipment donated by industry.  
"Working with industry is something we've done for a long time out here," said Professor Paul Herring. "We work with industry leaders like Engel, Chevron-Phillips, Krauss-Maffei and many others. They donate a lot of equipment and materials to us because they want to employ graduates who understand and have hands-on experience with modern technology."  
The program boasts a 100 percent placement rate of students after graduation, and it's a key component of the recently begun PSU Polymer Chemistry initiative, which provides students research-based opportunities at the Kansas Polymer Research Center. Faculty in the department frequently are invited to speak at conferences and are called upon for their expertise. Its students have been chosen for prestigious internship research opportunities at firms and agencies across the nation. And, its alumni have gone on to impressive careers from coast to coast. 
A few will be in attendance on Tuesday, including: 
Michael McGrew, current president of the Plastics Advisory Council 

 

Jordyn Showers, who works for Nike — her dream job while she went through school 

 
"I think our founders would be very, very proud," said Rebeca Book, an associate professor in the department helping to spearhead the celebration. "The groundwork they laid, followed by visionary people who came here in the years after, helped propel this into a program that is recognized nationally." 
To learn more about the Plastics Engineering Technology program at Pittsburg State visit:https://academics.pittstate.edu/academic-programs/engineering-technology/plastics-engineering-technology-degree.html. 
Learn more about Polymer Chemistry at https://www.pittstate.edu/chemistry/polymer-chemistry-program.html