Cutting edge program recognized for national reputation and playing pivotal role in local economy 
  Thursday, September 19, 2019 12:00 PM
  Alumni, News, Milestones, Science and Technology
Pittsburg, KS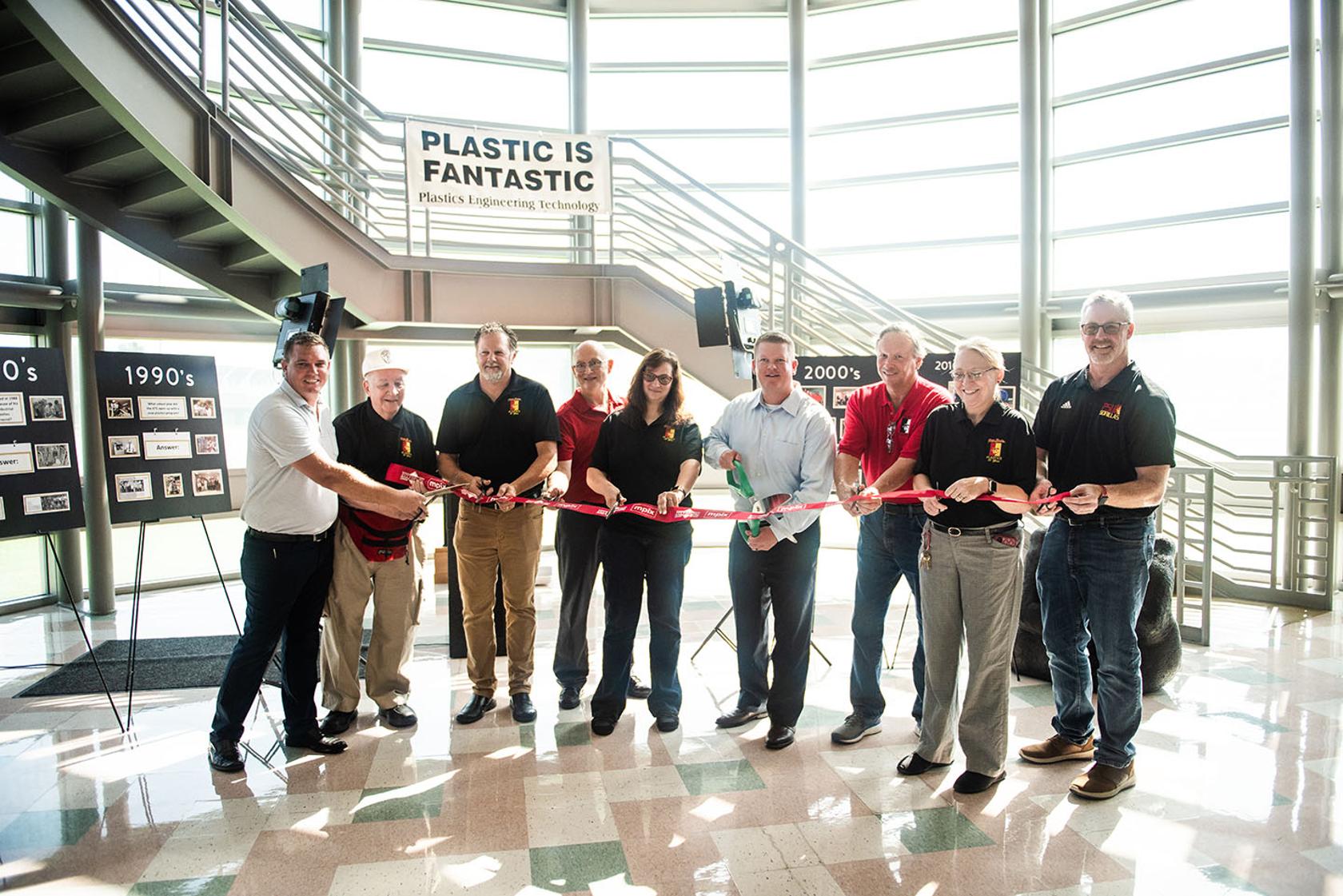 In 1969, the nation was focused on the inauguration of Richard Nixon, man setting foot on the moon, and Woodstock. 
At Pittsburg State, the Plastics Engineering Technology program was in its infancy, charting a path to become recognized as a national model.  
Today, its graduates are sought after by industry leaders, and the program is playing a pivotal role in the local economy. 
City leaders, alumni, faculty and staff, and industry representatives gathered at the Kansas Technology Center this week to celebrate the program's 50th birthday with an eye to the future. They marked the milestone with a proclamation by Pittsburg Mayor Patrick O'Bryan. 
"It's been a program that has continually been cutting edge," said Provost Howard Smith. "It touches our lives in so many ways. Medicine, sports, packaging, safety, electronics, cars. When you think about how big a part of our lives it is...it's a critical industry."  
The program boasts a 100 percent placement rate of its graduates, and it's a key component of the recently begun PSU Polymer Chemistry initiative, which provides students with research-based opportunities at the Kansas Polymer Research Center.  
Faculty in the department frequently are invited to speak at conferences and are called upon for their expertise. Students have been chosen for prestigious internship research opportunities at firms and agencies across the nation. And, alumni have gone on to impressive careers from coast to coast. 
Blake Benson, president of the Pittsburg Area Chamber of Commerce, said the program is one of several at PSU that has positively impacted local economic development and helped to create jobs, and will continue to do so. 
"What a signal it sends to companies, both prospective and the ones we already have here, like Pitt Plastics, PRG Prototyping, and many, many others, that we have the expertise to be forward looking and innovative right here on our campus – and that's not something they can get in every community, especially a community of our size," Benson said. 
Industry partnerships have long been an essential part of the program's success, said Paul Herring, longtime professor.  
"Working with industry is something we've done for a long time out here," Herring said. "We work with industry leaders like Engel, Chevron-Phillips, Krauss-Maffei and many others. They donate a lot of equipment and materials to us because they want to employ graduates who understand and have hands-on experience with modern technology." 
Equally significant is the involvement of alumni and their donations of equipment and funding. 
Engineering Technology Department Chair Greg Murray said alumni routinely give $60,000 per year in scholarships, financially contribute to student attendance at national and worldwide conferences and trade shows, and they serve on the Plastics Education Technology Advisory Council. 
Michael McGrew (BST '06), current president of that group and a leader at Alpha Packaging in St. Louis, Missouri, said it's a way to give back.  
"This program and the faculty were very influential on me and my career," said McGrew, who now recruits students from the program because he knows the kind of education they received. "The hands-on experiences I had here, the faculty interaction, being able to operate equipment before I graduated, all contributed to where I am now." 
Mike Mirocke (BST '89), owner of Mirocke Sales Company in Shawnee, Kansas, has served on the PETCA since 1992, and said the program remains just as important to him today. 
"I know from having been a student here myself how important it is to have access to top of the line equipment, to bring in experts to provide seminars, and help them connect with internships," he said. 
Rebeca Book, associate professor, said the groundwork laid 50 years ago, followed by visionary people who came here in the years after, helped propel Plastics Engineering Technology into a program recognized nationally. 
"I think our founders would be very, very proud," she said.  
To learn more about the Plastics Engineering Technology program at Pittsburg State visit:http://www.pittstate.edu/plastics. 
Learn more about Polymer Chemistry at https://www.pittstate.edu/chemistry/polymer-chemistry-program.html