Bicknell Family Center for the Arts announces next season!
  Monday, July 8, 2019 8:30 AM
  Arts & Entertainment, News, Campus Culture
Pittsburg, KS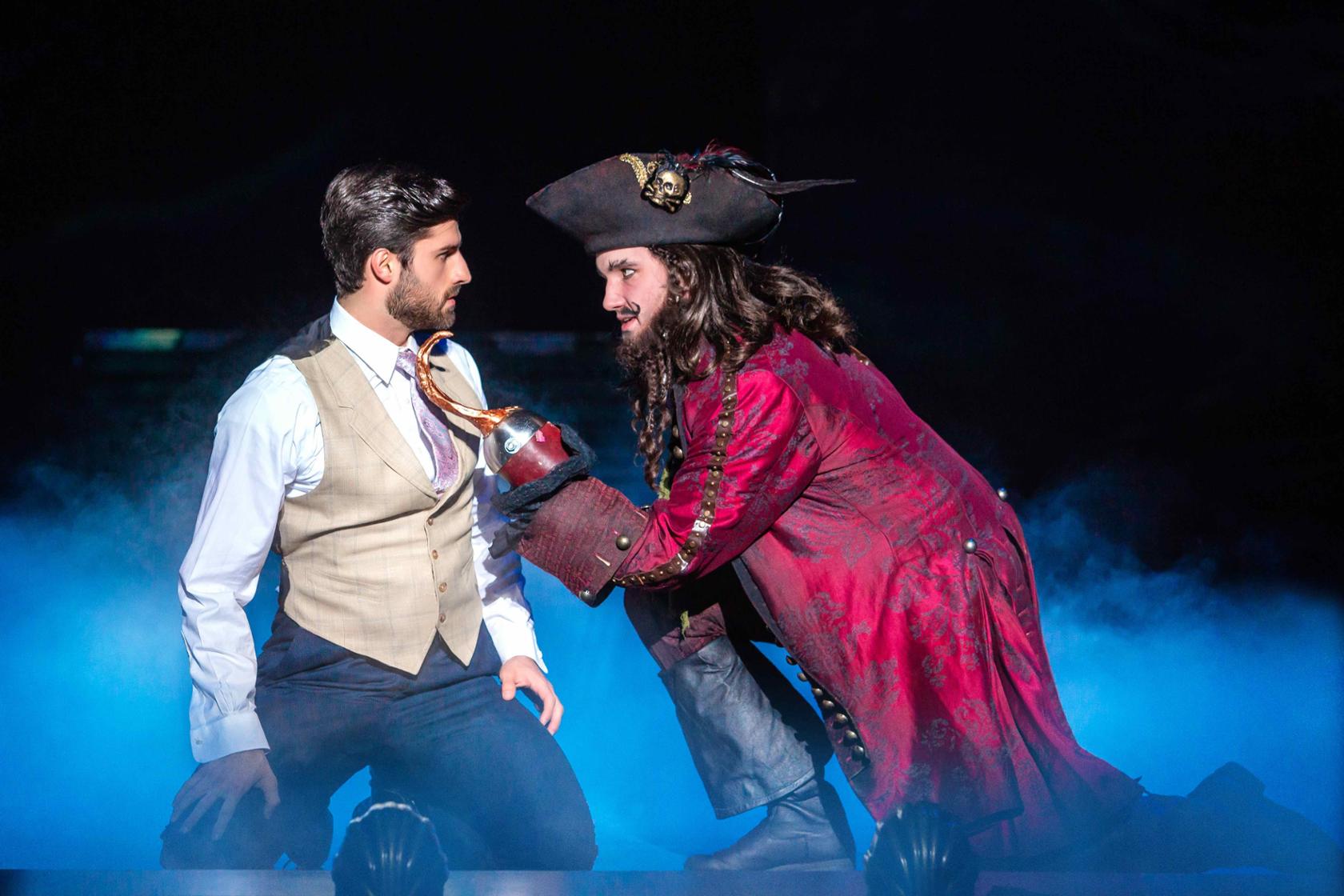 The Bicknell Family Center for the Arts at Pittsburg State University has announced the 2019-20 season with a lineup that will include three hit Broadway musicals. 
New this year: season ticket packages that will guarantee patrons the same seat for each show in the package and will save patrons more than 10 percent. 
Package 1 will be all-inclusive and will include the three Broadway shows, Modern American Dance Company, Bette Davis Ain't for Sissies, Jennifer Knapp in Concert, and three Pitt State Theatre productions. Package 2 will include the three Broadway shows and three Pitt State Theatre productions.  
Season ticket packages, along with individual tickets, can be purchased at the PSU Ticket Office, Room 137 in the Garfield Weede Building, 1701 S. Homer, or online at https://www.pittstate.edu/office/ticket-office/, or by calling 620-235-4796.  
Faculty, staff, and students are entitled to discounted and sometimes free tickets by presenting their PSU ID in person.  
All concerts by the PSU Jazz Combo and Ensemble, PSU Wind Ensemble, PSU Symphonic Band, and University Choirs are free. The SEK Symphony will offer its own season ticket package and standard tickets.  
Broadway shows coming to the Bicknell are:  
"Bandstand"

| 

7:30 p.m. 

Nov. 4, 2019

 
From three-time Tony® Award winner and Hamilton choreographer Andy Blankenbuehler comes a new American musical filled with infectious music and heart-stopping dancing. The year is 1945, and six soldiers return from war to a changed country. When NBC announces a national competition to find the nation's next great musical superstars, they form a band unlike any the nation has ever seen. Along the way, they discover the power of music to face the impossible, find their voice, and finally feel like they have a place to call home. 
"Finding Neverland

"

| 

7:30 p.m. 

Jan. 26, 2020

 
In the story behind one of the world's most beloved characters, Peter Pan, playwright J.M. Barrie struggles to find inspiration until he meets four young brothers and their beautiful widowed mother. Spellbound by the boys' enchanting make-believe adventures, he sets out to write a play that will astound London theatergoers. With a little bit of pixie dust and a lot of faith, Barrie takes this monumental leap, leaving his old world behind for Neverland, where nothing is impossible, and the wonder of childhood lasts forever. 
"A

n A

merican in Paris" |

7:30 p.m.

March 4, 2020
Hoping to start a new life, World War II veteran Jerry Mulligan chooses newly-liberated Paris as the place to make a name for himself as a painter. But that new life becomes complicated when he meets Lise, a young Parisian shop girl with her own secret, and realizes he is not her only suitor. Inspired by the Academy Award-winning film, it includes the Gershwin songs "I Got Rhythm," "Liza," "'S Wonderful," "But Not for Me," "Stairway to Paradise." 
National touring acts coming to the Bicknell Center are: 
Modern American Dance Company

"MADCO"

|

7:30 p.m.

Sept. 7, 2019

 
MADCO, now in its 42nd season, entertains, educates, and collaborates through innovative dance experiences. It's an integrated and well-known part of the cultural fabric of St. Louis, and in Pittsburg will take audiences on a journey with 10 dancers, and exquisite choreography.  
H. Lee 

Scott Lecture Series: Condoleezza Rice | Oct. 3, 2019

 
Rice has served as Secretary of State and as President George W. Bush's national security advisor, and today is the Denning Professor in Global Business and the Economy at the Stanford Graduate School of Business, the Thomas and Barbara Stephenson Senior Fellow on Public Policy at the Hoover Institution, and a professor of Political Science at Stanford. In her remarks, she will focus on her time at the NSA, as Secretary of State, and the NCAA College Basketball Commission.  
US Air Force 

Falconaires

|

7:30 p.m.

Oct. 9, 2019

 
The U.S. Air Force Falconaires has long played a role in cultivating national heritage through America's only indigenous musical genre, jazz, with free concerts open to the public and played coast to coast, and now they're making a stop in Pittsburg. Tickets must be picked up in advance at the Bicknell Center to ensure a seat. Come celebrate America with us!  
Bette Davis 

Ain't

for Sissies |

7:30 p.m.

Nov. 23, 2019 

 
Jessica Sherr stars in this 90-minute solo show and takes audiences back to 1939, when Bette Davis has been nominated for an Academy Award. Sherr becomes the feisty, uncompromising movie star as she spills the beans on the inner workings of Hollywood during the Golden Years and illustrates what made Bette Davis a legend, a household name, and a film icon whose work will never be forgotten.  
Jennifer Knapp in Concert |

7:30 p.m. 

Feb. 22, 2020

 
This Grammy-nominated, Kansas-born singer-songwriter, author, speaker and advocate sold more than 1 million albums with her first three releases Kansas, Lay It Down, and The Way I Am. She's toured the globe and is considered to be the first major artist in the Christian music world to speak openly about LGBTQ identity. In 2012, she founded the non-profit organization Inside Out Faith, through which she continues to advocate for LGBTQ and faith issues. 
Pitt State Theatre's season includes: 
A Doll's House | 

7:30 p.m. 

Oct. 24-26,

 2 p.m.

 Oct. 26-27

 
It is argued that when Henrik Ibsen had his character, Nora, slam the door on a conventional marriage, she opened the door to modern drama. With a hard focus on marriage, societal norms, and long-held secrets, this compelling drama speaks to all audiences, whether in 1879 or 2019. Directed by Joey Pogue. 
Silent Sky | 

7:30 p.m. 

Feb. 27-29, 

2 p.m. 

Feb. 29-March 1

 
The true story of 19th Century astronomer Henrietta Leavitt explores a woman's place in society during a time of immense scientific discoveries, when women's ideas typically were dismissed until men claimed credit for them. This show dramatizes the life of Leavitt from the beginning of her time at Harvard Observatory in the early 1900s, when she wasn't allowed to touch a telescope. Directed by Megan Westhoff. 
The Windshield and the Bug | 

7:30 p.m. 

April 23-25, 

2 p.m. 

April 25-26

 
There comes a time in all life when we figure out not everything can go our way. This improvisational show about the lifelong learning curve that is part of every human experience asks: What could possibly go wrong? Conceived and directed by Cynthia Allan. 
Other performances this season will include: 
Sept. 20 | SEK Symphony and String Madness Concert 
Sept. 26 | PSU Wind Ensemble Concert 
Oct. 2 | PSU Jazz Concert 
Oct. 6 | Trumpet Fest Concert: Faculty Recital 
Oct. 7 | Trumpet Fest Concert: Crossroads Jazz Orchestra with Vince DiMartino 
Oct. 17 | SEK Symphony and Robert Dean Smith Concert 
Nov. 1 | University Choirs Concert 
Nov. 12 | Moscow Ballet's Great Russian Nutcracker 
Nov. 14 | PSU Jazz Concert 
Nov. 24 | PSU Wind Ensemble Concert 
Dec. 1 | Bells of the Balkans: Ring in the Season 
Dec. 3 | Holiday Extravaganza and 5th Anniversary Celebration 
Feb. 14 and 16 | PSU Opera and SEK Symphony 
Feb. 20 | PSU Wind Ensemble and PSU Symphonic Band Concert 
March 6 | PSU Jazz Festival 
March 7 | Rondelli Vocal Competition 
March 9 | 5th Annual Dance Showcase 
March 19 | PSU Symphonic Band Concert 
April 9 | SEK Symphony 
April 23 | PSU Wind Ensemble Concert 
April 29 | PSU Jazz Concert 
May 3 | University Choirs Concert 
May 7 | Four-State Honor Band Concert