University announces new Provost
  Thursday, May 16, 2019 11:00 AM
  News, People and Society, Academics, Milestones
Pittsburg, KS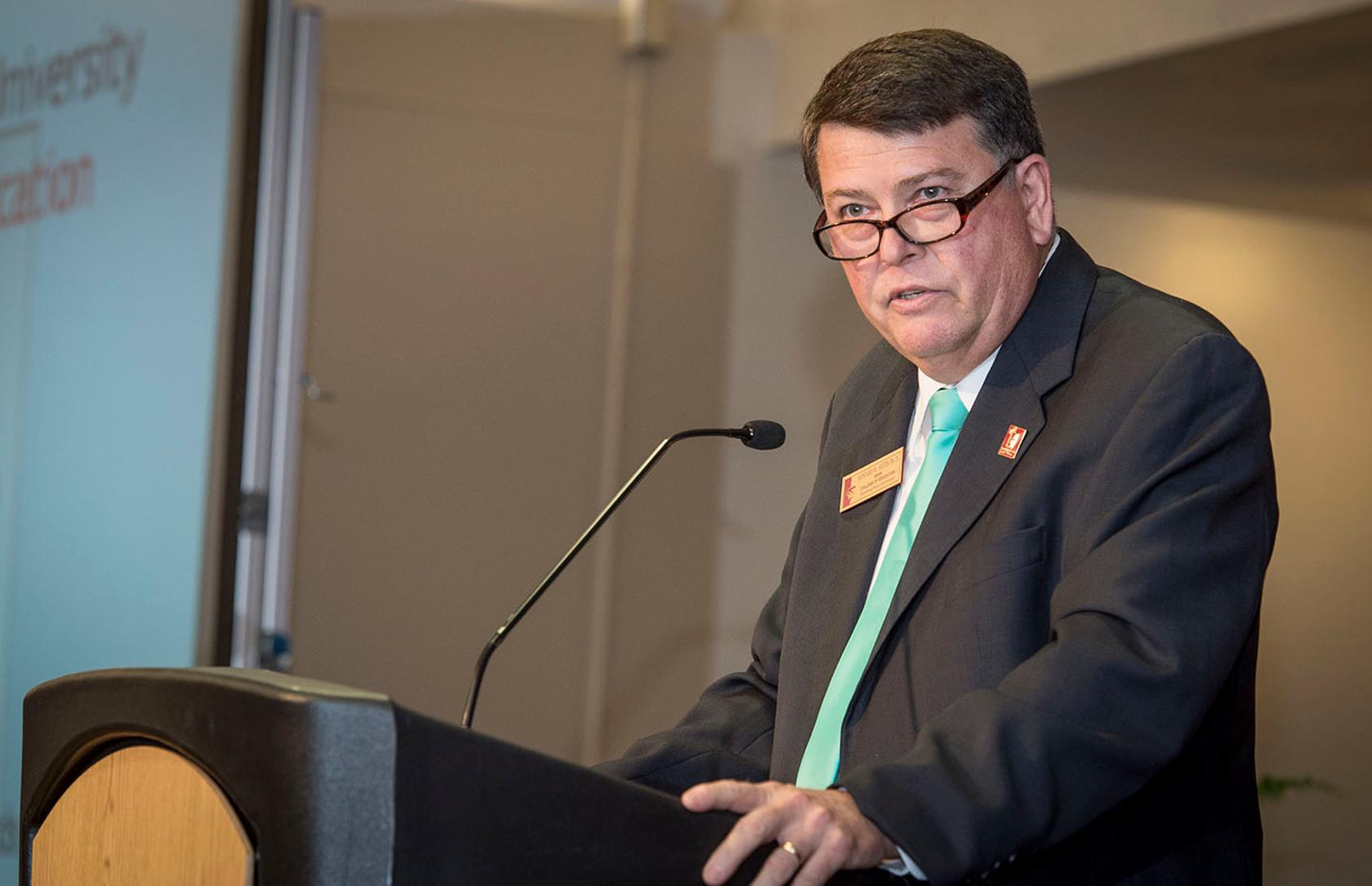 After a nationwide search, Pittsburg State University has announced its new Provost and Vice President for Academic Affairs.
Howard Smith, currently the associate vice president of Enrollment Management and Student Success, will assume the position on July 1. He follows Lynette Olson, who is retiring after having served in the position since March 2010.
"Dr. Smith brings a wealth of experiences to this new role, and he also brings with him a longtime commitment to the University," said President Steve Scott. "Like me, he has deep roots here at Pitt State, and that will ensure his efforts will focus on the long-term success and viability of the university.
Scott praised the contributions Olson made during her tenure.
"Dr. Olson leaves the Division of Academic Affairs in a strong position to face the challenges ahead, and Dr. Smith will benefit from the culture and sense of purpose she has put into place," Scott said.
Smith has a long history of senior leadership for numerous educational institutions. With a bachelor's in education from PSU, a master's in education from the University of Kansas, and a doctorate in educational administration from Kansas State University, he has risen through the ranks at PSU, having started as a faculty member in the College of Education.
n his current role, he has oversight and leadership for the units of Admission, Center for Accommodations, Honors College, International Programs and Services, Intensive English Program, Student Diversity Programs, Financial Student Assistance, Student Success, and Office of the Registrar. He has chaired and co-chaired numerous task forces and committees.
Past positions at PSU include associate professor and professor of Leadership Studies, interim chair of the Department of Curriculum and Instruction, chair of Special Services & Leadership Studies, executive director of the PSU-Kansas City Metro Outreach Center, assistant to the president and legislative liaison, and dean of the College of Education.
Prior to that, Smith's experiences include having served as the interim superintendent of Pittsburg Community Schools, chair and associate professor at Emporia State University, superintendent of schools in Bentonville, Arkansas, an administrator in the Blue Valley School District in Overland Park, Kansas, a school principal in Coffeyville, Kansas, and a teacher at Shawnee Mission schools.
"Having the opportunity to continue at Pitt State in another role is extremely exciting as well as rewarding," Smith said. "Whenever I'm around long-time friends and colleagues, they mention that it must really be fun to work at PSU, and they are right. When your dream is your work, you are truly blessed and that's how I feel."
In addition to his work at PSU, Smith has served on numerous national, state, regional, and local councils and search committees. He also has been very civically active, having served as a leader in a number of organizations and community improvement efforts, and has been invited to regional and national conferences as a speaker and panelist versed in a range of topics and has authored several journal articles on issues in higher education.
"Once again, Dr. Steve Erwin did an outstanding job leading a search committee," Scott said. "I am appreciative of his efforts and that of the committee members. I look forward to working with Dr. Smith as we serve the institution and its many stakeholders."
— Pitt —