Students unveil unique bike for those in wheelchairs 
  Monday, May 13, 2019 11:00 AM
  News, Giving Back, Science and Technology, Academics
Pittsburg, KS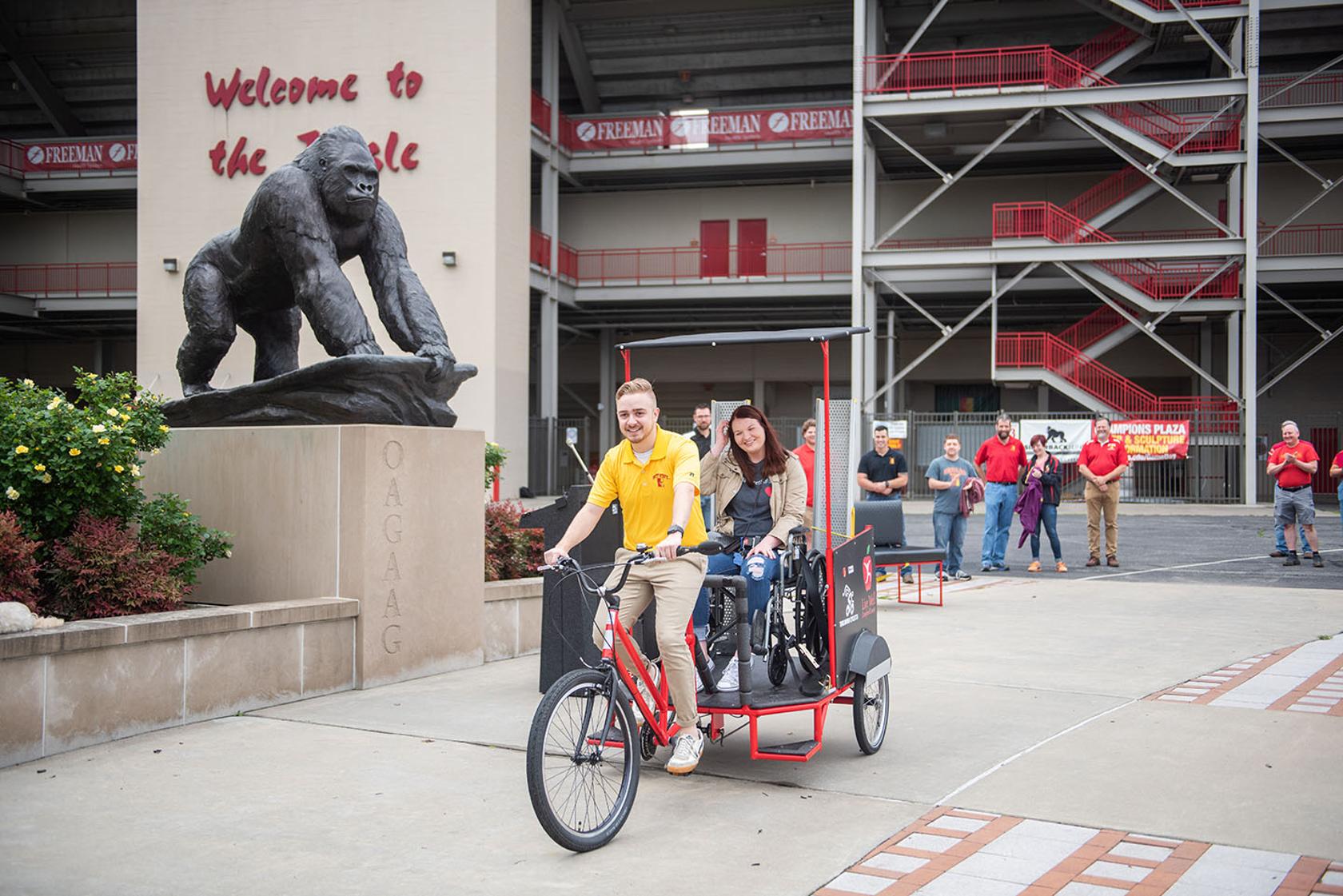 A collaborative project by a team of PSU Mechanical and Manufacturing Engineering Technology students and Live Well Crawford County means people with mobility challenges now can go on bike rides. 
Their project, a pedicab common to big cities, is unique: it has room for a wheelchair or bench seating behind the pedaler, and features two 8-foot-long telescoping ramps.  
Mitch Yeomans, the student team captain, along with Live Well Director Brad Stroud, Engineering Department Chair Greg Murray, and Laura Covert-Miller, co-chair of Live Well's Age Well Task Force and an assistant professor in the Department of Health, Human Performance and Recreation, were able to officially unveil their pedicab to a group of stakeholders and the campus community in Gorilla Village just before the semester concluded. 
There, they were able to demonstrate it just feet from the PSU hike-bike trail, where in coming months, volunteers will take aging residents and those with disabilities on rides. 
"This could have a real impact on people," said Yeomans, a senior from Kansas City, Missouri who spent months with his team designing and fabricating the pedicab. "It will give the elderly and disabled chances they wouldn't otherwise have." 
Live Well, a non-profit organization that promotes healthy lifestyle choices through education, motivation, and support for all generations and abilities, approached the students about the project after an intern came up with the idea. It fits perfectly with the Live Well mission, Stroud noted. 
Murray noted that students regularly complete hands-on projects as seniors, including the NASA Rover Competition and SAE Baja, but this one was unique in its ability to benefit the greater Pittsburg community, he said: "It's not often we have the ability to help others in our project work, but this one worked out this way."
In addition to Yeomans, student team members were Joshua Alstatt, of Kansas City, Missouri; Ayman Alsunay, of Saudi Arabia; Trey Byrne, of Eudora, Kansas; Adam Fogle, of Bartlesville, Oklahoma; Nick Haynes, of Lawrence, Kansas; and Devin Lynn, of Cherryvale, Kansas. Their supervising teacher was David Miller, associate professor.
Other partners in the project were Bodycoat, of Wichita; VanBecelaere, of Pittsburg; Pitt Power crowd sourcing donors; the Department of Graduate & Continuing studies; the nation of Saudi Arabia; and Roger Lomshek, of Tailwind Cyclists. 
It likely will become a model to other communities, Stroud noted, as the group has been invited to present the pedicab project in October as a session at the Growing Sustainable Communities Conference in Dubuque, Iowa. 
"It's an awesome project on so many levels," Stroud said. "What a neat thing for students to do something that, to our knowledge, hasn't ever been done before." 
Learn more about PSU Mechanical and Manufacturing Engineering Technology: 
https://academics.pittstate.edu/academic-programs/engineering-technology/mechanical-engineering-technology-major.html
https://academics.pittstate.edu/academic-programs/engineering-technology/manufacturing-engineering-technology-major.html