Reed and Xiao named 2019 Outstanding Seniors
  Friday, May 3, 2019 10:00 AM
  Academics, News, People and Society
Pittsburg, KS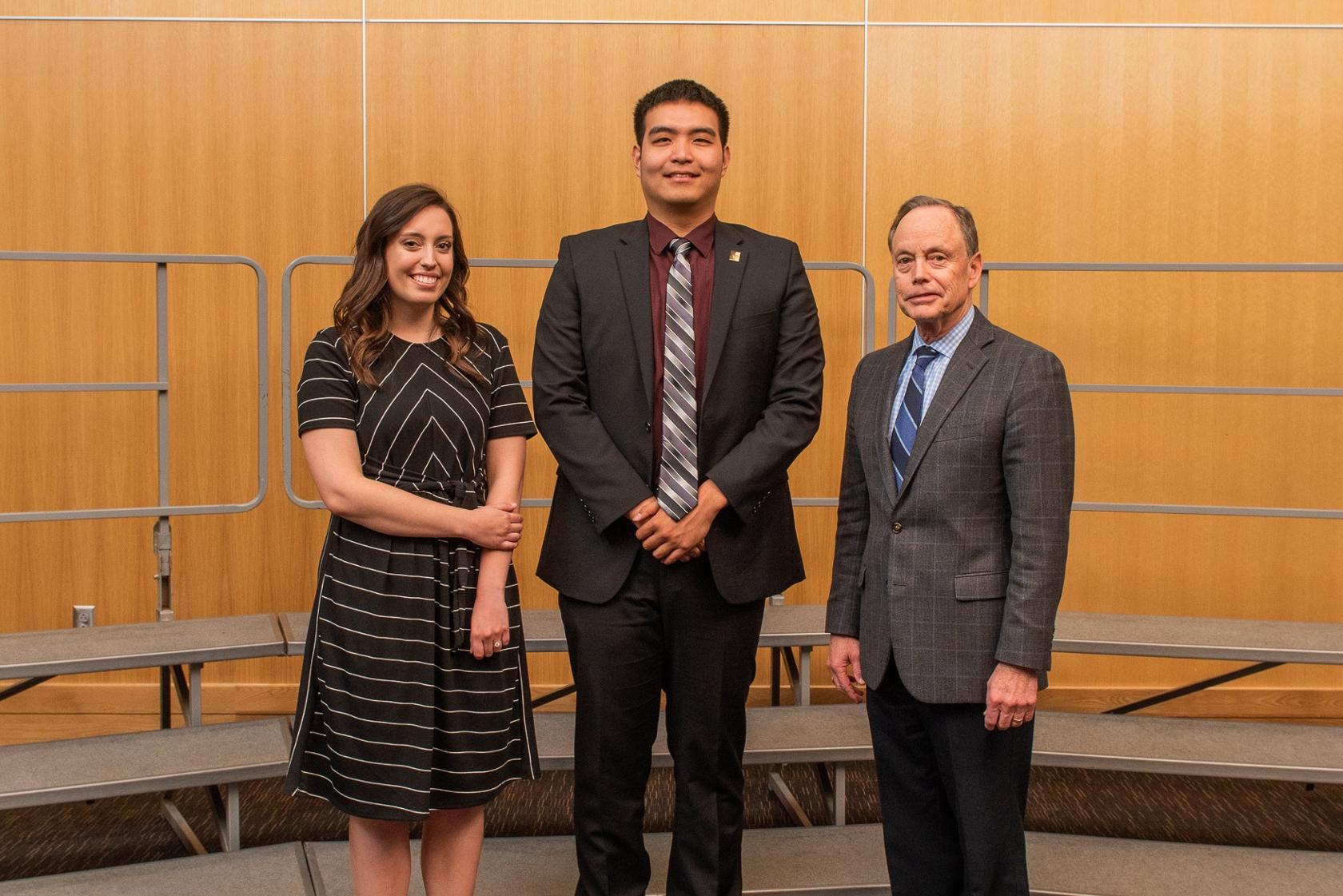 Long Xiao came from a cosmopolitan city of millions in another hemisphere, and Gretchen Reed comes from a Kansas town just a few hours away from Pittsburg. 
But both share a common distinction: they were chosen as Outstanding Senior Man and Outstanding Senior Woman from among Pittsburg State University's best and brightest graduating seniors.  
Next week, they'll deliver remarks to their fellow graduates at Commencement ceremonies to be held on Friday, May 10, and Saturday, May 11.  
Reed 
Reed, who holds a 4.0 GPA and will graduate with two degrees — a bachelor's in Management and Marketing and a bachelor's in English-Professional Writing, with a minor in Spanish — is a native of Olathe, Kansas. It was because of what she heard from her high school teachers, who are PSU alumni, that she chose PSU as her academic home. 
She was sure about the University, but wasn't so sure about Pittsburg. 
"When I first arrived, I wondered what I was doing in a town that didn't have a Chipotle," she laughed. "Surprisingly, it feels like my second home now. I'm so appreciative of the people and the community, and how proud and supportive they are of students and the University as a whole." 
Reed will graduate with a resumé of activities and memberships that fill three pages, single spaced. But in high school, she was an involved student. 
"I wanted to grow when I got here, so I joined things," she said. "It was a great decision. I was able to become a leader, become confident to take on that role, and also how to be a good follower." 
Reed was active in Alpha Sigma Alpha, the Honors College Association, Student Government Association, Panhellenic Council, Enactus, Pitt Pals, and the Advancement Ambassadors, to name a few. She was honored with numerous scholarships and awards and committed nearly 95 hours of community service and charitable giving during her time at PSU, from working at the Big Event and Special Olympics, to ringing the bell for Salvation Army and volunteering at the Gorillathon Fundraiser for Children's Miracle Network. 
She also worked on campus as a student administrative assistant for the KCOB 20 hours a week. 
One of her most memorable transformational moments at PSU: going on a Study Abroad trip to Spain in Summer 2017 — her first time out of the U.S, and an opportunity to not only complete her minor in Spanish, to be become confident and speaking it. 
"And, I traveled with another student who would have been an unlikely friend, and now we're very close, and she'll probably be in my wedding," Reed said.   
Reed will begin a job in commercial finance with the Commerce Bank corporate office in downtown Kansas City this summer, and next summer marry her fiancé, also a PSU student.  
Her goal? 
"I'm fully aware of the shortage of female leadership in corporate America, and I plan to act as a direct force against this issue by becoming a leader myself," she said. "I hope that, in some small way, my future leadership can inspire other women in business to have the confidence to lead others, to take risks that help them meet their goals, and to innovate in the corporate world." 
Xiao 
Xiao, who holds a 3.88 GPA and also will graduate with two degrees — Political Science and International Studies — came to Pittsburg as a junior in high school to attend St. Mary's-Colgan as a visiting international student.  
A native of Shenzhen, China, population 12 million, he experienced culture shock. But he soon not only adapted, he found what he predicted will be lifelong friends. 
"I can still remember getting here six years ago as a kid who didn't know what to do, but people at Pitt State had my back, they supported me, and I'm very appreciative," he said. "I consider that this is my family, too, now." 
Soon after joining the Chinese Student Association and the International Student Association, he became president of both and was active in sharing his culture with the campus, community, and other international students. 
Xiao also was a leader in many other campus organizations, including PSU Toastmasters Club, PSU Model United Nations, Student Government Association, various honors societies, and the PSU Board of Governors, to name a few. He worked in several university departments as a student employee, and completed many hours of community service through the Big Event, at the Lord's Diner, for Salvation Army, at New Hope Services, and at Our Lady of Lourdes Catholic Church. 
Following graduation, Xiao will begin a program at the University of Florida that will enable him to work on his master's and doctorate degree at the same time, and will work as a graduate assistant. 
His goal?  
"I was so inspired by my professors here, who were so valuable to introducing me to research, that I want to become a professor and a scholar myself someday in international relations and political science," he said. "Winding up teaching back here on campus would certainly be a dream come true. Ultimately, wherever I go, my primary objective is to educate and enlighten people with facts to inform them so they can be better citizens — not just American citizens, but global citizens." 
About the Outstanding Senior designation 
The selection of an outstanding senior woman and man is a campus tradition that goes back more than 60 years. The selection process begins with nominations by faculty, staff, or student organization presidents.  
A committee evaluates the nominees with a review of their academic records, campus involvement, leadership in organizations, their awards and honors, community service, volunteer work, and contributions to the university and the community. 
A brass plaque inscribed with their names will be installed in the Senior Walk in front of Russ Hall in their honor.