Grads give back to Automotive Tech program in big way 
  Thursday, May 9, 2019 1:00 PM
  Alumni, People and Society, News, Giving Back, Science and Technology
Pittsburg, KS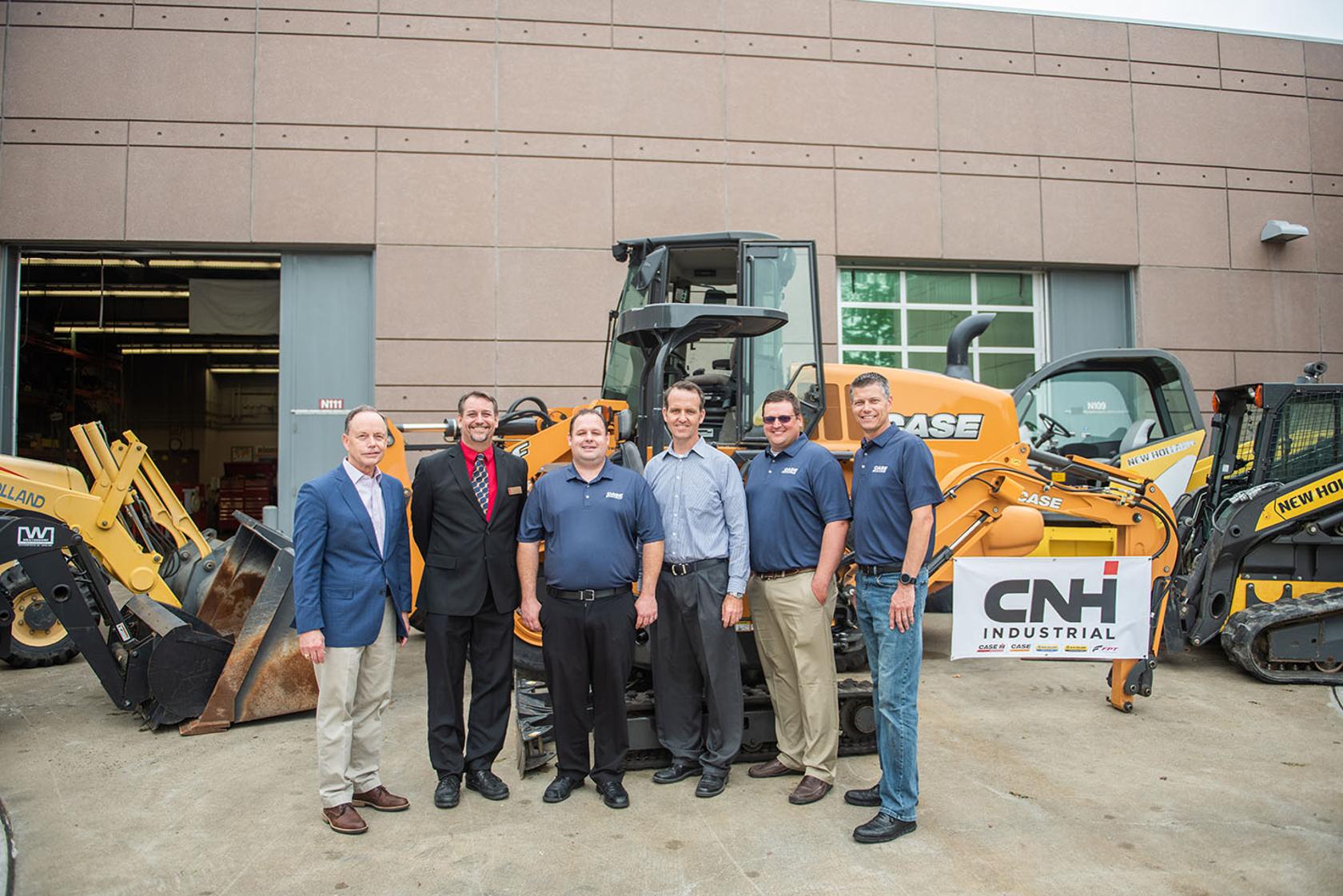 Contact: John Thompson, chair, Department of Automotive Technology, 620-235-6515  
Cutline: PSU President Steve Scott, Automotive Chair John Thompson, CNH leader Kelly Burgess, Professor Tim Dell, CNH leader Ted Polzer, and CNH leader Dallas Grothusen pose for a celebratory photo during a ceremony Wednesday at PSU recognizing the donation of nearly $300,000 worth of heavy diesel equipment. 
 
Three of the first students to attend classes in the Kansas Technology Center had such a transformative experience, they reciprocated — and in a big way.  
As graduates, Dallas Grothusen ('00), Kelly Burgess ('01), and Ted Polzer ('02), went on to become leaders with CNH Industrial. On Wednesday, they returned to campus to help the Department of Automotive Technology officially unveil nearly $300,000 worth of heavy equipment donated by the three.  
PSU President Steve Scott described the donation as an investment.  
"They benefited from the investment other people have made, and now full circle they're coming back to help that next generation," Scott said. "It's not just a donation, it's an investment in our students, in Pittsburg State University, and in CNH – the better our graduates are, the better your business is going to be."  
Tim Dell, professor in Automotive Technology, said that 20 years ago when the Diesel and Heavy Equipment program was in its infancy, there were engines that students could disassemble and run, but there wasn't a single machine.   
Wednesday's gift included a Case 521 F Wheel Loader valued at $100,000, in addition to other recent gifts including Case CX17C mini excavator worth $26,000, a New Holland C232 rubber track loader valued at $40,000, a New Holland M428 Telehandler worth $40,000, a Case IH 75C utility tractor worth $30,000, a New Holland LV80 loader scraper valued at $18,500, a New Holland TC33 compact utility tractor worth $14,000, and a Case 586E forklift valued at $13,500.  
"Fast forward, and we have seven CNH machines behind me that will make a tremendous impact directly on our students' education," Dell said, who added that the machines are "a fraction of the generosity of CNH."   
"Walk into our lab today, remove everything directly given by these three individuals – you'd be shocked by what that lab would look like today."  
PSU offers seven degree plans in Automotive Technology, but Automotive Chair John Thompson said the most successful is the Diesel Heavy Equipment program.  
"It's because of the gifts, trainers, and technology you see behind me now that was donated to us that keeps our program vital," Thompson said, "and keeps us able to teach the students what they need to be learning so when they get out in the world, they're able to land on their feet and hit the ground running and be successful."  
When it comes to such donations, CNH is "unmatched," Thompson said, "and it's not even a close second."  
"What you guys do for us, and these donations, have a direct impact on what we can teach our students, and train our students on – we're grateful for this partnership," he said.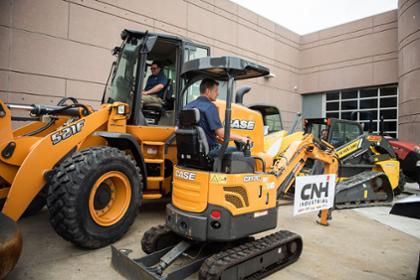 Dell said in addition to celebrating the new equipment, the department and the university are celebrating the success of Burgess, Grothusen, and Polzer. 
"Three Gorillas at CNH are serving in key director and leadership positions. It's easy for us to get excited about that," he said.  
Burgess is Manufacturing Quality Manager at CNH Industrial.  
"In 1997, with some of my peers, we broke this place in," he said. "I was very much in awe with the investment that the State of Kansas and other industry made for us. For me, PSU paved the way for an internship, scholarships, mentoring, career, industry connections... and made me a marketable student. PSU has taken exceptional care to prepare our next generation of interns and employees... for success at CNH. I made a commitment to be reciprocal." 
Grothusen is Product Quality Manager for AG/CE NAFTA at CNH Industrial.  
"As a farm boy from western Kansas, I never expected the opportunities I've had and doors that have opened thanks to Pittsburg State, my degree, and my education," he said.   
Grothusen leads a team of individuals in five countries responsible for manufacturing the product line in four plants around the world. 
"I don't just give back through donations," he said. "I support SAE Mini Baja events, attend career fairs and automotive orientation day as a recruiter and panelist, and I jump at any opportunity to play tour guide when students visit CNH in Wichita. Pitt State continues to deliver the best candidates."  
Polzer is the Director of Field Service at CNH Industrial.  
"I fell in love with this place," he said of the KTC. "It really opened my eyes that it wasn't just an opportunity to learn about machines, it was an opportunity to go work for big dealerships."  
"This is a small piece of the gratitude I feel like we owe back to Pitt State," he said. "And we want to add to our troop at CNH with more Gorillas – everywhere I've been in North America, people know what this school is and what it can do. There is a tremendous amount of respect that comes with having a degree from this organization."  
Learn more about Automotive Technology at https://www.pittstate.edu/automotive/index.html