Gorillas win in Viking axe competition 
  Wednesday, May 8, 2019 3:00 PM
  News, Science and Technology, People and Society
Pittsburg, KS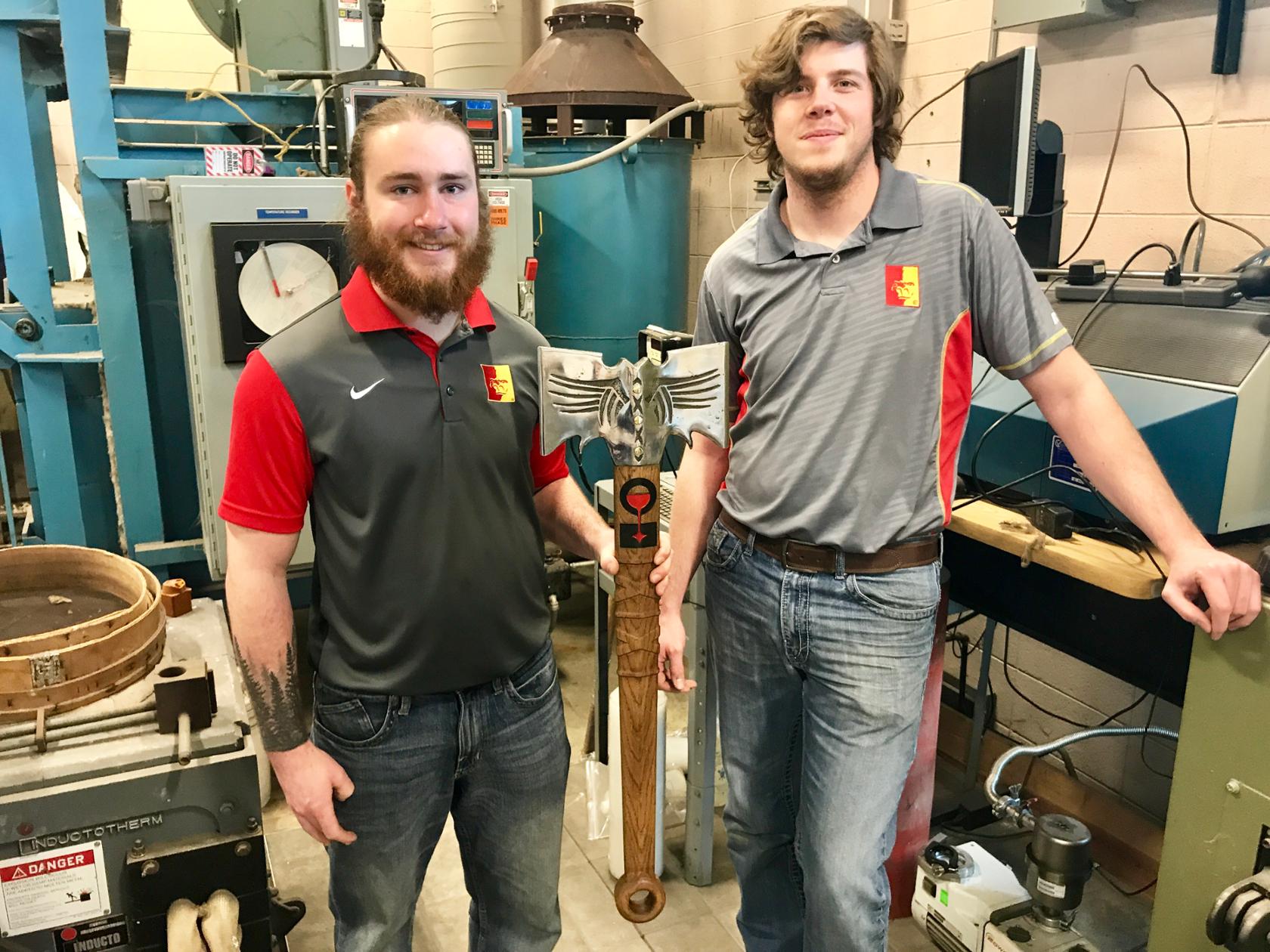 Michael Paddock, a senior from Clinton, Missouri, and Logan Roseberry, a junior from La Harpe, Kansas, can add something unique to their resumés: crafters of an award-winning Viking ax. 
The two won "Most Captivating Design" in the recent national Cast in Steel competition against 15 other universities and 20 Viking axes. That double-headed design included the classic feature design of a Viking axe and included the splitface Gorilla and the event sponsor's logo on the handle. 
As students of University Professor Russ Rosmait and Professor Jacob Lehman in Manufacturing Engineering Technology, they began their axe complex project in November.  
During the design and development process, they utilized all the advanced manufacturing tools available to them within Manufacturing and the Department of Engineering Technology.   
Additional collaboration with several off-campus companies was a requirement for the competition. The mold for casting the axe was manufactured using the additive manufacturing sand printing process by PSU Alumni Nathan VanBecelaere, employed by Emerson in Marshalltown, Iowa. The casting partner was Monett Metals of Monett, Missouri, which poured the 6150 steel alloy for the team. 
Sam Galliart, a graduate student in PSU's Architectural Manufacturing Management and Technology program, helped design and machine the handle. 
Paddock and Roseberry also completed weeks and weeks of finishing work. 
Then, they, along with Rosmait — himself nationally and internationally recognized in the field of metalcasting — flew to Atlanta to test it at the national American Foundry Society CastExpo2019.  
The competition featured using each axe to cut through a piece of steel as if it was a piece of armor, then cutting through a piece of rope to evaluate how much sharpness was retained. Among the judges was Ben Abbott, two-time winner of the History Channel's "Forged in Fire." 
Paddock and Roseberry say that not only is their chosen field fun, it's ripe with employment opportunities. Roseberry will be interning this summer at S&P Foundry in South Coffeyville, Oklahoma, and Paddock will be heading to Melbourne, Australia, for a six-month internship with AW Bell. 
"We've gotten some great hands-on opportunities here at Pitt State that have helped us prepare," Paddock said. 
View a brief video with highlights of the competition, including a sighting of the PSU axe, at https://www.sfsa.org/castinsteel/ 
Learn more about PSU's Manufacturing Engineering Technology program at https://bit.ly/2VTd4Mw