College of Education presents awards, medallions 
  Wednesday, May 8, 2019 10:00 AM
  Academics, Alumni, News, People and Society
Pittsburg, KS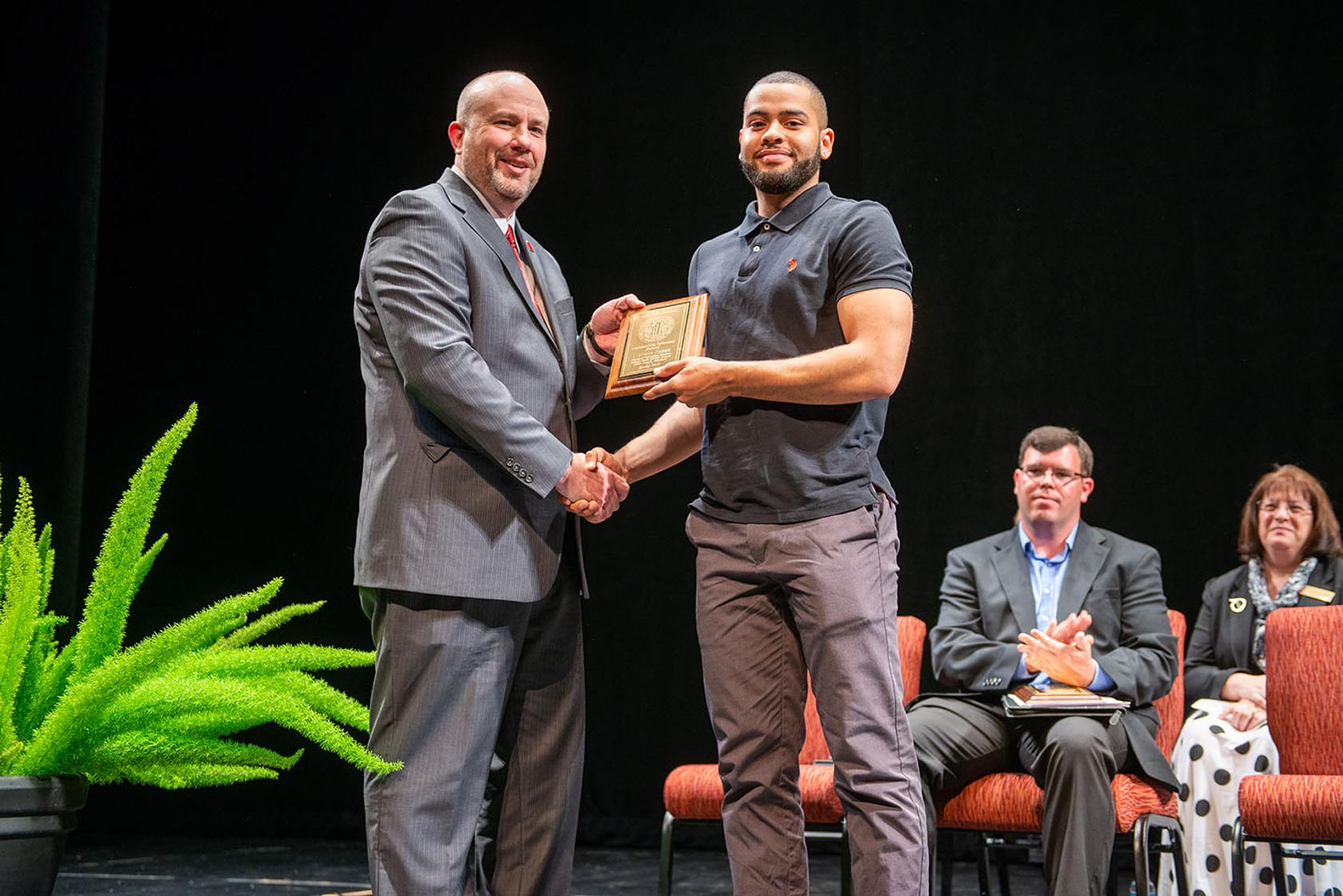 A first-grade teacher from a small rural school district who struggled with reading as a child, and a physical education teacher from a middle school in a district of 11,227 students who is passing his love of basketball on to youth, were honored this week during the PSU College of Education's annual recognition and awards ceremony. 
Each spring, the College of Education presents medallions to student teachers preparing to graduate and recognizes one outstanding elementary and secondary teacher who have distinguished themselves within their first seven years of service. This week's ceremony coincided with National Teacher Appreciation Week. 
Chad Dozier ('12), who teaches at Heller Elementary in Neodesha, Kansas, was awarded the Outstanding Elementary Educator Award. Dakota Jones ('18), who teaches at George Bode Middle School in St. Joseph, Missouri, was awarded the Outstanding Secondary Educator Award. 
Doziers' nominators noted that he goes above and beyond for his students and his colleagues and is the first to volunteer whenever help is needed. He has chaired committees, is a district site council member, was the high school golf coach, and has worked for the elementary after-school program. His superintendent noted that he has been instrumental in mentoring countless teachers. 
"His love of teaching is reflected daily in his interaction with students and parents," said his principal, Melissa Johnson. "He carries himself in a way that is a constant model for others to follow."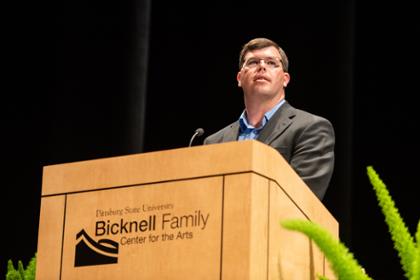 Jones' nominators noted that he is an excellent role model for youth, and goes above and beyond at his job, including volunteering for bus duty every day at a school that loads 13 busses and having dance-offs in the locker room. 
A former Gorilla basketball player from Warrensburg, Missouri, he was a multiple-year member of the MIAA Academic Honor Roll as a physical education major and started 40 of 69 career games. 
At Bode Middle School, he started a morning basketball club to encourage students to get up and active. After hours, he volunteers at Benton High School as the freshman boys' basketball coach and is a part of the advisement team for Bode Middle School. 
"Last year, I was up here to get my medallion and see what the world had in store for me," said Jones to the graduating seniors. "Pitt gave me the skills and tools I needed to be successful in the classroom. My motto? Treat your worst kids like they're your best kids."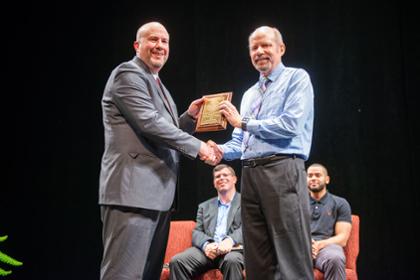 In addition to recognizing Dozier and Jones, the College of Education recognized Clayton "Bruce" Warner, PSU associate professor in Psychology & Counseling, with the Excellence in Teaching Award, and two Teachers of Promise, with the Delta Kappa Gamma Lyla Vaughn Award: Karisa Garber, an Elementary Education major from Leavenworth, Kansas, and Levi Wyrick, a Physical Education major from Elk City, Kansas. 
Representatives from the College of Education also presented 88 graduating seniors who completed student teaching with medallions that they may wear during Commencement, and administered the Teacher's Oath.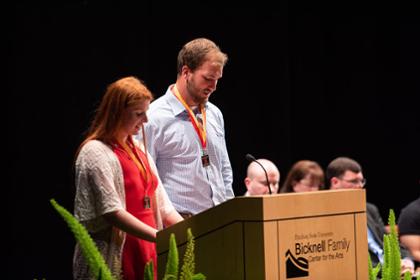 Learn more about the College of Education and pursuing a teaching degree at https://www.pittstate.edu/education/index.html