Safety Olympics returns to PSU 
  Friday, April 12, 2019 12:00 PM
  News, Science and Technology, Academics
Pittsburg, KS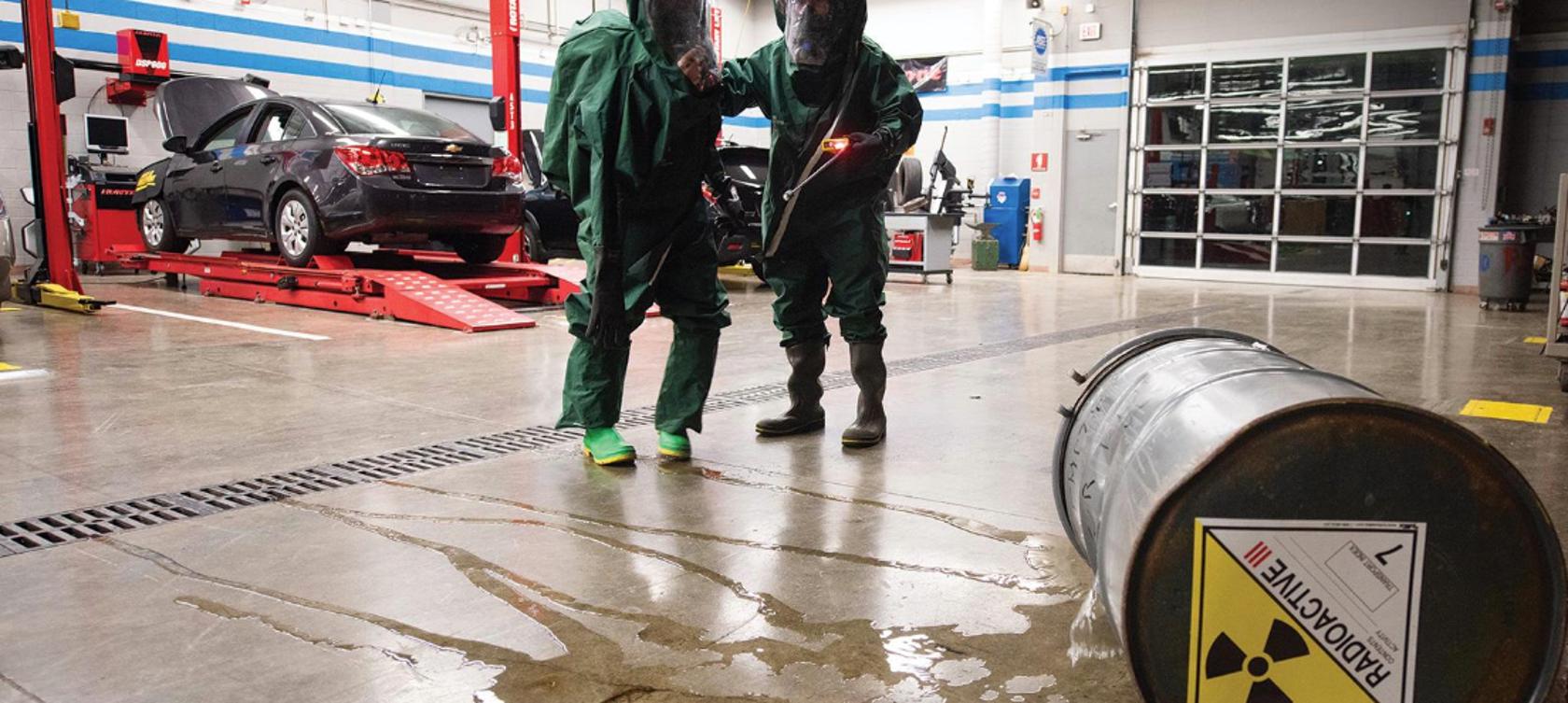 When a professor at another university suggested that midwestern universities with Environmental and Safety Management Programs hold a Safety Olympics for students, the answer was clear as to where it should be. 
"Another colleague replied to the idea by saying, 'The only place you could do that is at Pittsburg State'," said Patrick Flynn, a professor in Pittsburg State's ESM Program. "We're the only place that has the kind of lab space needed." 
So Flynn and his department rolled out the red carpet last year for the first such event, with an eye toward it eventually becoming a national draw. 
This year, it returns on April 15-16, and six universities are competing: Oklahoma State University, Northeastern State University, Central Oklahoma State University, Southeast Oklahoma State University, Central Missouri State University, and Pittsburg State University. 
Among the competitions:  
Hazard Recognition 
Teams will rotate through three hazard stations focused on the oil and gas, general industry, and construction fields. Facilitated by the Missouri Department of Labor, this event requires teams to work with equipment and scenarios to recognize hazards and locate the Code of Federal Regulations standard that supports the findings.  
 
Accident Investigation 
This hands-on event evaluates a team's ability to thoroughly investigate a simulated accident. Each team acts independently to assess the situation, interview witnesses, and present their findings that aim at eliminating repeat accidents in the future. Each team member must participate in the presentation.  
Students also will compete in the categories of Safety Innovation, Safety Jeopardy, Presentation Prep, and Safety Culture. 
Competitions will start on Monday at 9:45 a.m. and continue through 2:45 p.m. On Tuesday, they'll run from 9 a.m. to noon. 
Competitors may then attend the School of Construction Expo, which runs Tuesday and Wednesday at the Kansas Technology Center and is expected to draw approximately 800 people. 
About PSU's ESM 
PSU's ESM program is part of the School of Construction within the College of Technology, which is housed in the Kansas Technology Center.  
In 2015, the program was added to the Institute for Safety and Health Management's list of national board-approved programs. A student earning an environmental and safety management degree from a board-approved institution is automatically qualified for the Associate Safety and Health Manager credential. 
Those credentials help potential employers know that the individual has been formally educated and prepared to address safety and health issues and are ready to step into an entry-level position. 
PSU's program joins degree programs from just 12 other higher education institutions in Alabama, Missouri, Kentucky, Michigan, Missouri, Pennsylvania, Texas, West Virginia and Wisconsin that are recognized by ISHM.  
Learn more about Safety Olympics: https://www.pittstate.edu/technology/events/safety-olympics.html
Learn more about Environmental and Safety Management: https://academics.pittstate.edu/academic-programs/school-of-construction/environmental-and-safety-management.html