Kaylah Ailes named Student Employee of the Year 
  Tuesday, April 9, 2019 8:30 AM
  People and Society, Campus Culture, News
Pittsburg, KS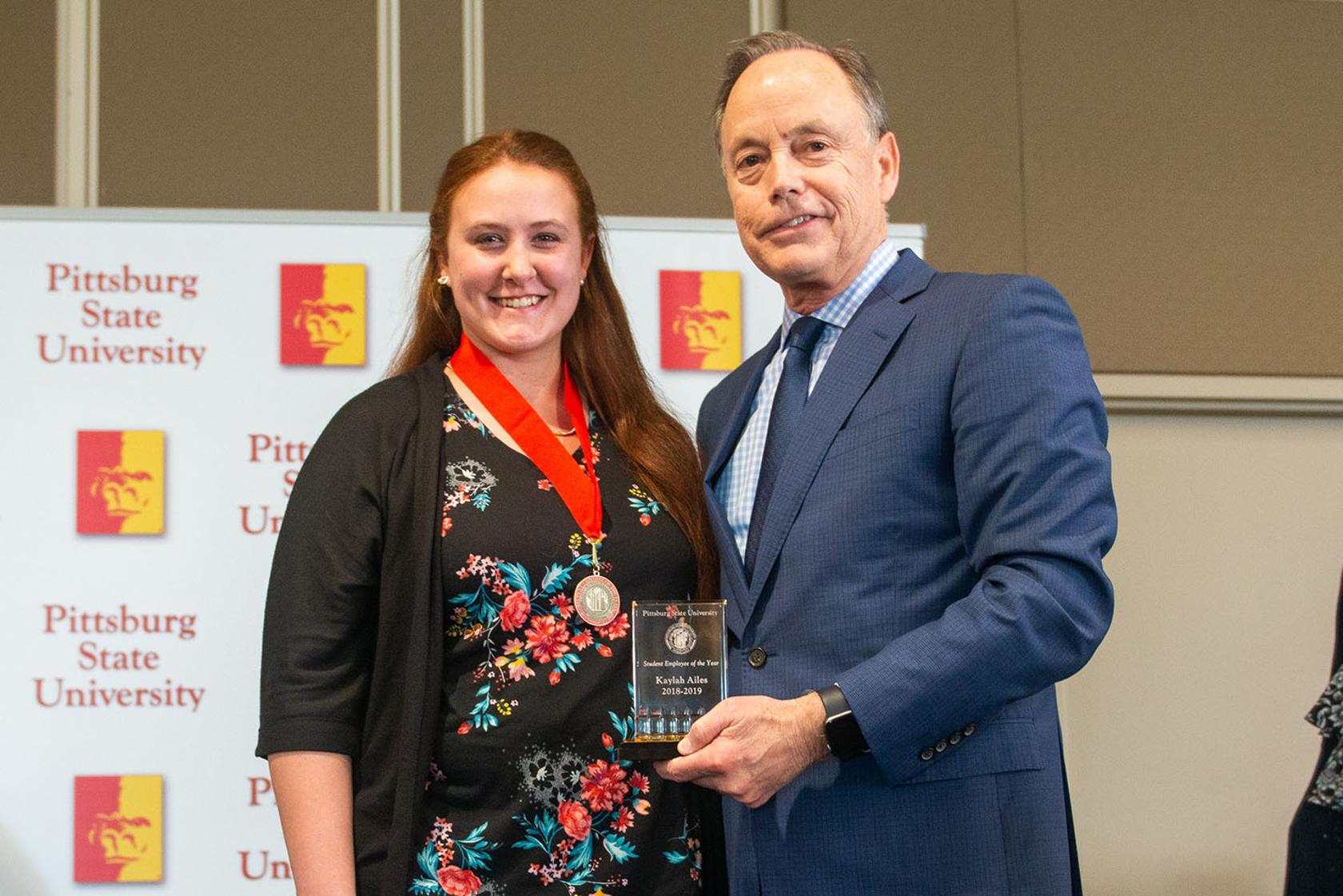 The rapport student employees have with their supervisors was on full display Monday at the Student Employee of the Year ceremony. 
Susan Downing, administrative specialist in the Department of Health, Human Performance, and Recreation, arrived with an armful of flowers for her nominee, Kaylah Ailes. When Ailes' name was announced as the winner, Downing had tears in her eyes. 
After hugs and posing for a photo, Ailes pulled Downing aside. 
"My mom is here," she said. "You have to meet her!" 
It's that kind of relationship that makes the student employee experience at PSU a transformational one, noted President Steve Scott in his remarks during the ceremony. The keynote speaker, Jon Bartlow, agreed. 
Bartlow worked at KRPS 89.9 radio station as a student employee — a role for which he was recognized as the Student Employee of the Year in 1999. In his remarks, he noted that the mentorship he received from his supervisor was invaluable, and still benefits him today in his role as the Director of Alumni & Constituent Relations. 
Ailes was praised by her nominator for being responsible, dedicated, efficient, pleasant, and welcoming, and for having great office skills. She creates flyers, newsletters, bulletin boards, and has overhauled their computer files and filing system. She also took on the task of serving as the editor of the Kansas Association for Health, Physical Education, and Recreation office journals and newsletters. 
"Kaylah is smart, resourceful, kind, generous, and contributes thoughtfully to projects in which she is involved," her nominator wrote. 
Ailes, a Joplin resident, will graduate in May with a degree in English. She is the daughter of Christina Ailes of Oronogo, Missouri, and Dallas Ailes of Des Moines, Iowa. 
"I have just loved being in this department for three years," she said of her job. "It's close like a family. College is stressful, and having that support system from this office has been amazing." 
The first runner up was Carter Stolberg, Department of Technology and Workforce Learning, from Prairie Village, Kansas. The second runner up was Erykah McClendon, University Development, from Pittsburg. 
Other nominees were: 
Cheyanne Davis, Kayla Drybread, Anna Farrow, Alimu Gulifeila, Dallas Jones, Kory Mans, Molly Menefee, Cassandra Ngo, Sydnee Pointer, Samantha Ruvalcaba, Sophia Stapleton, Nicholas Streeter, Vanessa Tapia Becerra, Diego Torres, Madison Westervelt, Peyton Witham, and Emily Wood. 
Check out the gallery of photos from the event on the PSU Facebook page.
Tradition 
The Student Employee of the Year Ceremony is a time-honored tradition; this year marked the 30th year for the event, held in the Overman Student Center and drawing co-workers, families, nominees, and their nominators. 
It's an important tradition that Mindy Cloninger, director of the Office of Career Services, said she is glad to see continue. 
"Our 624 student employees play an important role here on campus – it would be a very different place in terms of a workforce if we didn't have them," Cloninger said. 
Students are employed in research and teaching labs, and in customer service, event planning, and clerical roles in departments and offices across campus. 
The Office of Career Services also recognized PRG Prototyping, owned by PSU alumnus Tyler Harrell, and Pitsco Education, owned by PSU alumnus Harvey Dean, with the Business Appreciation Award, for their dedication to hiring PSU students and graduates. 
Parents, nominators, and supervisors also were recognized, and Pittsburg Mayor Patrick O'Bryan proclaimed it Student Employee Day in Pittsburg.