Hydroponics to aquaponics: How university students are learning to master sustainable food production — on the roof   
  Thursday, April 18, 2019 2:00 PM
  Milestones, Academics, People and Society, News, Science and Technology
Pittsburg, KS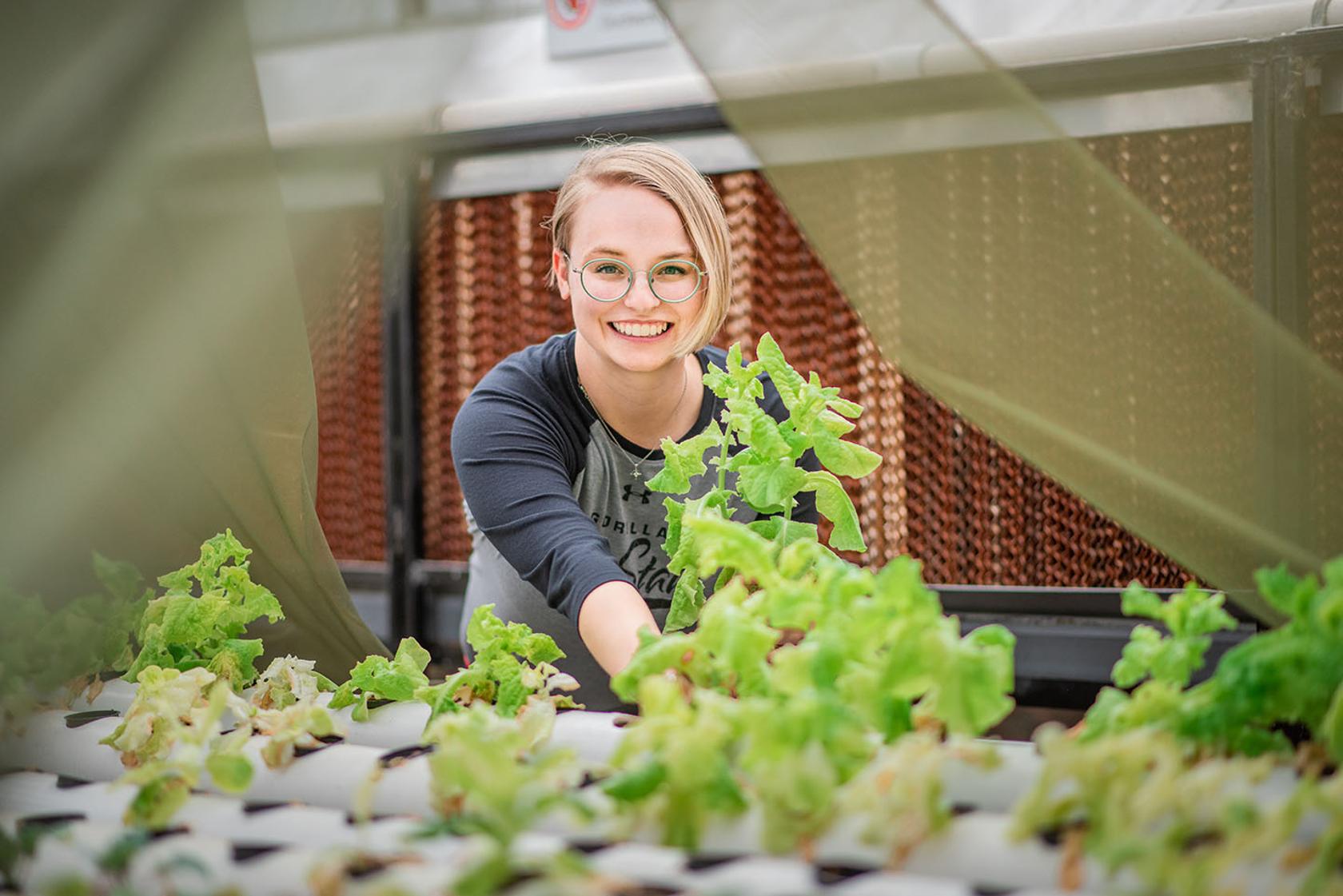 Fish soon will be living on the roof of the science building at Pittsburg State University.
And those fish will be helping to grow plants. 
It's a forward-thinking project by Students for Sustainability (S4S), a student organization at PSU, in cooperation with Enactus, another student organization, and the PSU Biology Department.  
S4S has gained a reputation for its recycling efforts: each Fall, members collect as much recyclable material as they can during the move-in process at the residence halls. At each Spring, they collect reusable items students don't want to take with them when they leave campus to head home — hair dryers, brooms, microwaves, you name it. Those, they sell at the SEK Recycling Center.  
The group's latest initiative, hydroponics and soon to be aquaponics, is one that's trending: they're promoting sustainability by developing a sustainable food production project they have installed in a greenhouse on the roof of Heckert-Wells Hall. 
"Trial phase" 
One recent afternoon saw a group of students there tending plants; they're growing without soil in a "garden" built of PVC pipe and covered with mosquito netting to diffuse sunlight. 
Among them was Charlie Beetch, who moved his family from Hutchinson, Kansas, to Pittsburg to pursue a bachelor's degree in Sustainability, Society, and Resource Management (SSRM); it's the only program of its kind in Kansas.  
"We're still in the trial phase," Beetch said. "Th fish ought to be here next week. Then, it will be a full system." 
As he checked the health of the plants, a classmate, Cecily Stephens, a non-traditional graduate student from Pittsburg, harvested greens she considered using in a salad later. 
"We're growing arugula, red kale, romaine, collard greens, and butter lettuce," said Stephens, who dreams of becoming an environmental journalist. "I'm pushing for starting herbs, and we could use them for fresh pesto!" 
"Perfect fit" 
The project was borne of conversations between S4S advisors and students during last year's Earth Day celebration in the Overman Student Center. Enactus member Dodge Mattingly was displaying a booth that described his group's trip to Haiti to set up a hydroponic system at an orphanage to help them grow fresh produce. 
S4S members had been dreaming of a food production project — especially one that would provide a learning laboratory experience. Enactus was wanting to give away their prototype hydroponic set-up. And S4S
President Erin Kruse, a Girard, Kansas, native, had experience with aquaponics, hydroponics, and farm-to-table production at Johnson County Community College before transferring here. 
"It seemed like a perfect fit," said Jim Triplett, who volunteers as the Special Assistant to the President for Sustainability — a position created last year as part of the university's focus on sustainability.  
Enactus also gave S4S the fertilizer, seeds, and other supplies needed, and offered to share what they had learned to help S4S get up and running. 
"Enactus had worked out the hydroponic side of the project, but the aquaponics portion is a new dimension, because it involves growing fish," said Triplett, who for decades taught in the PSU Biology Department and served as its chair.   
"The waste from the fish will break down and provide nutrients for the plants that will use the nutrients to grow, cleaning the water before it's returned to the fish," he explained. "When properly balanced, the system provides extremely efficient food production in terms of resources, energy and space." 
The biggest challenge? Fitting the PVC pipes and other supplies into the elevator. 
Networking 
Last month, their project took another step forward with a visit to Nile Valley Aquaponics, in inner Kansas City, Missouri, where they toured the facility and gained insight into its closed loop system. 
The trip was organized by Kruse, who works at the Student Assistant for Sustainability in the President's Office, and is majoring in SSRM. 
Joining her on the trip were several S4S members, SSRM majors, faculty members including Catherine Hooey (Geography), June Freund (Economics), Tim Bailey (Geography), and staff including Jesse Briscoe (Housing), Elliott Rowland (Physical Plant). 
Nile Valley provided inspiration: it features three, six-foot deep, lined trenches that house more than 60,000 tilapia. The water from the fish-rearing troughs is pumped up to the top of a stack of four growing beds that sit on top of the trenches and run their full length, Triplett said.   
The nutrient-laden water travels through each bed and drops to the bed below until it is returned to the fish trough. In addition to plants and fish, the facility raises soldier flies to feed the fish and goats to eat the vegetative leftovers from production.   
The trip also included a visit to Johnson County Community College, which created a Center for Sustainability in 2003.  
"A composting operation there takes in all of the food waste from the facility and runs it through a hot tumbler and, with the addition of wood chips and sawdust, it develops into a compostable mix in about 10 days," Triplett said. 
The mix then is moved to aeration piles and is used as a soil amendment on the campus farm.   
A greenhouse there houses the aquaponics project, which features a fish tank that holds 60 tilapia. They provide the nutrients for the hydroponic production of leafy greens and larger plants in media beds. All of the material grown from the system is used in JCCC dining services. 
"It's an amazing system and is reflective of future sustainable food production. We hope some of these ideas can be applied to future projects at PSU," Triplett said. "There is a lot more to do before our system is fully operational, but this project has caught the imagination and interest of an active and enthusiastic group of students who are investing their time and energy to forge a new path in sustainable food production." 
Learn more about the SSRM degree at https://bit.ly/2Og4STx