Hundreds turn out for School of Construction's biggest "show and tell" yet
  Thursday, April 18, 2019 11:00 AM
  Alumni, Science and Technology, News, Academics
Pittsburg, KS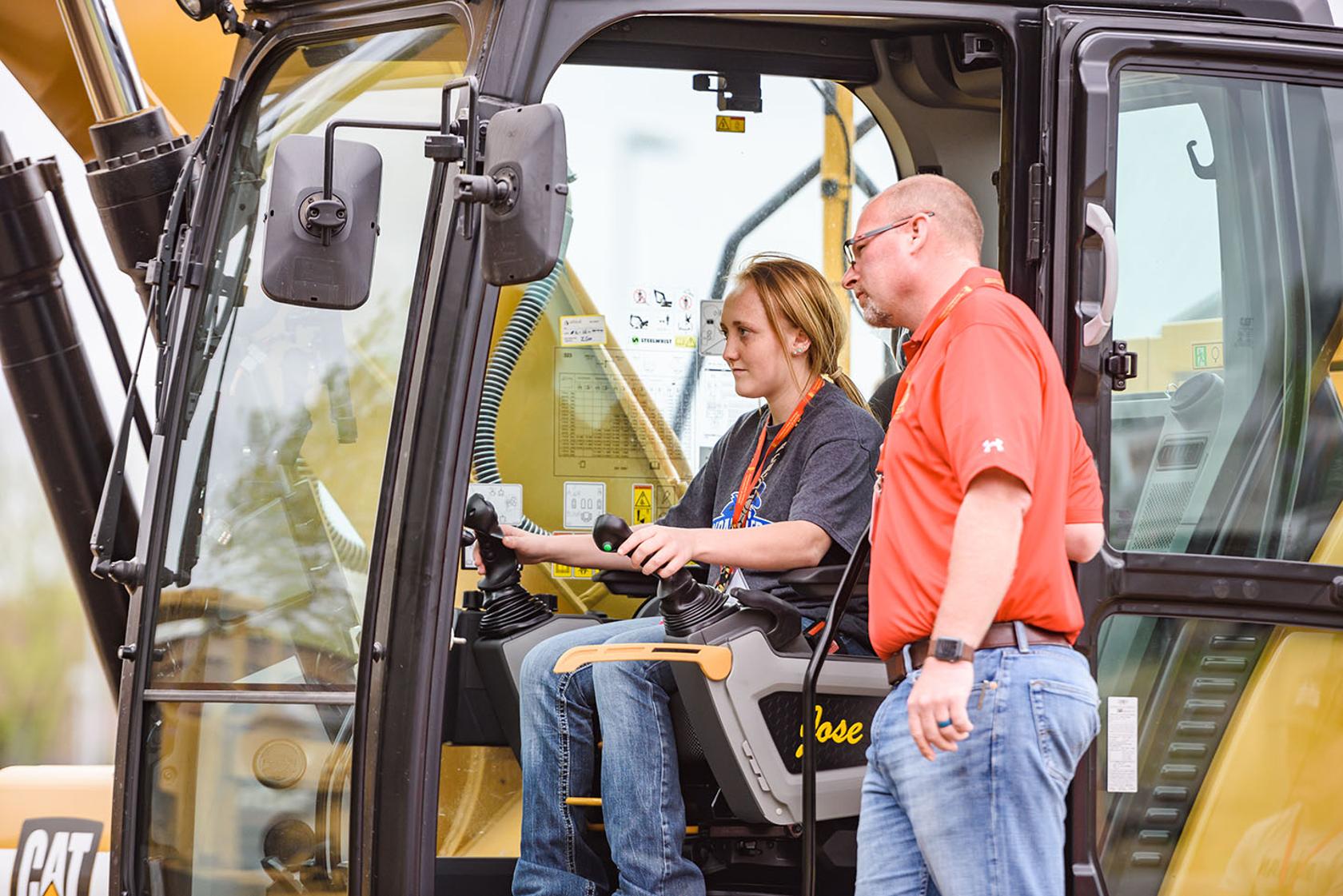 At what could be considered an enormous show-and-tell of the construction industry, hundreds of high school, community college, and university students were busy viewing demonstrations, trying out equipment, and networking for future careers in the parking lot of the Kansas Technology Center on Tuesday. 
It was all part of the annual PSU Construction Expo hosted by the School of Construction, part of the College of Technology, and attracted more than 107 exhibitors and 800 guests. 
The parking lot was filled with cranes, concrete finishers, curb rollers, a drone display, semi-trailers outfitted with simulators and geothermal displays, and more. 
"To me, this is all about exposing students to their potential," said Tim Dawsey, dean of the college, as he walked among the displays brought in by vendors from across the nation. "There are career opportunities in construction that are beyond what most people can imagine, and qualified people are needed so much right now. There's a growth in the industry and a retiring workforce. Our graduates are in demand." 
Representatives of a variety of heavy equipment dealers and manufacturers invited attendees to hop on and give the equipment a try.  
Representatives from CDL, a locally-based, homegrown business, shared with high school students from several area schools that they have 18 divisions in 26 states and diverse job options. 
A representative from Dondlinger Construction demonstrated the use of technology in the field, including a flatscreen monitor in a trailer that tracked the movements of a nearby bulldozer pushing gravel. 
PSU juniors Carter Young, Brad Perkins, and Kyler Manbeck said it was a great way to pick up business cards and see what internships are available as they begin to narrow their focus. 
Allison Hibdon, a junior at Girard High School, was part of a group of eight high schoolers who were brought by their guidance counselor. 
She said after seeing the expo that she "probably will come to PSU." 
"I've talked to several people and learned a lot about my options," she said. 
Representatives from Crossland Construction, headquartered in Columbus, Kansas, said the event is a way for them to scope out prospective employees. Teams of two students at a time worked in a timed competition to install Symons forms, a product used to build foundation walls. The time to beat: 3 minutes and 29 seconds. 
"We recruit a lot of our field engineers from here. PSU has a reputation for actively training students on these forms. They have a great grasp of basic fundamentals before they graduate," said Crossland Trade Instructor Mark Robinson, who has set miles of the forms at a time while building hotels throughout the region. "Learning that in college means they're ready to work when we get them." 
A demonstration by Crookham Construction, LLC, based in Tonganoxie, Kansas, was the largest of the day and will be permanent at the KTC: a crew created a concrete drive for a crowd of hundreds of spectators — a project for which PSU students helped prepare. 
PSU students also had the chance to hear from two industry leaders at the expo: Dirk Elsperman, the AGC of America Executive President and Chief Operations Officer of Tarlton Corporation, and William Praderio, vice president and chief estimator of Massman Construction Company. 
To see a gallery of photos from this year's event, visit us on Facebook.
Learn more about the School of Construction at https://construction.pittstate.edu/index.html.
Learn more about the Construction Expo at https://construction.pittstate.edu/expo.html.