Childhood accident inspires career for Greenwell 
  Tuesday, April 30, 2019 2:00 PM
  People and Society, Academics, News
Pittsburg, KS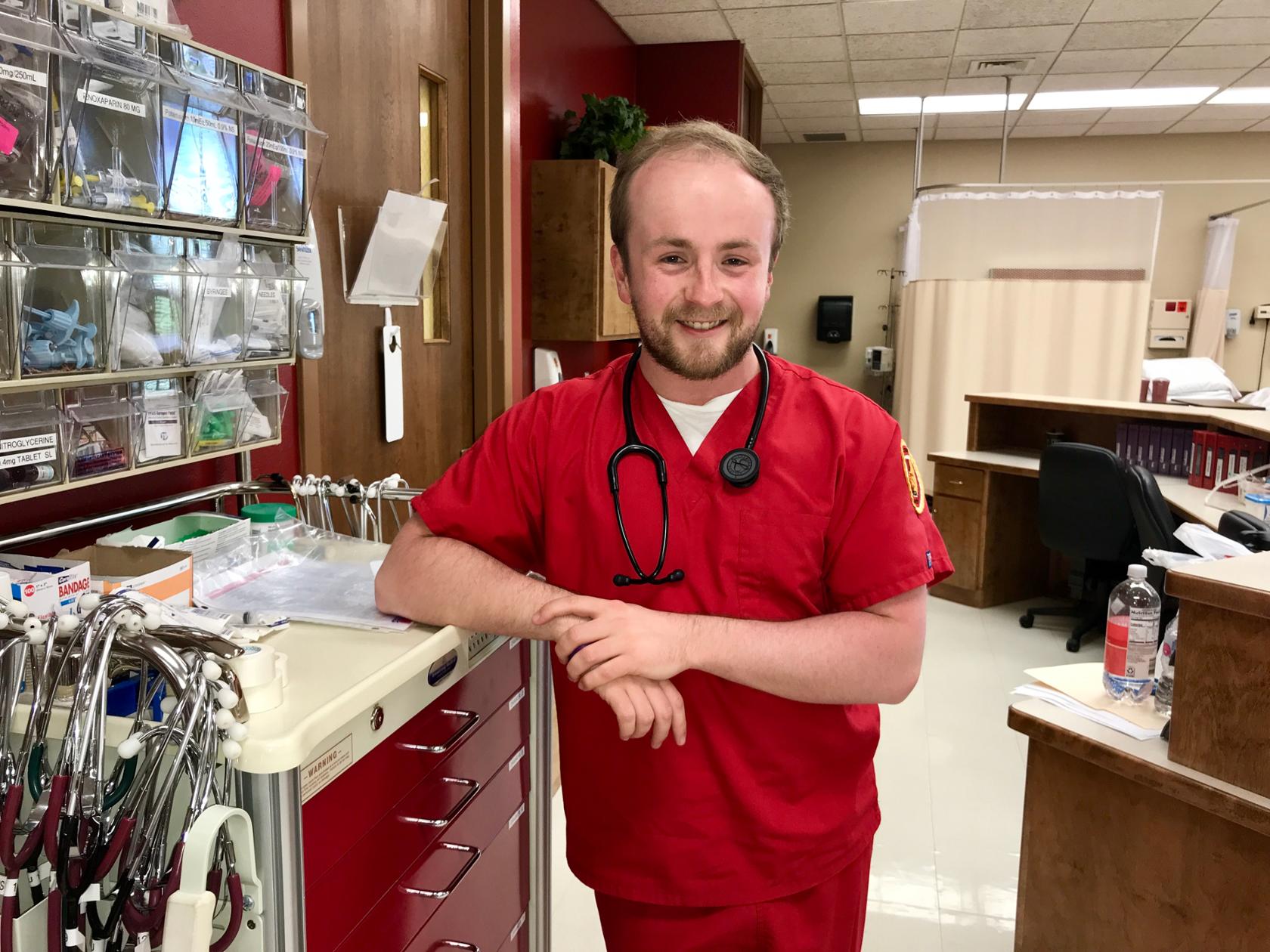 Evan Greenwell, a senior from Tonganoxie, Kansas, was in seventh grade when he caught on fire after gasoline was poured on a nearby brush pile.  
Now 24, he remembers it like it was yesterday. 
But he also remembers the care he received as a patient in the burn unit at Children's Mercy Hospital in Kansas City. Ultimately, the staff there did more than help him heal. They set him on a path to his career. 
On May 10, Greenwell will graduate from the Irene Ransom Bradley School of Nursing as an RN and in July will join the staff of Children's Mercy Hospital in Overland Park. His end goal? 
"I want to wind up working in a burn unit," he said.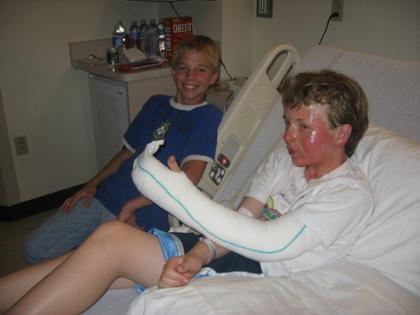 Greenwell, now 24, has no outwardly visible signs of the trauma his body endured as a 13-year-old. His ivory skin contrasts with the red scrubs he wears almost daily now as a senior engaged in clinical rotations and in his capstone internship on the pediatric floor at Freeman Hospital in Joplin, Missouri. His arms are clear, his face partially covered with a beard. 
Photos of him immediately after the accident tell a different story. His face and arms are puffy, red, and blistered, and he is confined to a hospital bed. He underwent debridement twice a day — a painful process in which dead, damaged, and infected tissue is removed to improve the healing potential of the remaining healthy tissue — and was administered morphine through an IV. 
"What I remember most is that the nurses there were phenomenal," he said. "They were caring, compassionate, and not just to me, but my parents, too." 
In high school, when Greenwell and his classmates were asked to begin considering future careers, he volunteered at Lawrence Memorial Hospital two summers in a row. 
"I transported patients from their rooms to other areas of the hospital, delivered food to them, answered the phone, that kind of thing," he said. "It felt right." 
At the same time, Greenwell was making trips to Pittsburg with family friends to tailgate.  
"PSU also felt right," he said. "The atmosphere and the distance from home were perfect." 
Sealing the deal, he said, was a tour of McPherson Hall, home to the School of Nursing. 
"I learned about the employment rate, the incredible pass rate, of nursing students here and that was it," he said. 
He soon found he made the right decision. 
"Being part of this program has really enhanced my people skills," he said. "That's important — I wanted to go beyond the basics like IVs and catheters." 
He credits his professors for helping him reach his goal. 
"They are amazing. They really care about you as a person, and that's why retention here is so high," he said. "They won't let you fail." 
Greenwell said he's proud to start his career at Children's Mercy, and proud to represent Pittsburg State. 
"I didn't expect it right out of college," Greenwell said of the job offer. "To be able to work for the hospital that gave me so much — that inspired my career — is beyond words. My parents cried when I called them to tell them." 
Next up for Greenwell: graduate nurse residency, which means training for a year. 
"And then one day, the burn unit," he vowed.