University observes Apple Day with awards, traditions 
  Monday, March 4, 2019 4:00 PM
  People and Society, Campus Culture, News, Alumni, Milestones
Pittsburg, KS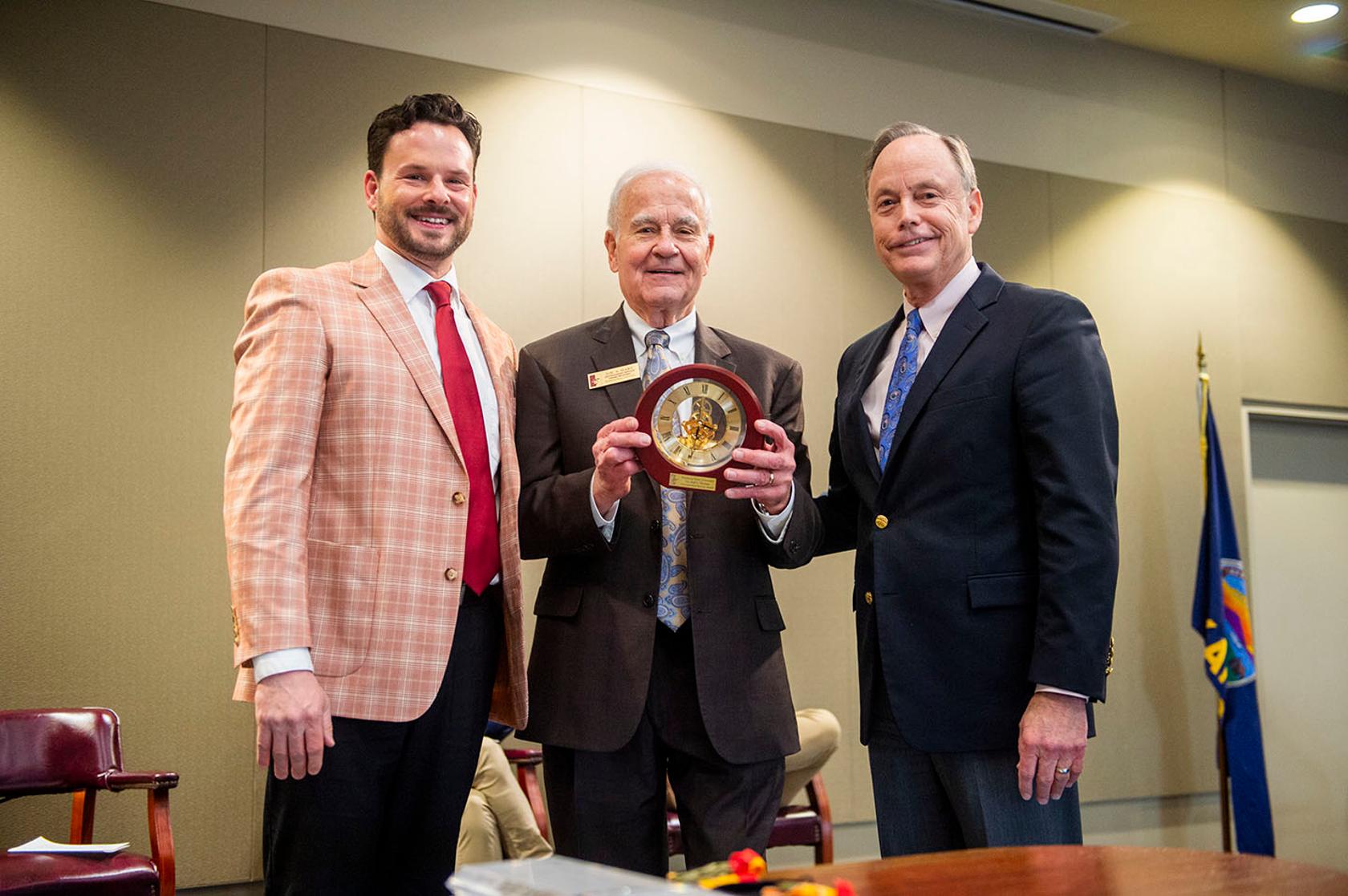 Pittsburg State University faculty, staff, and students observed an annual tradition Monday that dates to the founding of the school: Apple Day. 
In addition to the customary handing out of apples donated by Marrone's Food Service, this year's activities included the popular apple dessert contest, a reception for Ralf J. Thomas Distinguished Service Award recipient Joe Hart, and the annual all-university Apple Day Convocation at which numerous other award and grant recipients were honored.  
Those recipients included: 
Good Apple Award  
This year, the Apple Day Committee chose two Good Apple Award winners, both of whom served as keynote speakers at Apple Day Convocation: Kyle Lang, a 2014 graduate in Environmental and Safety Management who is now the on-site safety manager for Faith Technologies in Kansas City, and Alheli Aranda Britez, a 2014 graduate in Music who earned her master's in Human Resources in 2016 and now is the Human Relations Manager for Bimbo Bakeries in Arizona and New Mexico.  
The award was established to honor a recent graduate who is putting into practice what it means to be a Gorilla, and in doing so, is making an impact in his or her career field and the community. 
Outstanding Faculty  
Three faculty were recognized with the Dr. Robert K. Ratzlaff Outstanding Faculty Awards, created to recognize those faculty members who make lasting impressions on students.  
Eric Harris, an associate dean in the Kelce College of Business and a professor of marketing, is highly published in academic journals and well-respected for his research, but is also very student-focused. He was nominated by a student for making a deep and compassionate connection with students, and always making time to help them. 
Gary Wilson, an assistant professor in the Department of History, Philosophy, and Social Sciences, specializes in community sociology, public policy/criminal justice, and social deviance. He was nominated by a student for being a faculty member who goes the extra mile, and always being positive. 
Charlie Phillips, an assistant professor in the Technology and Workforce Learning Department, is the coordinator of the Architectural Manufacturing Management and Technology program. He was nominated by a student for teaching them the "why" as well as the "how," and for giving 110 percent. 
Professors Beyond the Classroom Grant Awards  
These awards, funded by the PSU Student Government Association, were awarded to five faculty who will use the money to positively impact students.  
Rebeca Book

, an associate professor in Plastics Engineering Technology, 

received funding to take 10 students on a Study Abroad trip to Germany to attend a K Trade Fair for the plastics and rubber engineering technology industry

. 

 

Shawnee 

Hendershoot

, 

an assistant professor in the Department of Family and Consumer Sciences, received funding to take five students to a conference to present their research. It focuses on suicide and the role of FACS teachers in middle and high school.

 

Rocky Restivo

, 

an assistant professor in Graphics and Imaging Technologies, received funding to purchase LED video lighting kits for video production students to help them produce on-location videos.

 

Andrew George

, 

an assistant professor in the Biology Department, received funding to take a group of students to Arkansas for a field science excursion to study animals not found anywhere else on earth.

 

Michele Barnaby

, 

an instructor in the Department of History, Philosophy, and Social Sciences, received funding to take a group of students to Iceland for cultural and geographic experiences.

 
Voya Outstanding Employee Recognition Awards  
Recipients of the Voya Outstanding Employee Recognition Awards will each receive a $750 stipend. This year's USS honoree was Kelly Borden, the administrative specialist for the Biology Department. She manages daily operations for 16 faculty and more than 350 majors. 
This year's University Support Staff honoree was Shari Brogan, the Director of Advancement Services. She volunteers on task forces and committees, and serves in a leadership role on the Strategic Planning Council. 
The Golden Gorilla Award  
The Golden Gorilla Award was established in 1997 to recognize students for their significant achievements in service, campus and community involvement, and academics.    
Students receiving the award this year were: Cal Siebenmark, Anne Tomes, Caleb Thompson, Sarah Veesart, Kylie Declue, Julia Mount, Tyson Roderique, Sarah Wilkinson, Erin Horgan, Brittany Lindsay, Ruth Wilkinson, Samantha Bollinger, Navit' Hill, Erin Kruse, Brooklyn McCann, Shelby McNamara, Callie Rice, Kali Clingerman, Kennedy Stein, Ted Steyer, Kelsey Vanfossan, Ryan Asauskas, Emily Davison, Connor McCaughey, Theodore Paoni, and Danielle Rakestraw. 
Centennial Scholarships  
This year's Convocation marked the 15th year of awarding Centennial Scholarships. Any undergraduate student enrolled at PSU during the Spring 2019 and who will be attending during the Fall semester was eligible, provided they were present for the drawing at Apple Day. Given by the PSU Foundation, this year's recipients were Amanda Anschutz ($500) and Tasia Saye ($1,000).  
Apple Dessert Contest  
The contest winners in the Apple Pie division were Cassidy Pankratz (1st Place), Morgan Michae (2nd Place) and Brad Stefanoni (3rd Place). The contest winners in the Apple Dessert division were Madeline McCoy (1st Place), Jim Hughes (2nd Place), and LaDonna Flynn (3rd Place). 
About Apple Day 
Founded in 1903, the Kansas State Manual Training Normal School Auxiliary began in a borrowed building in downtown Pittsburg. But the effort to secure state support to build a permanent building for the new school met with strong opposition from other state schools.  
The school's founder and principal, R.S. Russ, along with faculty and the Pittsburg mayor, lobbied hard in the legislature to get the lawmakers to pass an appropriation for funding. In doing so, Russ broke a legislative rule by sitting in a legislator's seat during the session. The Pittsburg delegation was fined a barrel of apples for the impropriety, which was paid and distributed among the legislators.  
The requested appropriation was approved, however, and when the triumphant Pittsburg delegation returned to Pittsburg, a joyful assembly of students followed the legislature's lead and fined the faculty a barrel of apples, which the faculty paid and distributed to the students. They have done so every year since.