Kyle Lang selected as Good Apple winner 
  Thursday, March 7, 2019 12:00 PM
  People and Society, Alumni, News, Milestones
Pittsburg, KS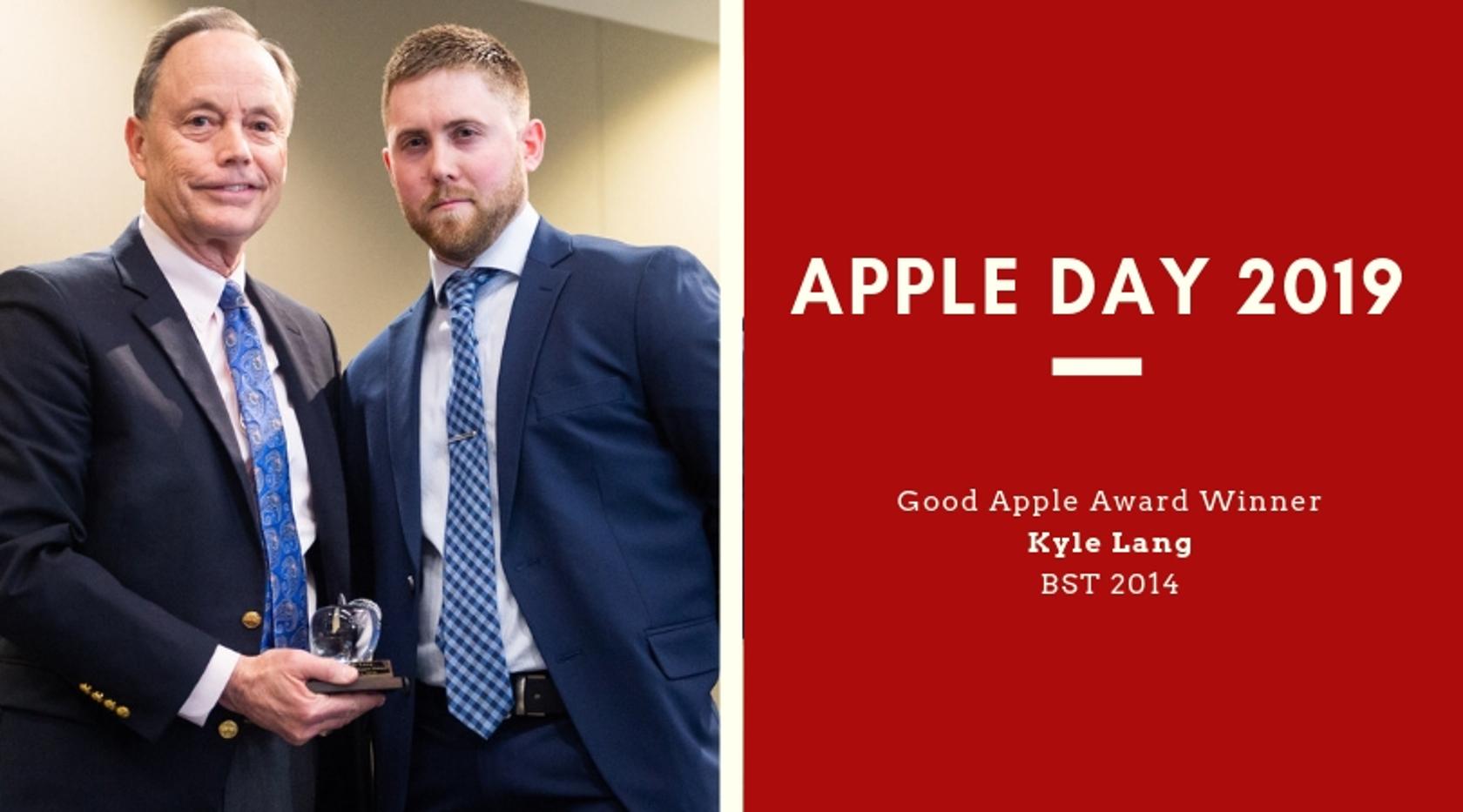 Kyle Lang, one of two Good Apple winners this year, has been a Pittsburg State alumnus less than five years, but his impact and reach already have been felt across Kansas. 
A product of Gardener-Edgerton High School who graduated in 2014 with a degree in Environmental and Safety Management in PSU's College of Technology, Lang immediately took a job with Kansas Department of Labor. 
There, he was instrumental in the development and implementation of the Kansas Amusement Ride Act Inspection process.  
"In the face of adversity, he knew what need to be done and was successful in the implementation of a program and policy that many did not like, but was necessary to ensure the safety of the citizens of Kansas," said his nominator, Brian Welch, a lecturer in the School of Construction. 
Now, Lang is the safety manager for Faith Technologies in Kansas City, where he manages the safety on work sites that may have as many as 600 company employees at any one time. 
"I educate on and build safety training programs," Lang said. "I also conduct routine visits to all of our projects in the Midwest and help evaluate unsafe trends throughout our projects." 
Frank also ensure corrective measures are taken when necessary. 
"As I was asked to prepare a speech, I found myself speechless, which my fiancé would say never happens," Lang joked. "But the one thing I asked myself was, 'What does being a Gorilla mean to me?'"  
"In a short answer, I would say vision, passion, integrity, and commitment, all of which I believe to be traits of a great leader," he said. "Whether you are a future graduate about to embark into a new career, or past alumni achieving milestones, everything starts with a vision. But a vision is not a goal, it is built off of goals. It is the art of seeing what you can achieve." 
Lang attributes his success partially to being active and involved during his time at Pittsburg State, and to staying involved after his graduation. 
He has been part of the American Society of Safety Professionals (ASSP), American General Contractors (AGC), and the Mechanical Contractors Association of America (MCAA), the Construction Safety Group (CSG), and The Builders Association in the Kansas City area. 
Lang was recognized for his achievements during the Apple Day Ceremony held in the Crimson and Gold Ballroom of the Overman Student Center Monday. In his speech, he challenged students in attendance to take chances, learn from their mistakes, and seize the moment. 
Learn more about the Environmental and Safety program at https://bit.ly/2Hl6Opg