Food pantry provides help to students 
  Wednesday, March 20, 2019 12:00 PM
  News
Pittsburg, KS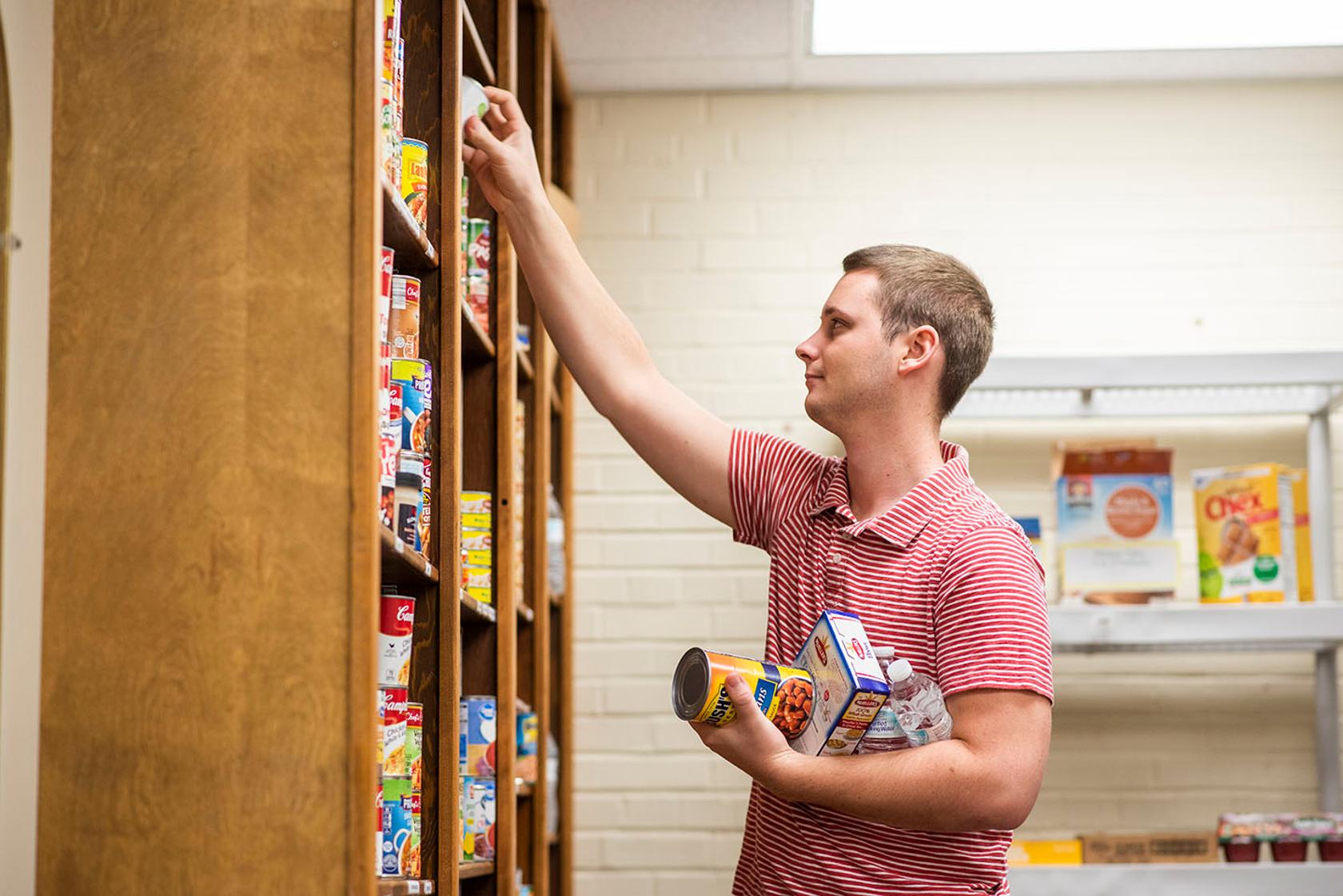 A resource started five years ago by students for students has been rebranded and has new leadership. But the goal is still the same: ending food insecurity on campus. 
Called the Gorilla Pantry and now operated by Campus Activities, it is located in Room 310 Whitesitt Hall and offers non-perishable goods to help students stretch their food budgets. It is also open to staff and faculty. 
"Food insecurity isn't singular to Pittsburg State; national studies show that food insecurity among households with students at four-year colleges is 11.2 percent," said Campus Activities Prevention & Wellness Program Coordinator Taylor Panczer, who oversees the pantry. "And in Crawford County, the overall food insecurity rate is 17 percent, or 6,700 of the 39,281 residents." 
The pantry was founded in 2014 by Danielle Walker and Courtney Forkum as part of a class project that they wound up proposing to President Steve Scott. After approval by the President's Council, the students raised funds, obtained a location that was accessible but private, and began stocking shelves. 
Today, anyone on campus who has a need may stop by on Fridays between 8 a.m. and noon or may make an appointment by emailing Panczer at tpanczer@pittstate.edu. 
No paperwork is required, nor is a particular income level. 
To renew interest and use, Panczer asked student Cara Zacny to design a new logo, and a new social media campaign has begun spreading awareness.  
"We understand that an education is an investment, and sometimes it stretches students thin. Or sometimes, they might hit a rough patch, like needing to get a car fixed or needing a little help to make it to payday," Panczer said. "This is a way to help students out to ensure they're taken care of and can be their best selves." 
"People shouldn't feel embarrassed to use it," she said. 
Those who visit the food pantry may choose seven items each time. They also may choose from a variety of hygiene products. 
To donate 
Boxes are available at Axe Library, the College of Education in Hughes Hall, the Student Recreation Center, and the Campus Activities office in the Overman Student Center, to enable anyone — students, faculty or community members — to easily drop off contributions of nonperishable food and toiletries.
Those who would like to donate money may do so by emailing Panczer at tpanczer@pittstate.edu, stopping by Room 310 in Whitesitt Hall from 8 a.m. to noon on Friday, or stopping by Campus Activities in the OSC during business hours. An Amazon wish list also exists for those who would like to donate but aren't on campus.