Alheli Britez selected as Good Apple winner 
  Thursday, March 7, 2019 4:00 PM
  Milestones, Academics, News, Alumni, People and Society
Pittsburg, KS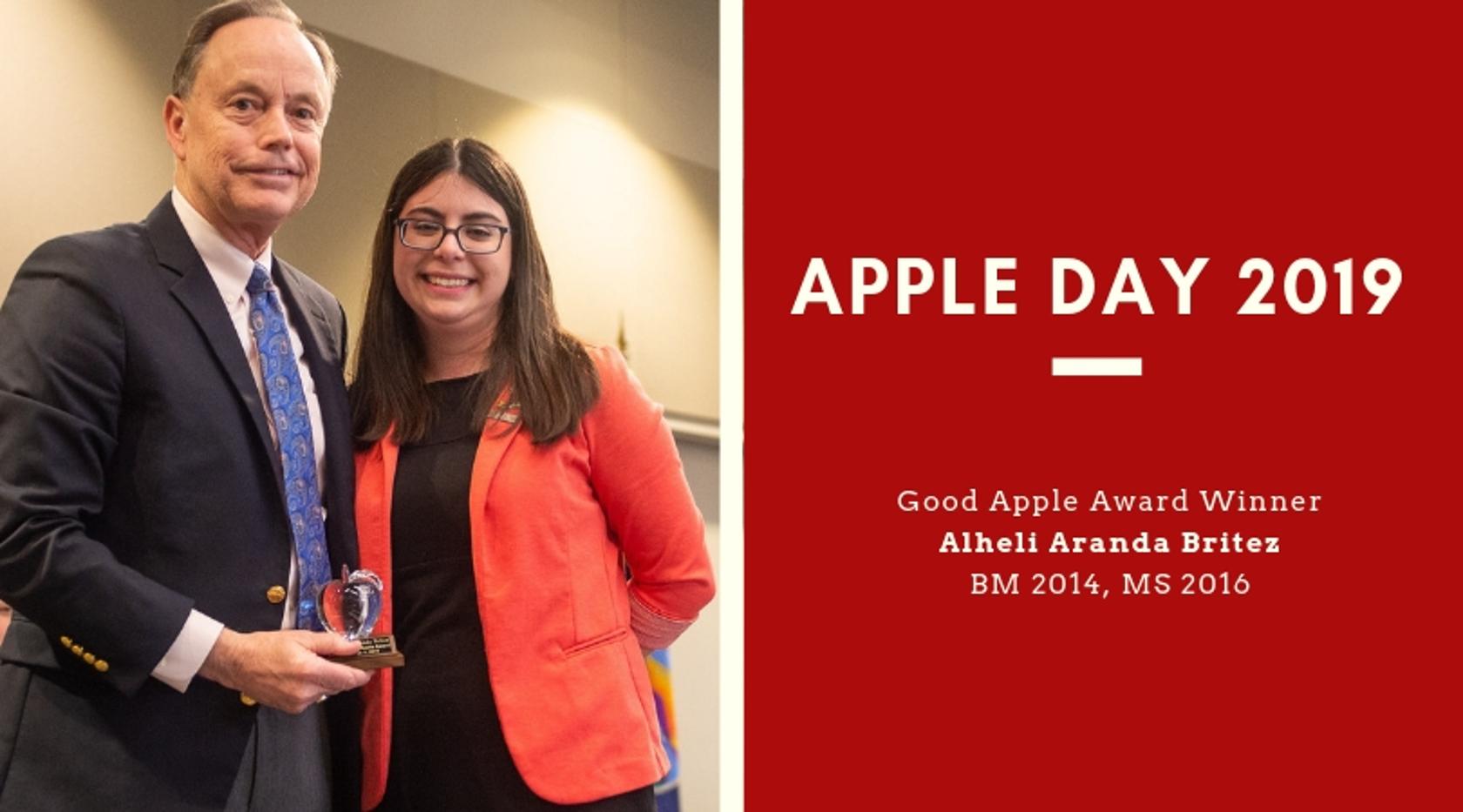 Alheli Aranda Britez, one of two Good Apple winners this year, has been a Pittsburg State alumnus less than five years, but already has achieved success in her career. 
Alheli, who is from Paraguay, was chosen at age 15 as a Youth Ambassador — a leadership and exchange program designed to expose American students and Paraguyan students to each other. It was on a trip to Washington, D.C., and Kansas, that her eyes were opened to the value of education, culture, and service. She was inspired to return home to work on her English, graduate high school, and apply for scholarships. 
It worked: she was one of four chosen to study in the U.S. She was nervous, but found an "incredible network of support waiting for me here that I didn't even realize existed and who later on would become like my family," she said, including the staff of the International Programs & Studies Office and international advocates in the Pittsburg community. 
"They opened their doors to make sure we had everything we needed to succeed here at the university as international students," she recalled.   
She gained practical work experience on campus working for Sodexo Food Service and as an office assistant in the Department of Music, where she was majoring in piano performance. Faculty counseled and advised her as she navigated life away from home. 
She also tapped into the Student Health Center, Career Services, and many other campus resources to help overcome self-doubt, ultimately deciding to add a minor in International Business and join Enactus — a student organization in the Kelce College of Business. 
"It provided an opportunity to focus on something larger than me. It provided the tools and connections to make a positive impact for the City of Pittsburg, and on a larger scheme join a network of leaders shaping the world," said Britez, who earned her bacehlor's degree in 2014. 
Through Enactus, the experiences she gained building the Community Employment Program for young and simple mothers added to the skills she would soon need for her career. 
"We provided one-on-one training sessions on computer skills, resume assistance, interview skills and a voucher for clothing and personal care for people who were looking for jobs," she said.  
It also prompted her to earn a master's in Human Resources in 2016. 
Today, she is the Human Relations Manager for Bimbo Bakeries in Arizona and New Mexico. She directly supports approximately 350 hourly and salaried associates in Arizona and New Mexico in the areas of Manufacturing, Sales and Distribution.  
She encouraged students in attendance to not give up and said she's excited to see the next generation of graduates make a positive impact on the world. 
"I'm honored to receive this award in name of my family, my country, and all the other international students who left their homes to achieve their 'American dream'," she said. 
Britez was recognized for his achievements during the Apple Day Ceremony held in the Crimson and Gold Ballroom of the Overman Student Center Monday. In his speech, he challenged students in attendance to take chances, learn from their mistakes, and seize the moment. 
Learn more about Human Resources Development at https://bit.ly/2H4VspZ