Theatre company to perform children's play 
  Friday, February 8, 2019 11:00 AM
  Arts & Entertainment, News
Pittsburg, KS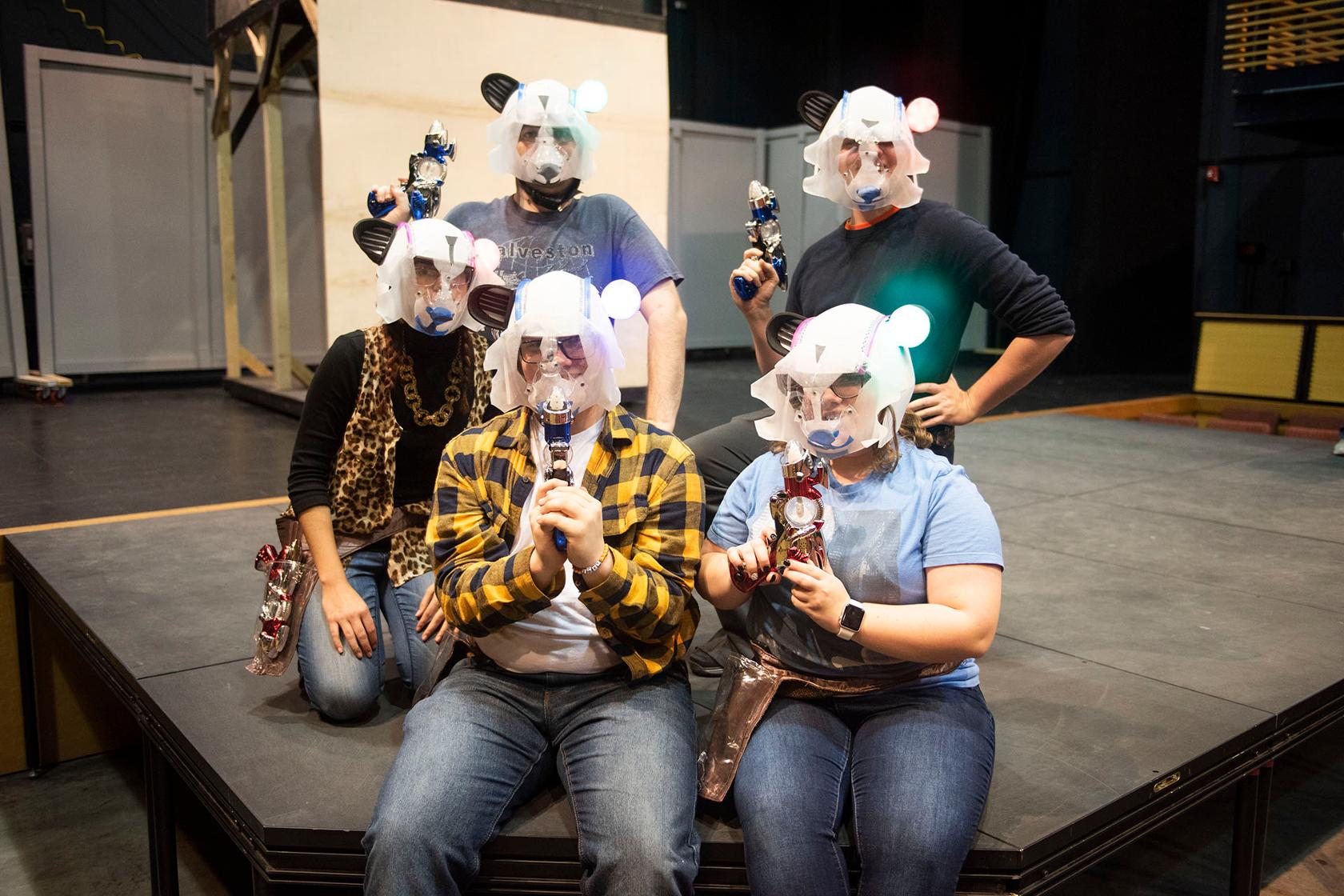 The sci-fi fantasy comedy adventures of a whiz kid scientist, Binky, and his friends, a girl named Vivian and a sheep named Bob, will come to life for audiences young and old in Pitt State Theatre's upcoming production.  
Rehearsals, set construction, and costume design is now underway for "The Revenge of the Space Pandas or Binky Rudich and the Two-Speed Clock" will be produced in the Dotty and Bill Miller Theatre inside the Bicknell Family Center for the Arts Feb. 21-24. 
"Childhood imagination and make-believe are at the center of the play," said Megan Westhoff, the production's director. "Most people have vivid memories of playing on a backyard swing and imagining it as a rocket ship or using a cardboard appliance box and envisioning it as a fortress." 
Playwright David Mamet captures the whimsical experience of childhood innocence and exploration, but the humor appeals to audiences of all ages, Westhoff said. 
Binky, with the help of his researcher assistant, Bob, have invented a two-speed clock to find what they believe is another slower speed than the normal speed of Earth. Once Binky, Bob, and Vivian get the clock to work, they spin off to another time and another land, Crestview, the Fourth World in the Goolagong System.  
They find themselves trapped on Crestview with the space pandas and the supreme ruler who wants to turn Bob into a wool sweater. With a little ingenuity, the three might just make it back home in time for a casserole lunch. 
The show is presenting exciting, creative, and imaginative challenges for the designers and the of 15 actors who must create roles of both children and animals in both a Midwestern suburb and Crestview. 
To aid in the sci-fi fantasy time and space warp, Linden Little is the scenic and lighting designer and Lisa Quinteros is the costume designer. But Westhoff is keeping quiet about anything beyond that. 
"We don't want to give away any secrets, so the audience will have to see the theatre magic unfold for themselves," she said. 
She noted two important community outreach efforts connected to the production.  
"We're thrilled to be hosting an additional matinee performance for local and regional school children, and will be conducting a talk-back session to answer questions following the school performance," she said.  
Pitt State Theatre is continuing to partner with Safehouse Crisis Center for the season. For this production, the company is collecting diapers (all sizes), baby wipes, and Kleenex.  
Performances will be at 7:30 p.m. Feb. 21-23, and 2 p.m. Feb. 23-24.   
Tickets are free to PSU students and faculty/staff, $12 for the general public, and $7 for under 17 or over 64. They may be purchased at the PSU Ticket Office in Room 137 of the Weede Physical Education Building, or by calling 620-235-4796, online at www.pittstate.edu/tickets, or at the door 30 minutes prior to the show.  
To obtain free tickets, a valid PSU ID must be presented in person at the Ticket Office or at the door. Reservations are strongly encouraged as seating is limited and shows often sell out. 
Learn more about Pitt State Theatre at https://www.pittstate.edu/communication/psu-theatre1.html