Students win gold, silver at ADDY Awards
  Monday, February 25, 2019 2:00 PM
  Science and Technology, News, Academics, People and Society
Pittsburg, KS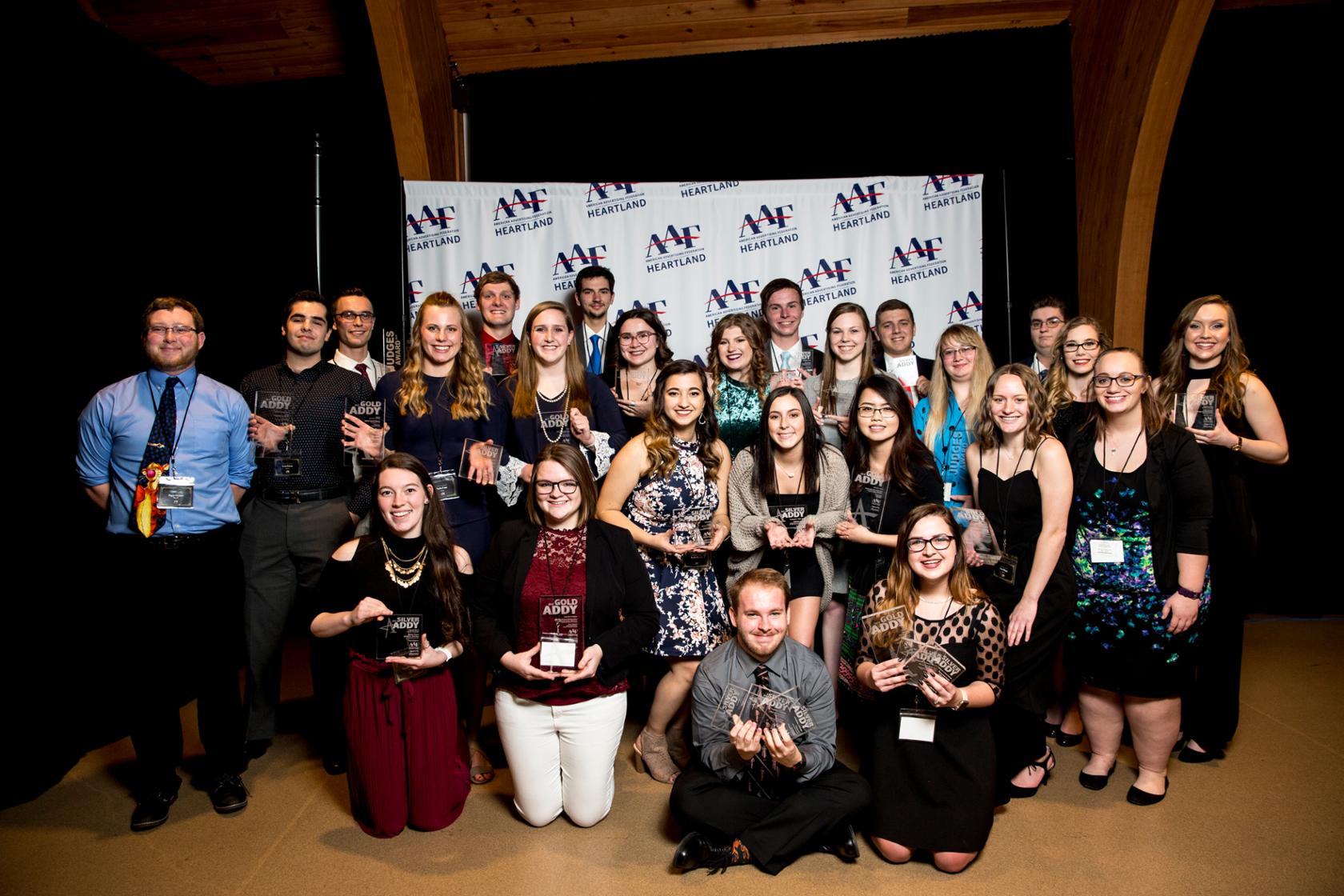 While Hollywood was celebrating Oscar wins this weekend, Pittsburg State University students were celebrating winning gold, silver, and judge's awards for creativity of a different sort. 
Students from the Department of Communication and from Graphics and Imaging Technologies collectively won 10 gold, 23 silver, and two special judge's awards at the ADDY Awards Saturday night, a gala event held at Downstream Casino. 
Created as an opportunity to recognize and reward creative excellence in the art of advertising, the American Advertising Awards have become the industry's largest and most respected competition.  
"Simply put, it's the Oscars of advertising," said Christel Benson, associate professor in the GIT Department. 
Winning entries included packaging design (like Jorie Maloney's "Boomie's Mini Stereo Speakers Box"), websites (like Taylor Unke's "Uptown Crossfit"), animation and special effects (like Natasha Lawrence's "Zimmerman Family Farm"), and entire campaigns (like Samantha Guy's "Girard Area Community Foundation Campaign.") 
Benson said the contest bolsters portfolios which opens doors for students. 
"Not only were there many opportunities for industry support, but also internship/employment leads," she said. "I spoke with several parents in attendance, and they were very impressed with the networking opportunities. One of our award-winning students, Kasey Beeman, had actually interviewed with Bass Pro the day before the event. We can only hope it made an impression on them to see her receive her award in person." 
Faculty invest time and individual financial resources, not only to attend the event, but also to pay for student entries. This year, three National Advisory Board members sponsored entries, and in one case, provided both an entry and a ticket to the event. In the GIT Department, entries also are sponsored by two student clubs, Gamma Epsilon Tau and Graphic Arts Club. 
In addition to PSU faculty, students, and their parents, attendees included Vice President of Academic Affairs Lynette Olson, Vice President of Advancement Kathleen Flannery, Interim GIT Chair Doug Younger, Associate Dean Robert Frisbee, and Director of Development for the College of Technology Katie George. 
Learn more about GIT: https://www.pittstate.edu/graphics/index.html
Learn more about Communication: https://www.pittstate.edu/communication/index.html