Students design, fabricate unique bike for those in wheelchairs
  Friday, February 15, 2019 12:00 PM
  Science and Technology, News
Pittsburg, KS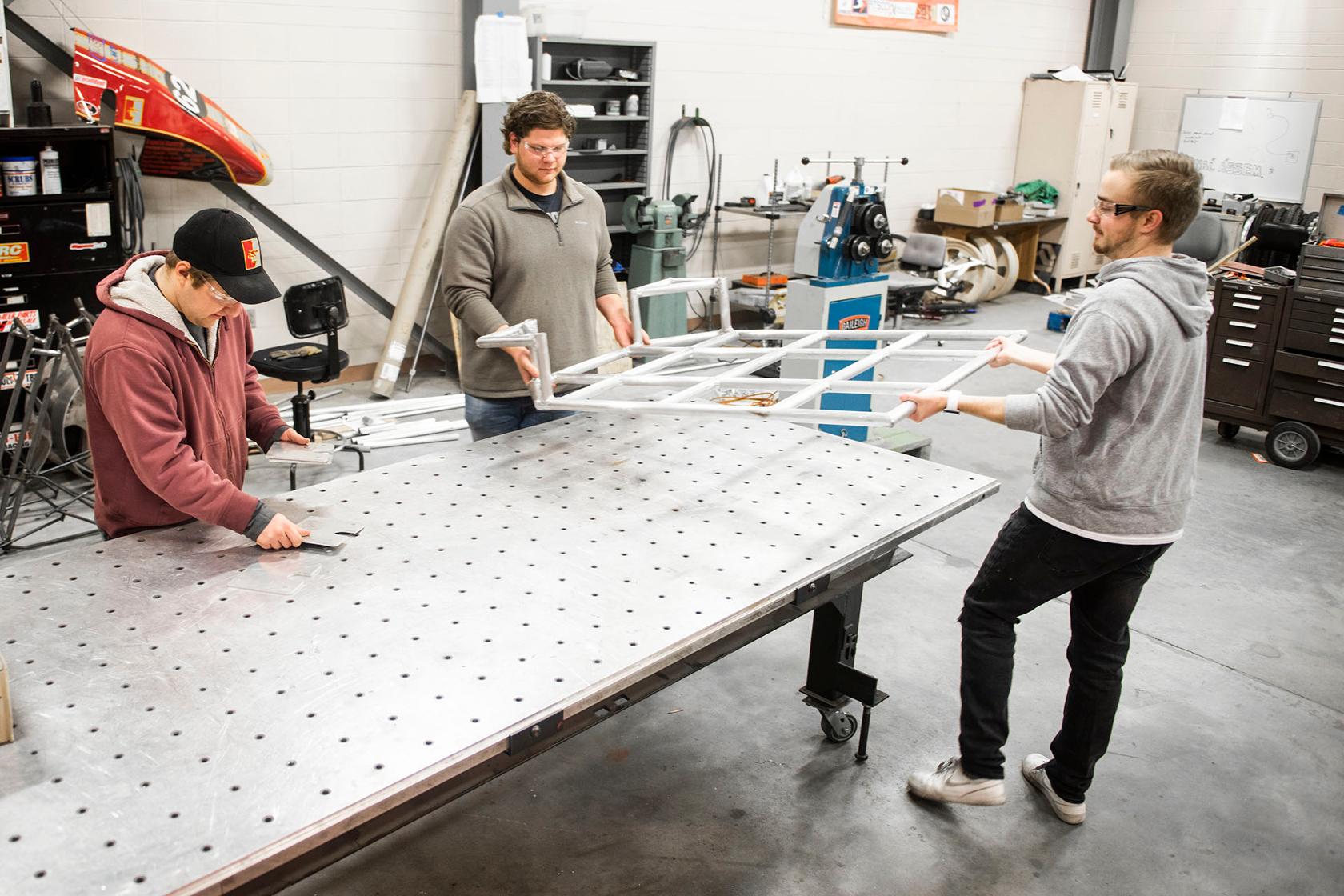 A unique project taken on by seniors in Mechanical and Manufacturing Engineering Technology at Pittsburg State will result in more than just a grade. It will change lives.
"This could have a real impact on people," said Mitch Yeomans, a senior from Kansas City, Missouri, who is the lead student on the project. "It will give the elderly and disabled chances they wouldn't otherwise have."
Yeomans is referring to a pedicab — a common means of transport in large cities and also known as a bike taxi or a cycle rickshaw. But the one he and his team of fellow seniors have designed and now are fabricating isn't common: it will accommodate a rider in a wheelchair.
The project, like so many others in recent years, is a collaboration between students and a community partner. In this case, that partner is Live Well Crawford County, a non-profit organization that promotes healthy lifestyle choices through education, motivation, and support for all generations. It includes five task forces: Live Active, Eat Well, Breathe Well, Work Well, and Age Well.
PSU Associate Professor Laura Covert-Miller, who teaches in the Department of Health, Human Performance, and Recreation and is the co-chair for Age Well, said the committee was hoping for a type of pedicab, so she helped facilitate it becoming a student project.
She soon will make another connection: once the pedicab is finished and has been tested, students in the HHPR department will have the opportunity to serve as volunteer pedalers.
"It really helps to solidify the connection between the community and the university and shows the community the importance of what students can provide for Pittsburg, and in turn gives them a sense of belonging," she said.
Brad Stroud, director of Live Well Crawford County, said outdoor activities by residents of assisted living centers and by people with disabilities have been shown to lower levels of depression.
"We feel this project really focuses on helping a group of people who often are left out or forgotten," said Stroud. "There will be connections and relationships that form and build between volunteer pedalers and the pedicab riders."
"It's an awesome project on so many levels. What a neat thing for students to do something that, to our knowledge, hasn't ever been done before."
Associate Professor David Miller, who in previous years has led student teams in designing and fabricating Baja vehicles and moon rover projects, said the pedicab team has been very invested and spent long hours, knowing it has immediate human value.
They're on the right track, he said: at a Live Well meeting, attendees stood up and applauded.
The team includes Joshua Alstatt, of Kansas City, Mo., Ayman Alsunayni of Saudi Arabia, Trey Byrne of Eudora, Kansas, Adam Fogle of Bartlesville, Okla., Nick Haynes of Lawrence, Kansas, Devin Linn of Cherryvale, Kansas, and Mitch Yeomans of Kansas City.