Sophomore earns national attention for research in plastics, polymers 
  Thursday, February 21, 2019 11:00 AM
  Science and Technology, Academics, Milestones, People and Society, News
Pittsburg, KS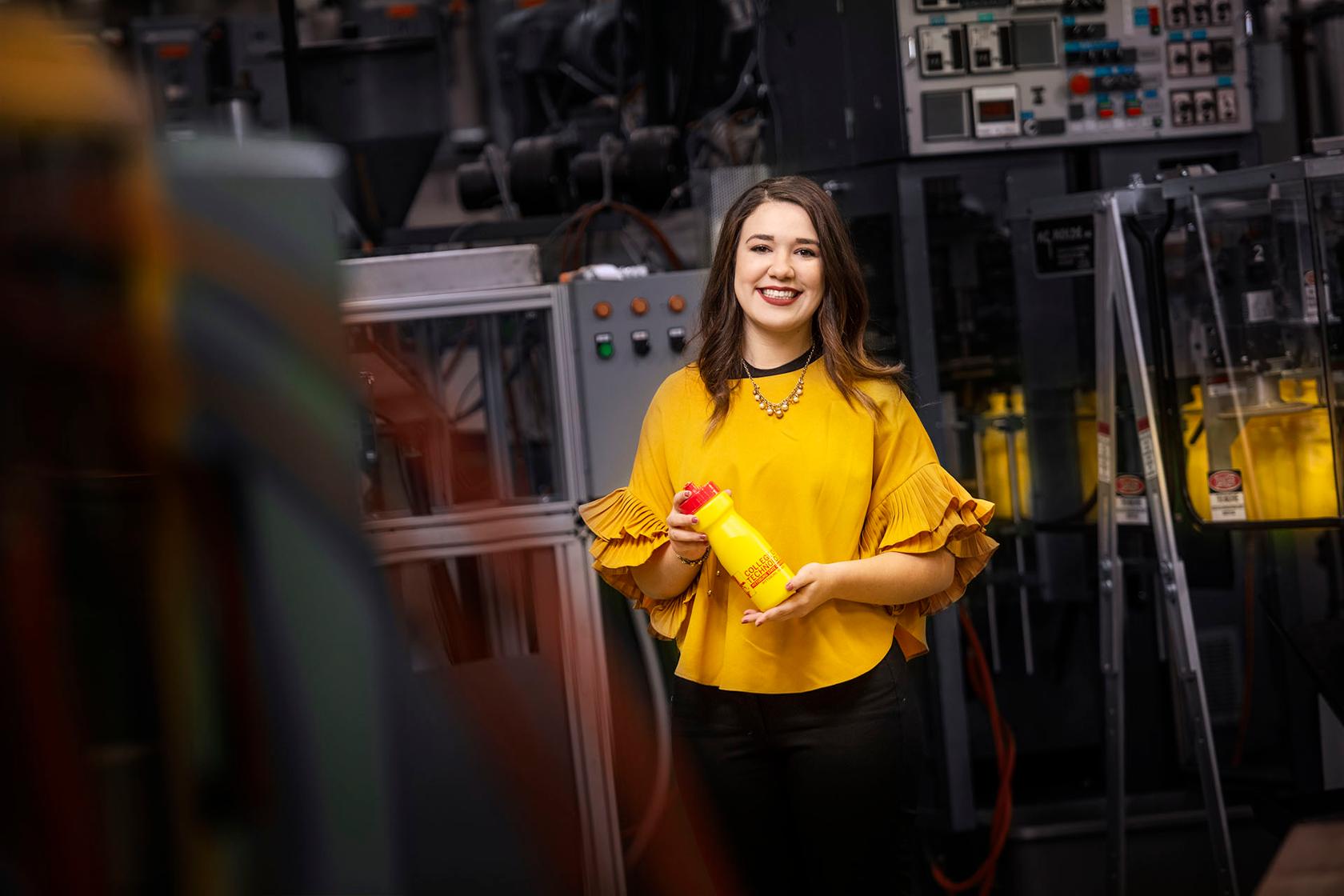 Lexington Peterson has let no grass grow under her feet since getting to Pittsburg State. In her freshman year, the double-major in Polymer Chemistry and Plastics Engineering Technology from LaCygne, Kansas, was accepted by the Center of Bioplastics and Biocomposites as one of only seven in their prestigious research internship program. 
Now a sophomore, she recently was tabbed for two national honors: a $2,500 scholarship to be a presenter at a national conference in March, and another prestigious summer internship — this time at the University of Maine and in Chile. 
The internship is part of a program called "Explore It! Building the Next Generation of Sustainable Forest Bioproduct Researchers," and will allow her to continue her undergraduate research in the bio-renewability of plastics. 
At the national conference, to be held in Detroit, Mich., by the Society of Plastics Engineers, Peterson will be sharing her expertise. 
"It's so rewarding," Peterson said after receiving both announcements within 24 hours.  
She credits faculty in both of her majors, including Paul Herring, whose expertise is in design, Rebecca Book, whose expertise is in processing, and Jeanne Norton, whose expertise is as a chemist, for providing her the academic, hands-on, and research backgrounds needed to achieve the honors. 
It was Norton, with whom Peterson conducts research at PSU's Kansas Polymer Research Center, who inspired Peterson as a high school student to come to PSU to pursue plastics and polymer chemistry. 
"She has a lot of talent, and it's really to her credit that she took the ball and ran with it," Norton said. "It's really what I do the job for, knowing that I talked to a high school student, the message was well received, and she was inspired by it. Seeing her succeed and knowing her effort has paid off – it's rewarding. It's the whole reason I do this." 
Norton said the fact that Peterson is as an undergraduate and already achieving this level of success will elevate her to the forefront of the industry. 
"A lot of people assume if you get a degree in plastics, you'll go out and make milk jugs," Norton said. "When you add in research in environmentally-friendly, biodegradable plastics, it's an exploding industry." 
Norton, who studied polymers in 1999 as a graduate student, including experimental low-odor paints that are now common, said Peterson is just starting to research things that in five or 10 years will be the next big thing. 
"The fact that one of our students is positioning herself to become a leader in this industry is very exciting," she said. 
Learn more about Plastics Engineering Technology at https://academics.pittstate.edu/academic-programs/engineering-technology/plastics-engineering-technology-degree.html
Learn more about Polymer Chemistry at https://www.pittstate.edu/chemistry/polymer-chemistry-program.html