Joe Hart chosen for Distinguished Service Award
  Wednesday, February 27, 2019 1:00 PM
  People and Society, Giving Back, News, Alumni
Pittsburg, KS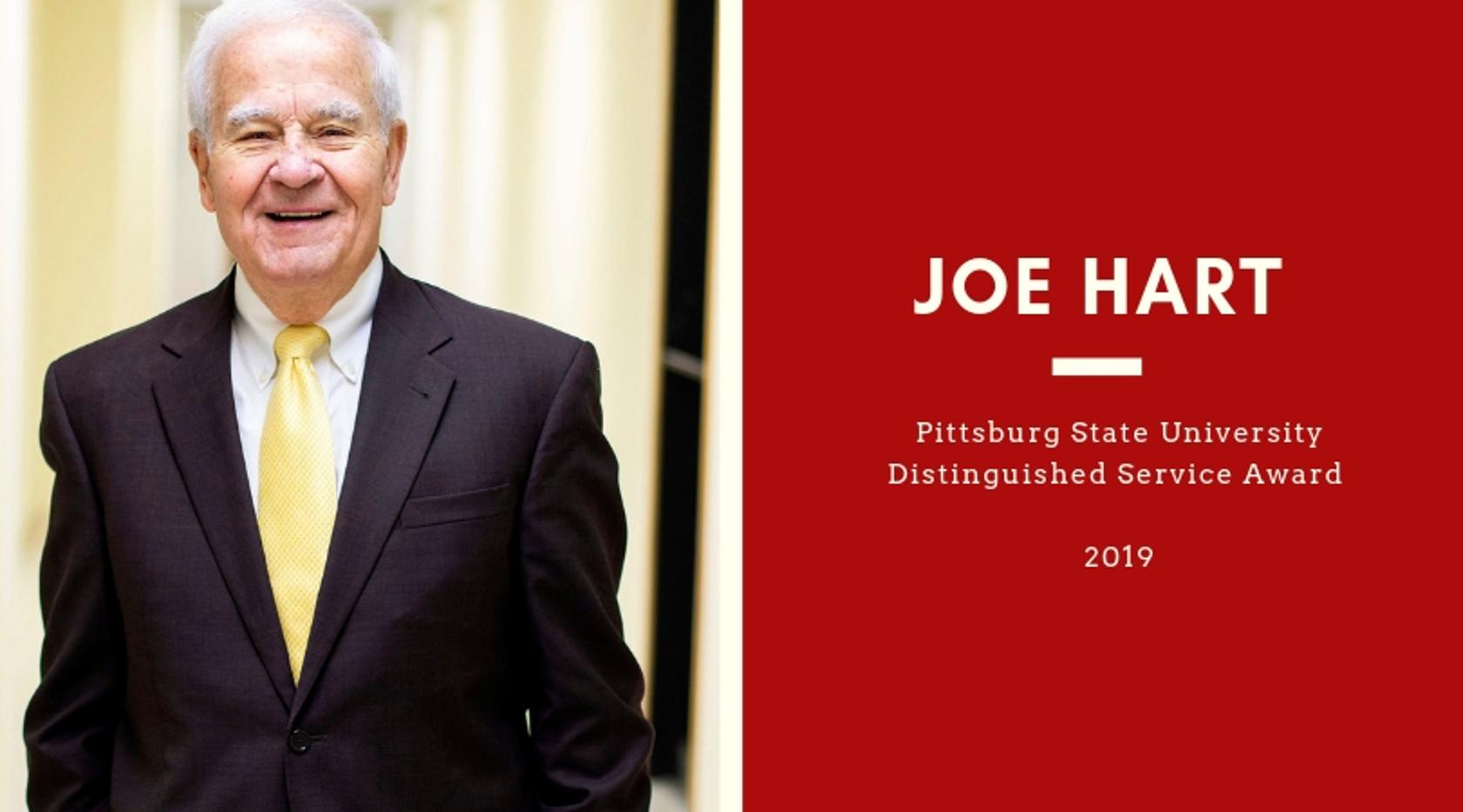 Longtime PSU supporter and community volunteer Joe Hart has been chosen as this year's winner of the Ralf J. Thomas Distinguished Service Award, to be presented on Apple Day on Monday, March 4.  
Hart will be honored with a luncheon at The Crossland University House, a public reception in his honor at 2 p.m. in the Wilkinson Alumni Center, and at the Apple Day Ceremony at 3 p.m. in the Crimson & Gold Ballroom in the Overman Student Center. The reception and ceremony are open to the public. 
"I was surprised and I'm very, very appreciative of it," said Hart, who is a native of Richmond, Kan. He came to PSU after serving two years in the U.S. Army.  
Hart's tendency to rise to leadership levels in organizations began when he was a student on campus, where he was an officer in the Language & Literature Club, the Newman Club, and played intramural sports.  
Hart earned his bachelor's degree in English in 1959; his wife, Sally Hart, also is a PSU graduate, as is their son, Brian, a Wood Tech major who was named Outstanding Senior, and their daughter, Cindy, a business and nursing major.   
After graduation, Hart remained in Pittsburg and has had a long career as a financial representative for Northwestern Mutual.  
He is a former president of the PSU Alumni Association, a season ticket-holder in Athletics, has been a Phonathon and a Community Campaign volunteer, and is a charter member of the Heritage Society through the PSU Foundation.  
He also hosted for many years a reception to honor senior scholar athletes, and in 2014, he and his wife created the Joe and Sally Hart Athletics Scholarship endowment for student athletes in volleyball and track and field.   
Hart has consistently hired PSU students to work in his office and has always made it a priority to connect business leaders in the community with PSU leaders, said Jon Bartlow, director of Alumni & Constituent Relations. The past few years, he's coordinated a Chamber Coffee at which new PSU and community leaders are introduced, and when new leaders come to town, he brings them to campus.  
Off campus, he served the SEK Community Foundation, the YMCA Board of Directors, the Pittsburg Area Chamber of Commerce, Pittsburg Rotary, and United Way.  
"I've made a lot of good friends from being in the different organizations," Hart said. "That's one of the best things to have come from service."  
"One thing I've always said is if you take a half-step forward to get involved, you'll really like Pittsburg, and that's because of the people you meet. People are what make Pittsburg great."  
"If you really want to know your community, take that half-step forward and get involved."  
About the award  
The PSU Alumni Association established the Distinguished Service Award in 1991 and presented the first award later that year. In July 2000, it was re-named the Dr. Ralf J. Thomas Distinguished Service Award in memory of a retired faculty member who volunteered his service to the PSU Alumni Association for 22 years and was the first recipient of the award in 1991.   
"Distinguished Service Award recipients are people who have given generously of their time and talent for the betterment of the university and are an inspiration to all of us who love this institution," Bartlow said. "Joe Hart epitomizes what the committee looks for in this award and is very deserving."  
Learn more about Apple Day at https://www.pittstate.edu/office/campus-activities/events.html