Jock's Nitch chosen for award 
  Thursday, February 28, 2019 3:00 PM
  Giving Back, News, Alumni, People and Society, Milestones
Pittsburg, KS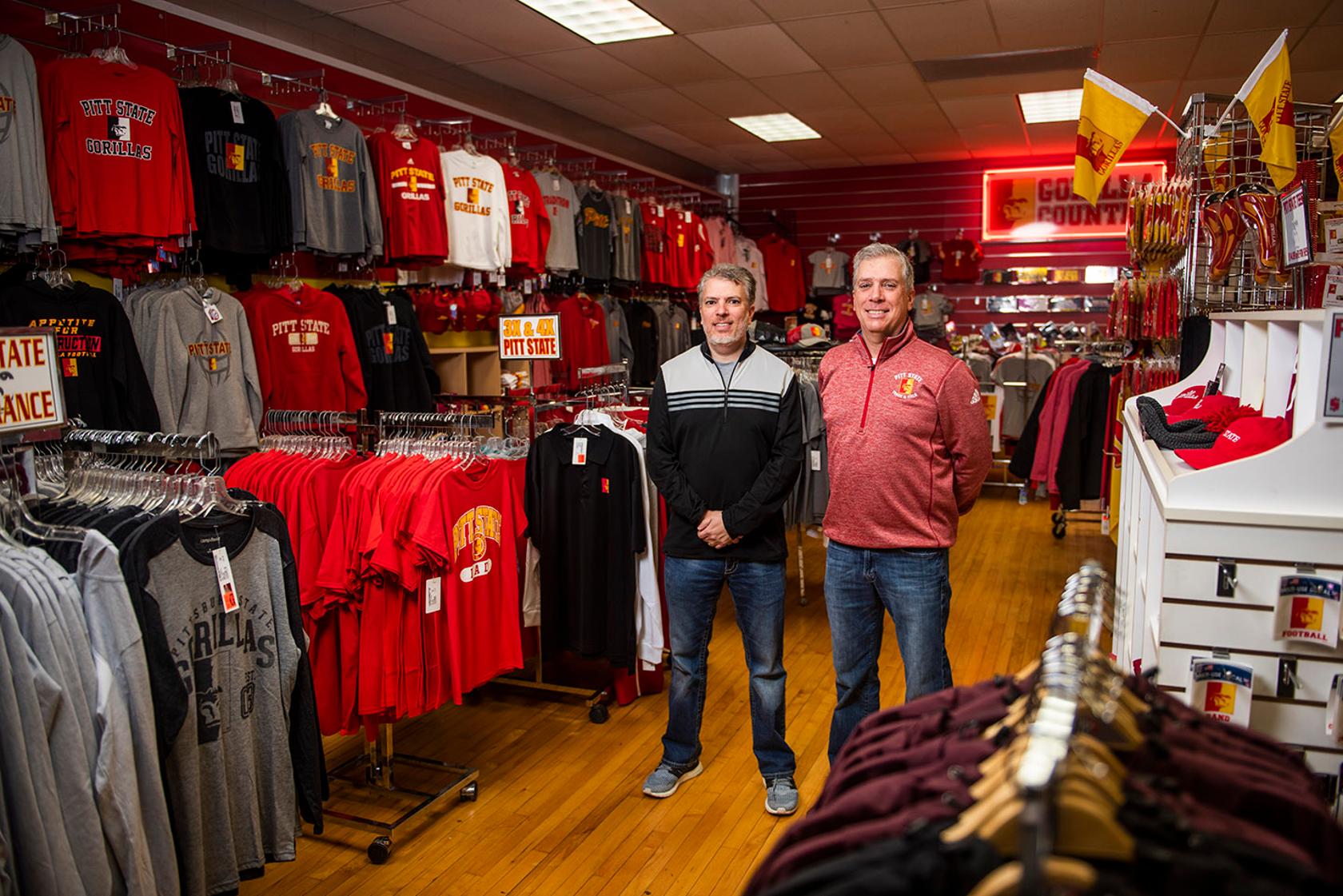 Minnesota native Phil Minton came to Pittsburg State in 1979 on a track and field scholarship, and his brother, John, followed not long after.  
They would go on to build a successful business in Pittsburg that became a partner to their alma mater in countless ways and became an integral part of the fabric of the community: Called Jock's Nitch, it's a team apparel and shoe store that now occupies an eye-catching downtown corner building in downtown Pittsburg, and has locations in three other cities in Kansas and one in Missouri.
On Thursday, they were recognized as the recipient of the 14th Annual Rex Crowley Outstanding Partner in Progress Award. It was presented by PSU President Steve Scott as the highlight of the kick-off breakfast of the Community Campaign, "Partners in Progress" — a joint effort by PSU and the Pittsburg Area Chamber of Commerce. 
The award was named for a late local banker and "fundraising volunteer and dynamo," Scott said, who "left us a legacy." 
"The private giving we have now, the city relationship, the community relationship we have now — it's built on the work of others," Scott said. "We're very fortunate that people like Rex Crowley preceded us, and we can build on his legacy." 
Scott praised the outstanding support by Jock's Nitch of PSU Athletics; a few years ago, the company was awarded the Adidas contract for PSU uniforms in a competitive bid. The Pittsburg store offers PSU faculty, staff, and students discounts on Adidas merchandise.  
And, the Mintons also support PSU ROTC by developing the Sgt. 1st Class Forest Robertson Memorial Scholarship, and they have a long history of employing PSU students and graduates in a variety of roles.  
Jock's Nitch has become a local landmark, noted Scott, who is among the countless shoppers who head there frequently for team apparel. 
Phil Minton said he's proud of the business he and his brother have built, and to have been part of the development of the downtown.  
"Pittsburg State's an amazing place, and anytime I travel, I wear a Pitt State item and I always get comments," said John Minton. "I'm very proud to be a resident, a graduate, and a business owner here." 
Phil's wife, Shelly and John's wife, Amanda, are both PSU graduates, and their children are students and graduates, as well. 
About the award 
The award is named in honor of Rex Crowley, whose career as both a local banker and as a fundraising volunteer for Pittsburg State University is well known in the community.  
Crowley was the kind of person who knew the importance of working together to make our community a better place, McDaniel said. In 1929, he joined the National Bank of Pittsburg (now Arvest Bank), rising from assistant cashier to chairman and CEO.  
He was very civic minded – active in Rotary, the Pittsburg Area Chamber of Commerce, the USD 250 school board, and boards at Mt. Carmel Medical Center (now Ascension Via Christi Hospital) and the Mental Health Association.  
After nearly 50 years of service at the bank, he retired in 1978 and took a non-salary position at Pittsburg State as director of development. At that time, the concept of private support of our university had barely begun.  
Crowley expected large returns and worked to make them happen. He also understood that Pittsburg State played a vital role in the well-being of the local area, region, and state, and that private support was becoming increasingly more important in order to continue a standard of excellence in education.
About the campaign 
The goal of the annual campaign is increasing engagement between area businesses in the community and Pittsburg State.  
The campaign seeks to involve local businesses in giving to PSU in a myriad of ways, from making financial contributions, to hiring students and graduates, to giving in-kind gifts, is being co-chaired this year by Zac Dickey and Monica Kellogg. 
Dickey, starting quarterback for the 2011 Championship team, earned his bachelor's in 2012 and now owns Next Generation Insurance. Kellogg, who holds the title of former Homecoming Queen, earned her bachelor's in 1991 and her master's in 1992 and now owns her own CPA firm. 
"I'm very proud to be a part of this community and very proud to be an alumnus of Pittsburg State University," Dickey said. "We love seeing the growth and development... 'Partners in Progress and 'Forward Together' — hopefully those aren't just mottos, those are things we're going to live by."
Learn more about University Development at https://giveto.pittstate.edu/