Interior Design students propose designs for new family fun center
  Wednesday, February 6, 2019 11:00 AM
  People and Society, Academics, News
Pittsburg, KS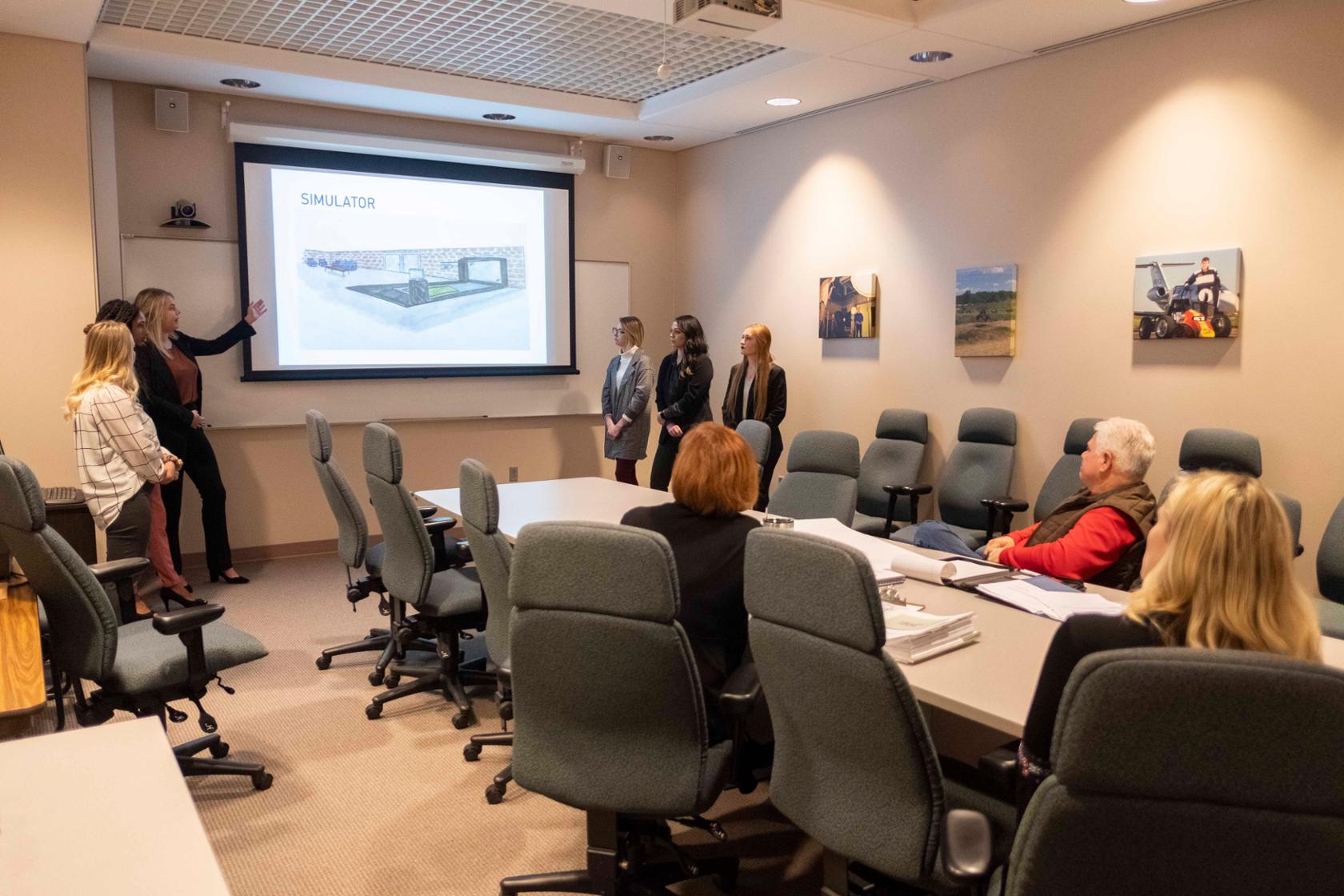 Once again, an historic building in Pittsburg is getting new life and Pittsburg State students are leaving their mark. 
Last year, downtown Pittsburg's Signet Coffee opened an Airbnb, Signet Loft, for which seniors in Denise Bertoncino's Interior Design program proposed plans, finishings, and furnishings. 
This year, her seniors are working with local businessman Larry Fields on schematics for an indoor family fun center.  
Fields, the owner of the Frisco Event Center — a former train depot that he carefully renovated on Fourth Street a block east of Block22 — has purchased the former Pittcraft Printing warehouse two blocks south of the Frisco at 104 N. Locust. 
After doing a walk-through of the building and taking photographs, her seniors spent several weeks on two detailed proposals for what the space would include and look like. They made their pitch to Fields this week for "Fields of Fun," and he was both receptive and inspired. 
"They gave me lots of great ideas," he said. "I absolutely love it." 
The brick building dates to 1886 as Pittsburg Machine & Foundry. It employed 360 men who made rail cars, shovels, lunch buckets — everything miners needed for their livelihood.
At 14,500-square-feet, with 50-foot high ceilings and three levels of windows, it has potential. Fields noted that "at least a dozen people want a dance hall and bar, but there already are 13 within three blocks of Broadway." 
"What we need is something for families — something for families already living here and something for the ones who might consider moving here," said Fields, who also sees it as a job-creator. "I've been to trampoline places and indoor climbing walls in Joplin, Kansas City, Springfield, and we need something like that here." 
The students researched equipment and costs and drew up plans and artists' renderings of the interior and exterior. Their two detailed proposals include features such as climbing walls, a ropes course, batting cages, an arcade, foosball and pool tables, bungee trampolines, a simulated (virtual) golf, tennis, softball, and baseball station, an office and break room for employees, an indoor eating area and outdoor patio, cubbies and lockers, and a parent lounge area. 
They kept the industrial look, noting that they didn't want a design to detract from the look and integrity of the building. 
The group was comprised of Jerica Stahl of Lamar, Missouri, Courtney Nelson of Oklahoma City, Oklahoma, Rachel Huffman of Olathe, Kansas, Jaden Allen of Paola, Kansas, Kearstin Johnson of Branson, Missouri, and Alexis Severson of Bentonville, Arkansas. 
The PSU Interior Design program is part of the School of Construction in the College of Technology. 
Learn more about PSU's Interior Design program: https://academics.pittstate.edu/academic-programs/school-of-construction/interior-design-major.html