Exercise Science majors evaluate Pittsburg firefighters
  Monday, February 25, 2019 9:00 AM
  Academics, People and Society, News, Science and Technology
Pittsburg, KS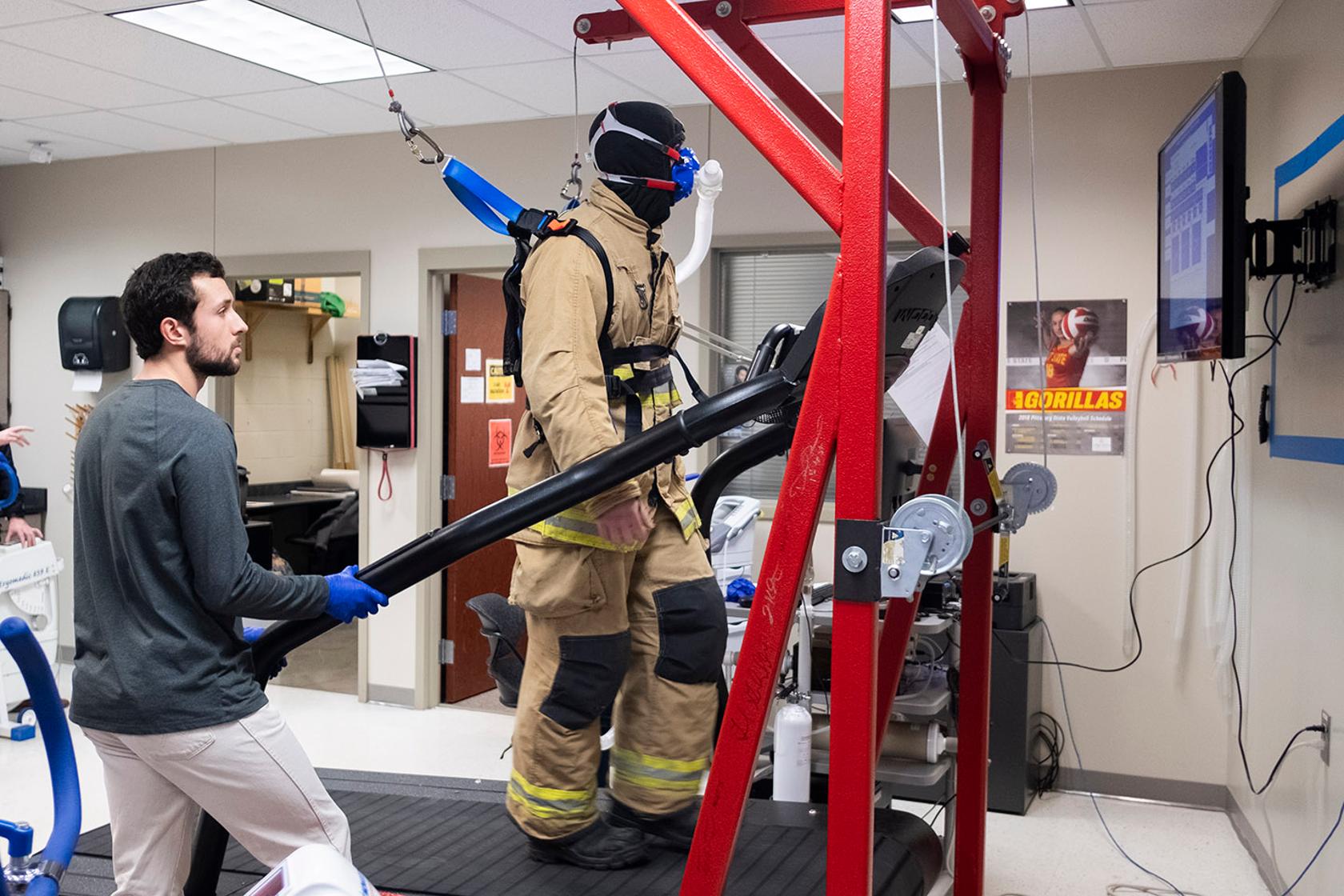 Students majoring in Exercise Science at PSU are getting real-world experience while at the same time gathering data that could prove valuable to Pittsburg firefighters: they're using high-tech equipment to measure their cardiovascular and pulmonary function during high stress exercise. 
Why? 
"Because among firefighters, cardiac arrest is one of the top causes of job-related deaths," said Allison Barry, assistant professor in PSU's Health, Human Performance, and Recreation Department. 
A recent study at the First Responder Health and Safety Laboratory in Saratoga Springs, New York, looked at autopsy reports for firefighters who died in the line of duty and found that the most common diseases were narrowed arteries, or coronary artery disease, and structural abnormalities that included an enlarged heart and increased wall thickness of the heart's primary chamber for pumping.  
"Firefighters face many dangers, but the greatest risk is from underlying cardiovascular disease in combination with the physiological strain that the work places on the firefighter," said study lead author Denise L. Smith, Ph.D., Tisch distinguished professor and director of the laboratory. "Medical screening is necessary to establish that a firefighter is healthy enough to do this strenuous work." 
The researchers looked at autopsy records for U.S. male firefighters who died on duty between 1999 and 2014. Of 627 total deaths, 276 resulted from cardiac arrest and 351 from trauma. At the time of death, the firefighters were between 18 and 65 years old. 
So, Barry's students prepared a presentation and made their pitch to Pittsburg firefighters in hopes they would agree to volunteer to participate in a cardiopulmonary exercise test. To the students' surprise, 24 agreed. They're using a unique protocol for firefighters Barry developed with a colleague, Nathan Dicks, MS, CSCS, TSAC-F. 
"I want to eventually have a career working with people in Occupational Therapy," said Exercise Science major Samantha Kopp, from Carl Junction, Mo., who is part of the project. "I'm getting to practice what I'm going to be doing the rest of my life before I even leave school, which is neat." 
She was one of five students testing Lt. Justin Ziesenis this week in the lab.  
The first day, Ziesenis dressed in shorts, a t-shirt, and tennis shoes, and the team used a Tanita (a body composition analyzer that records fat percentage and weight and is much more accurate than a bathroom scale), as well as a Dual Energy X-ray Absorptiometer (DEXA), which scans a body like a life-sized copy machine to determine bone mineral density, body fat, and fat-free mass.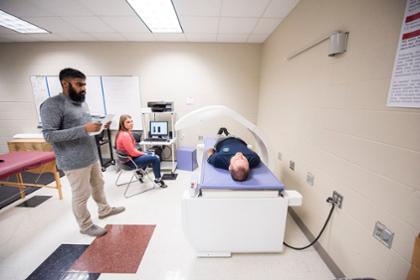 They also used a metabolic measurement system — think treadmill on steroids — to assess his cardiovascular and respiratory function during maximal effort exercise. 
Using a mask, a computer, and a customized exercise protocol, students were able to determine how Ziesenis utilizes oxygen in the muscles, how he produces and expels CO2, and how his cardiorespiratory system functions during maximal exercise, said Mohan Perumal, senior from Overland Park, Kan. 
The second day, Ziesenis returned to go through the test again while wearing 60 to 70 pounds of firefighting bunker gear to mimic the physical demands of his job.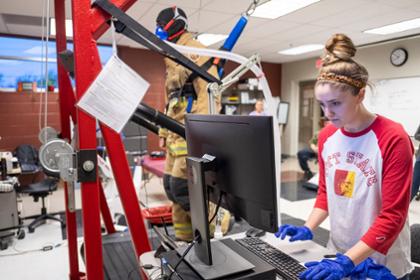 Other firefighters will undergo testing through April. 
Perumal said the research project is valuable to him as he concludes his undergraduate degree and begins a master's program.  
"I hope to go on to Physical Therapy school and enter the field of research," he said. "This is a great way to prepare for that." 
Joining Perumal and Kopp on the team of student researchers are Evan Hutchison, a junior from Carl Junction, Mo., John Brackett, a senior from Lansing, Kan., Hannah Pintar, a senior from Lenexa, Kan., and Tanim Dillon, a senior from Girard, Kan.  
Barry said the study wouldn't be possible without the high-caliber equipment students are able to use in the PSU program. 
"It's unique to undergraduates from what I've seen at other universities," Barry said. "This is the number one metabolic measurement tool you can buy, and it's rare to see students use this kind of equipment. This gives them valuable experience they can use in the field." 
Learn more about Exercise Science and the Health, Human Performance, and Recreation Department: https://www.pittstate.edu/education/hhpr/index.html