College of Technology Open House
  Friday, March 1, 2019 3:00 PM
  Science and Technology, Academics, News
Pittsburg, KS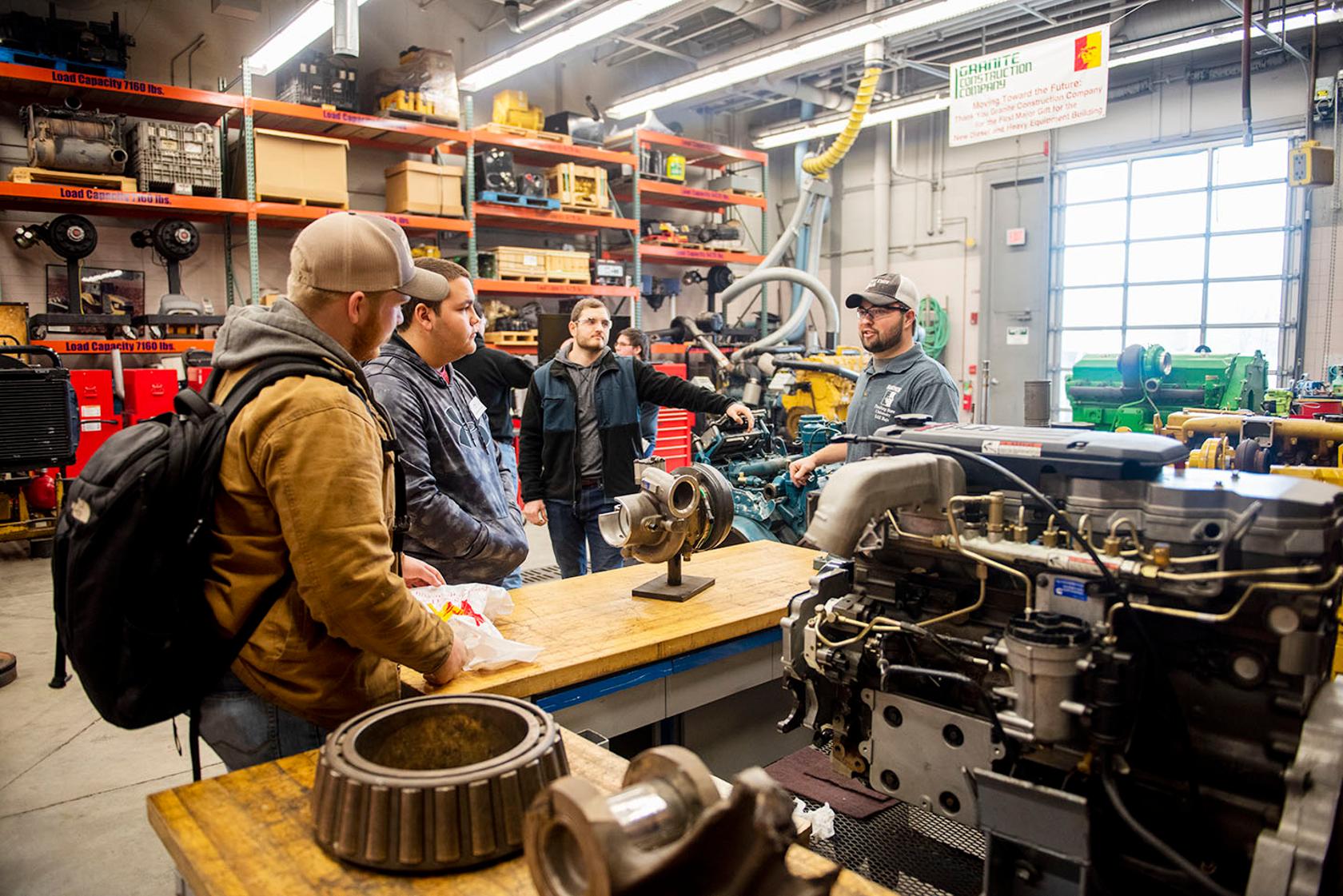 On Friday, PSU faculty and students in the College of Technology became, in a sense, recruiters for the day. 
"Who better to tell our story?" said Dean Tim Dawsey as he watched a steady stream of high school and community college students from across the region pass through the rotunda of the Kansas Technology Center to learn more about the COT during the Spring Open House. 
By 1 p.m., some 700 of them had toured the building, watched demonstrations in labs, and stopped at booths in hallways. 
Along the way, they heard about a range of degree programs in the departments of Automotive Technology, Engineering Technology, Graphics & Imaging Technologies, School of Construction, and Technology and Workforce Learning. 
Mechanical Engineering Technology students Meredith Wolfe, a senior from Olathe, Kan., and Nathan Scribner, a senior from Neosho, Mo., visited with students from Ft. Scott High School about the Mars rover they're building for national competition in Huntsville, Alabama. 
"This program really focuses on application — it's very hands-on," Wolfe explained as she pointed out key features of the buggy and the course it will navigate.  
"It's also very collaborative," she said. "We work with students in other majors and I learn a lot from them as well as my own coursework." 
Disel & Heavy Equipment Automotive Technology major Drew Harmon, a senior from Caney, Kan., spoke to a group of students from Independence High School in a lab filled with engines and described his involvement with the Students in Automotive Engineering Baja program. 
Harmon, who transferred to PSU from Coffeyville Community College as part of the 2+2 program, is working toward a bachelor's in applied science and said the opportunities he found here "are amazing." 
He also said job opportunities for graduates are excellent, from "turning wrenches to management," and start between $40,000 and $50-60,000.  
"I don't graduate until May, and I've already landed a job with Foley CAT," he said. 
Seniors Aaron Gragg, of Lansing, Kan., and Nate Simmons, of Kansas City, Mo., shared similar stories as they demonstrated a laser scanner in the School of Construction.  
Gragg, who is majoring in Construction Management, has been offered an internship with Garney Construction in Florida this summer that could lead to full-time employment. Simmons, who is majoring in Construction Engineering Technology, has been offered one with Kiewit Construction in Texas that also could lead to a full-time job. Both said classmates who graduated before them had no shortage of job offers for careers that pay lucrative salaries. 
One of the largest contingents to visit the open house was Crowder College, with 100 of their students touring the KTC for the first time. 
"This is a first for us, and I'm excited for them to see the facilities and the opportunities here," said their instructor, Steve Wilson. "It's very beneficial to have something like this so they know what's out there and what they can work toward." 
Growing 
The COT Open House is one of the fastest growing events on campus. Last spring, 170 students attended. Last fall, there were a record 782 participants. This spring, more than 764 students from 51 area schools from Kansas, Missouri, Arkansas, and Oklahoma, registered.  
Organizer University Professor Emeritus John Iley, who now serves as assistant to the dean for special projects and recruitment, said he's very proud of the work by faculty, staff, and students to prepare for the large-scale show-and-tell. 
Learn more about the College of Technology at https://www.pittstate.edu/technology/index.html