Nursing school marks milestone
  Wednesday, January 23, 2019 9:00 AM
  News, Milestones, People and Society
Pittsburg, KS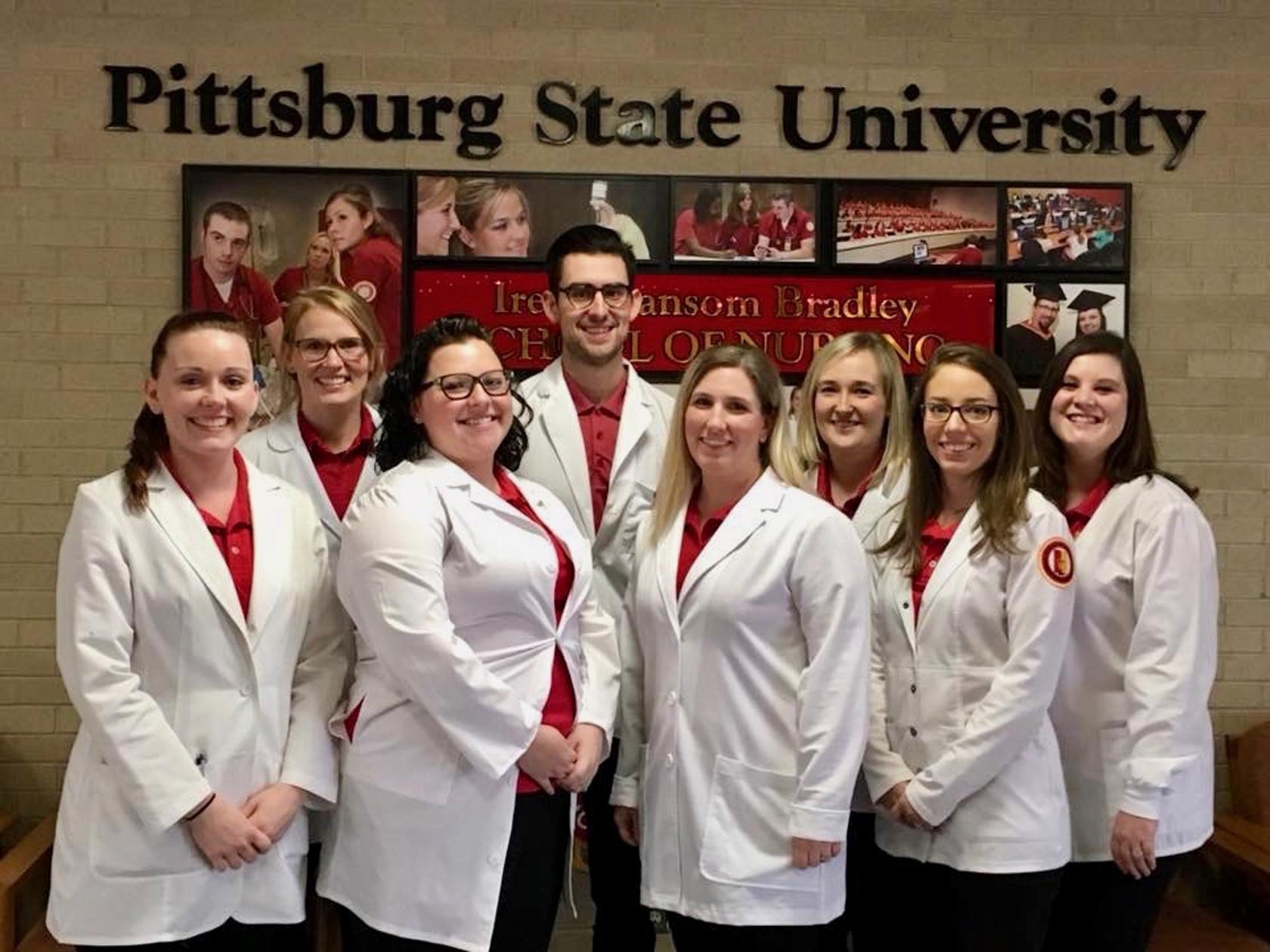 PSU's Irene Ransom Bradley School of Nursing has marked a milestone with its first cohort of students enrolled in what's abbreviated as the BSN to DNP program: 100 percent of the students passed the Family Nurse Practitioners National Board Certification — a must for them to be able to practice in most states as Family Nurse Practitioners when they graduate in May.   
Adding to the excitement for the Class of 2019 was their average score: it far surpassed the national average.  
"I look at our DNP program and think of how far we've come since the inagaural BSN-DNP class was admitted in 2016," said Director Cheryl Giefer, "and I can't help but smile." 
Officially called the Bachelor of Science in Nursing to Doctor in Nursing Practice program, the 74 credit-hour terminal practice degree allows those who earn it to practice a more advanced level of nursing. The U.S. Bureau of Labor Statistics expects a growth of around 19 percent in the field by 2020, well above the national average. 
Graduates will be qualified to work in advanced practice nursing roles including the role of a primary care provider, and the role has expanded to include hospitalists, director of medical services, and more. According to recent figures from the U.S. Department of Labor, the median annual wage for nurse practitioners in such roles is just over $100,000. 
"But in order to be able to receive payments from Medicare, Medicaid, and many private insurance companies, nurse practitioners must first pass the National Board Certification exam," said Giefer, "so this is a major milestone in their journey." 
Initial planning for the BSN to DNP degree at PSU began in 2009, and in Fall 2010, two faculty were awarded sabbatical to begin preliminary formal planning. In 2012, nursing faculty formed a DNP task force, and in 2014, the nursing school received approval from the Higher Learning Commission, the Kansas Board of Regents, and the Kansas State Board of Nursing to transition the Master of Science in Nursing program to the DNP program. 
This first cohort of students began in the BSN-DNP program when PSU rolled it out in 2016. 
Giefer said that in addition to their pass rate, their scores were noteworthy: to pass, they must have earned a score of 500.   
"Our students averaged a score of 648," she said. "This speaks to the quality of instruction they're getting from our faculty, to the program as a whole, and of course to our students' own dedication and commitment. We're very, very proud." 
For additional information about the Irene Ransom Bradley School of Nursing and the BSN program visitwww.pittstate.edu/department/nursing.