Library receives Humanities grant for two-day event
  Tuesday, January 29, 2019 3:00 PM
  News, Milestones
Pittsburg, KS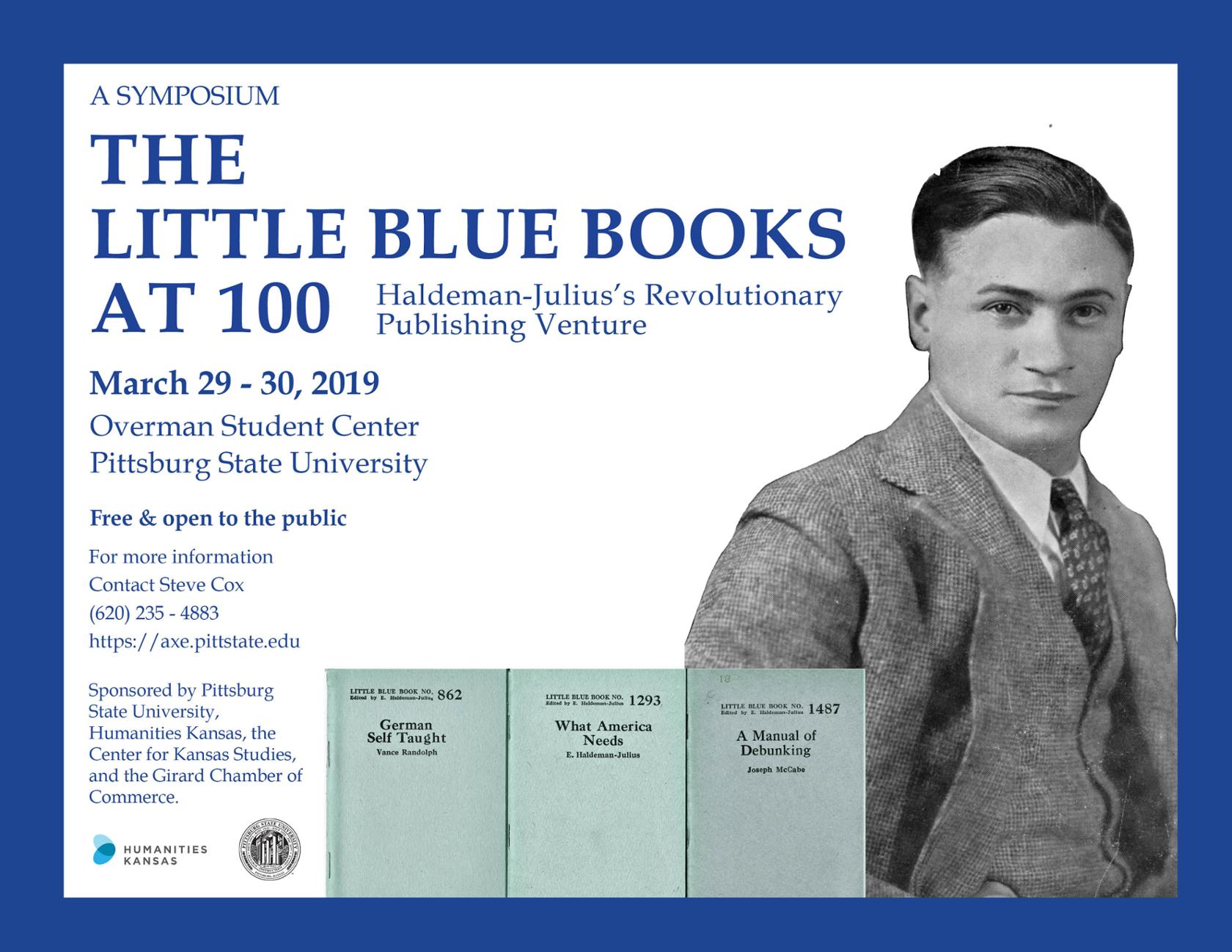 Humanities Kansas has awarded a $3,175 grant to Pittsburg State University's Leonard H. Axe Library in support of a two-day symposium in observance of the 100th anniversary of the Little Blue Books, the revolutionary printing and publishing endeavor of Emanuel Haldeman-Julius of Girard, Kansas. 
Called "The Little Blue Books at 100: Haldeman-Julius's Revolutionary Publishing Venture," the event will be held March 29-30 and will feature papers and presentations on the various aspects of the 32-year run of the Little Blue Books, from 1919 until the death of Emanuel Haldeman-Julius in 1951. Speakers are coming from as far away as France and Australia. 
The event will include a screening of the recent film documentary, American Socialist: The Life and Times of Eugene Victor Debs, with the film's director, Yale Strom, present to give a short talk and answer questions. Labor leader and socialist politician Eugene Debs had a close association with Haldeman-Julius and the socialist press of Girard, from which the Little Blue Books were begun. 
Haldeman-Julius began publishing the small, pocket-sized booklets on a variety of subjects and titles not long after becoming the publisher of the nation's largest socialist newspaper, Appeal to Reason. During the course of his 30-year career, he printed an estimated 500 million booklets with more than 2,000 titles.  
With the help of his wife, Marcet, he revolutionized mass-market publishing, was among the earliest to decry racial segregation, and was one of the earliest to publish sex education information. 
"Humanities Kansas supports projects that encourage a better understanding of the world," said Julie Mulvihill, Humanities Kansas executive director, who noted that Haldeman-Julius "had a powerful idea to share the knowledge of great thinkers with the masses through these little blue books, and his efforts are worth revisiting 100 years later." 
Steve Cox, curator of Special Collections & University Archives, serves as project director.  
For event details, visit https://libguides.pittstate.edu/Haldeman-Julius_Symposium 
About Humanities Kansas 
Humanities Kansas is an independent nonprofit spearheading a movement of ideas to empower the people of Kansas to strengthen their communities and democracy. Since 1972, their programming, grants, and partnerships have documented and shared stories to spark conversations and generate insights.