Marcia Base chosen for Distinguished Service Teacher Award 
  Tuesday, December 11, 2018 10:00 AM
  Academics, People and Society, News, Alumni
Pittsburg, KS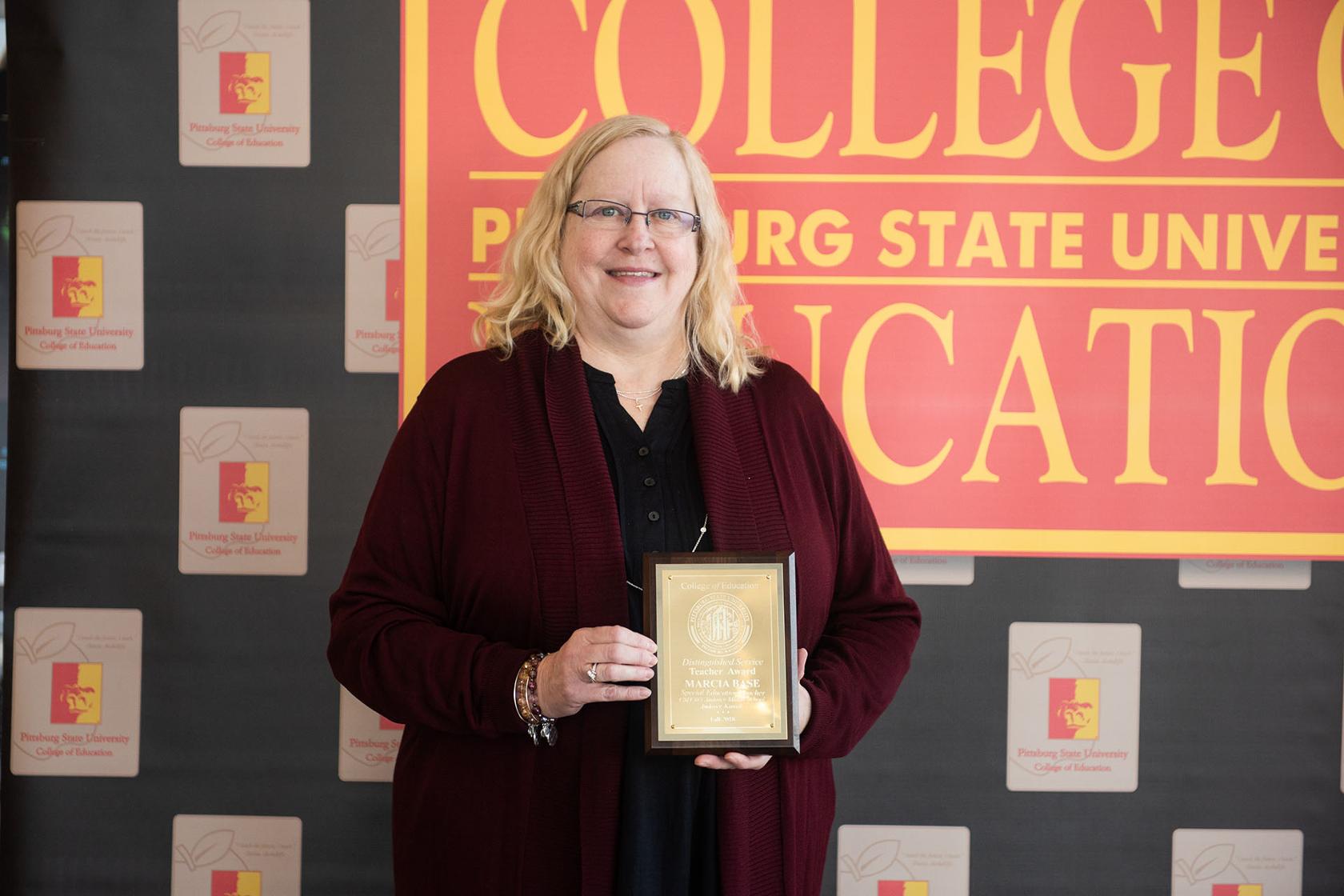 Pittsburg State University's College of Education has chosen Marcia Base, special education teacher at Andover Middle School in Andover, Kansas, for the Distinguished Service Teacher award. 
She received her award during the College of Education's Recognition Ceremony on Monday.  
Base, a native of Pittsburg whose father, Richard Jacques, was a long-time fixture on campus as a professor in the Department of Printing, has 25 family members with degrees from PSU. 
"I grew up on campus, so I didn't know anywhere else to go," laughed Base, whose grandfather, Elton Cline, taught in the Chemistry Department. 
But she wasn't sure what career path to pursue until she assisted at a school for children with special needs. 
"It was like a call that this is where I'm supposed to be, this is what I'm supposed to do," she said of that experience. 
She chose the College of Education for both degrees, earning her bachelor's in 1981 and her master's in 1983. Immediately after graduation, she was hired by a special education cooperative to teach special education to students kindergarten through 12th grade at tiny Spencer School in Southeast Kansas; it has since closed. 
She is now in her 35th year in teaching at Andover, where she works with 12 students with intellectual disabilities and who have Autism and Down Syndrome. 
"I just love it and my kids," Base said of her career in education. 
Her classroom includes a full kitchen, where she works with students to learn life skills like cooking and doing laundry. 
"My goal is to help them achieve their full potential," she said. 
Base was surprised to receive the award, she said, echoing Holmes' thoughts that there are many deserving educators with degrees from PSU. 
"It's been a wonderful, rewarding career," she said. "And I had a great experience at PSU. We still come back whenever we're able to go to games, walk around the Oval, and see all the new things."