Campus, community mourn loss of Overman
  Monday, December 10, 2018 3:00 PM
  News, Alumni, People and Society, Milestones
Pittsburg, KS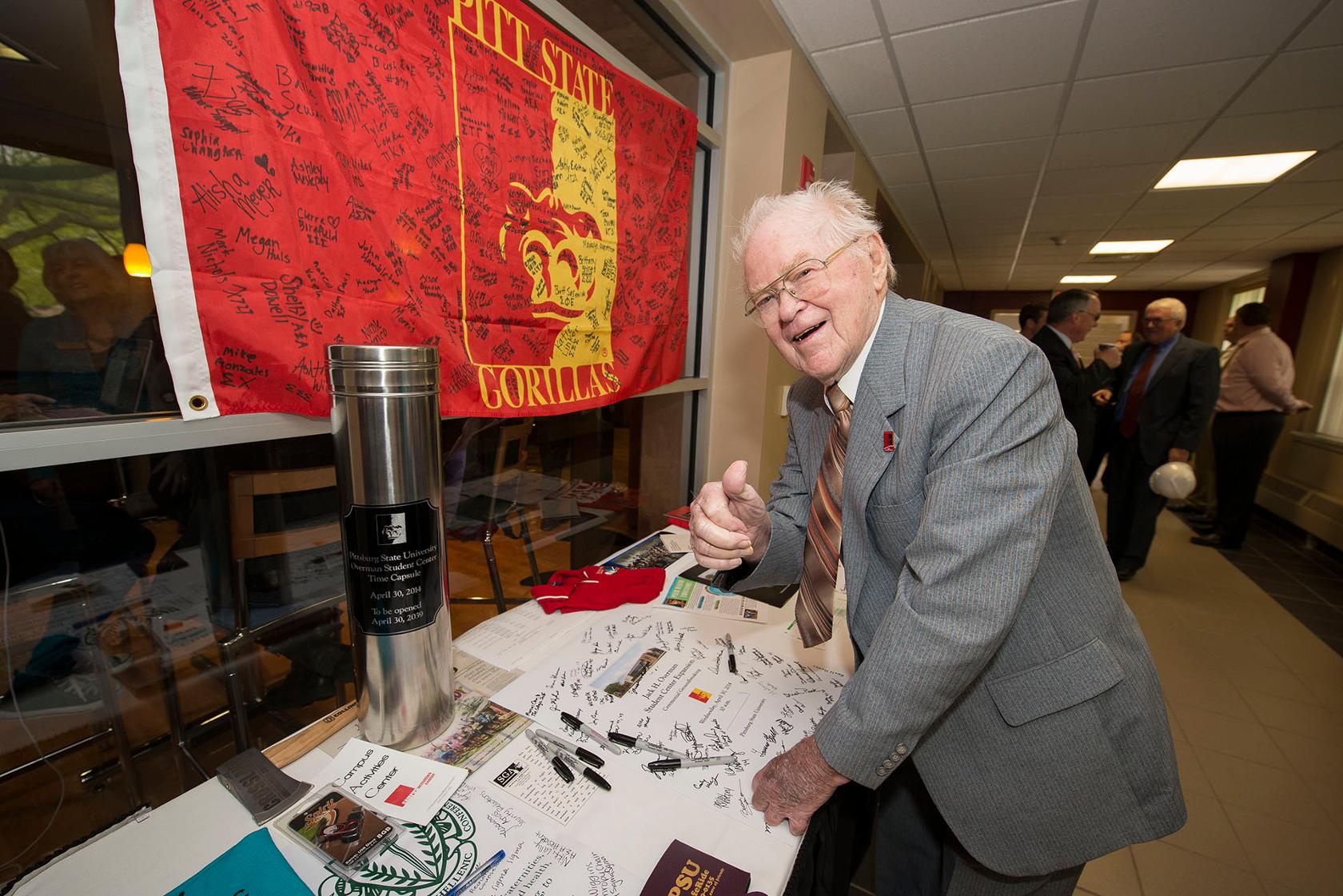 The eternal cheerleader has died, and the campus and community are in mourning. 
Jack H. Overman died on Saturday, Dec. 8, at age 100, having celebrated his centennial birthday on Aug. 23 on campus in the student center that bears his name. 
A lifelong resident of Pittsburg, Overman was known by generations of Pittsburg State University students, staff and alumni as a passionate, cheerful, and lovable cheerleader for all things related to Pittsburg State. 
"Jack Overman represents everything that's good about Pittsburg State...his passion for Gorilla athletics, his commitment to individual students, and his enduring love for the institution," said PSU President Steve Scott. "His impact on Pitt State has been evident over the past eight decades and will be felt for decades to come." 
Overman was employed at PSU when Scott was a student in the 1970s and he had been a classmate of Scott's mother; a signed 1940 yearbook is among Scott's cherished possessions. 
"He signed it on a page that included a photo of him decked out as a yell leader, and wrote encouraging words to her in the same spirit as he has encouraged me over my time as a faculty member and campus leader," Scott said. "I feel blessed to think about my family's connection to Jack over all of these years. He left his mark on Pittsburg State University and on me personally. We should all admire and be forever grateful for the life he has led and the difference he has made." 
Overman, who was born on Aug. 23, 1918, in Girard, Kansas, attended Pittsburg High School, where he was a yell leader. When he enrolled at PSU — then known as the Kansas State Teachers College — in 1936, he continued to perform on the cheer squad at pep rallies and bon fires, convocations, and marches to downtown Pittsburg. 
He was a leader on campus, serving as student body president. He also served as a charter member and past president of the Pep Club, Kappa Delta, and as business manager of the Kanza, the student yearbook. 
After graduating with a Bachelor's of Science degree in 1940, Overman spent a year as Assistant Dean of Men and then a year with the W.A. Sheaffer Pen Co. before being named executive director of the Pittsburg YMCA. He continued to be active at the YMCA into his 90s, swimming laps there each morning.  
In 1951, he returned to the university as the first director of the new student center and earned a master's degree from PSU in 1954. 
Leading the student center was a job tailor made for someone who loved the campus and students as much as Overman did. He served in that role for 33 years, retiring in 1984. 
The Kansas Board of Regents renamed the student center after Overman following his retirement. In 1986, he was given the Meritorious Achievement Award by PSU Alumni & Constituent Relations and was inducted into the PSU Athletics Hall of Fame in 2009. 
Overman's trademark cowbell, funny hats, and crimson and gold garb were part of the game-day atmosphere at countless PSU athletic contests.  
Perhaps the most remarkable of Overman's achievements was his ability to connect with students younger even than his own grandchildren. Well into his 80s, Overman was known to climb onto a picnic table in Gorilla Village to lead 19- and 20-year-old students in a Pitt State cheer. His enthusiasm and optimism were contagious for Gorilla fans of all ages. 
Overman also was active in the community, including the Pittsburg Rotary Club, First United Methodist Church, YMCA, Salvation Army, Gold Bank, Pritchett Trust, Mt. Carmel Foundation, Boy Scouts, and Elm Acres. Overman is a recipient of the Spirit of Pittsburg Award. 
For most of his adult life, he and his wife, Doris, lived just across the street from McCray Hall, on Lindburg, in a house built by physics professor James Garfield Shirk. Jack and Doris were frequent and welcome guests at PSU activities of all kinds.  
They met when they were both students in 1940 and they married in 1945. They had two children, Steve Overman, Pacifica, Calif.; and Sandy Overman Haile, Pittsburg. Doris, a life-long teacher, died in 2008. 
Service information 
The family will receive friends from 2 to 4 p.m. on Saturday, Dec. 15, and Sunday, Dec. 16, at Brenner Mortuary, 113 E. Fourth. A funeral service will be held at 10:30 a.m. on Monday, Dec. 17, at the First United Methodist Church, 415 N. Pine. Burial will follow in the Highland Park Cemetery. 
If you'd like to remember Jack, memorials may be given to the Jack and Doris Overman Scholarship Fund at the First United Methodist Church, the Jack and Doris Overman Scholarship Fund at the YMCA, or the Jack and Doris Overman Scholarship Fund at Pittsburg State University. Memorials may be left at or sent to Brenner Mortuary.