Therapeutic Recreation students serve special populations
  Tuesday, November 13, 2018 8:00 AM
  News, People and Society, Academics, Giving Back
Pittsburg, KS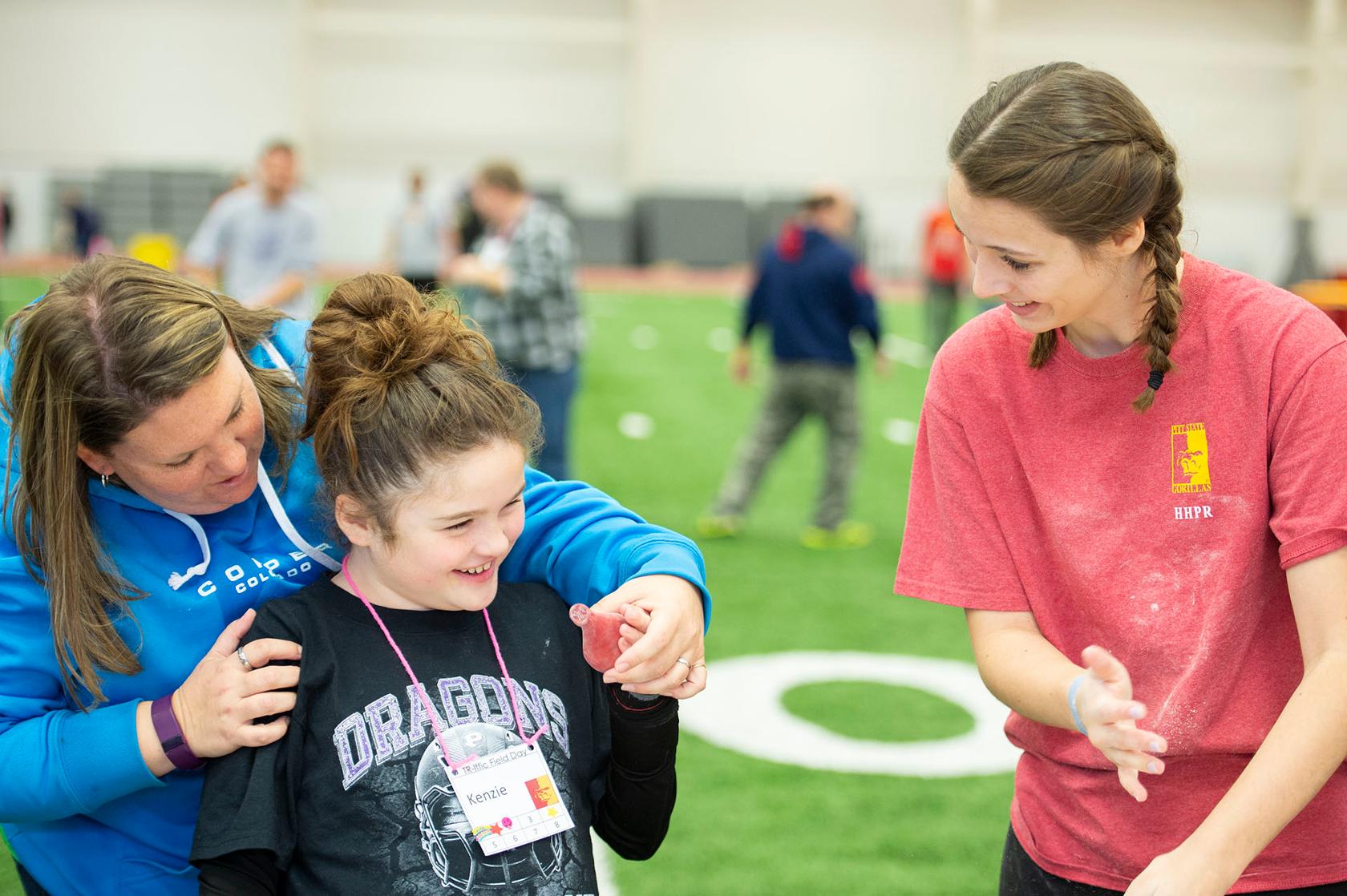 When Taya Leach graduates in May with a degree in Therapeutic Recreation, she'll be ready, and so will her resumé. 
The senior from Parsons, Kansas, already has experience working with special populations, thanks to an event that she and her classmates brainstorm and put on each semester. 
Called TR-iffic Field Day, it's staged in the Robert W. Plaster Center — an indoor track and field that allows for use in any kind of weather. 
On a chilly November day, participants and colorful equipment dotted the turf. PSU students, including Leach, were interacting with more than 80 individuals with varying disabilities, including behavioral, intellectual/developmental, and autism, guiding them through stations that ranged from relay races to lawn games, a dance party, and craft-making.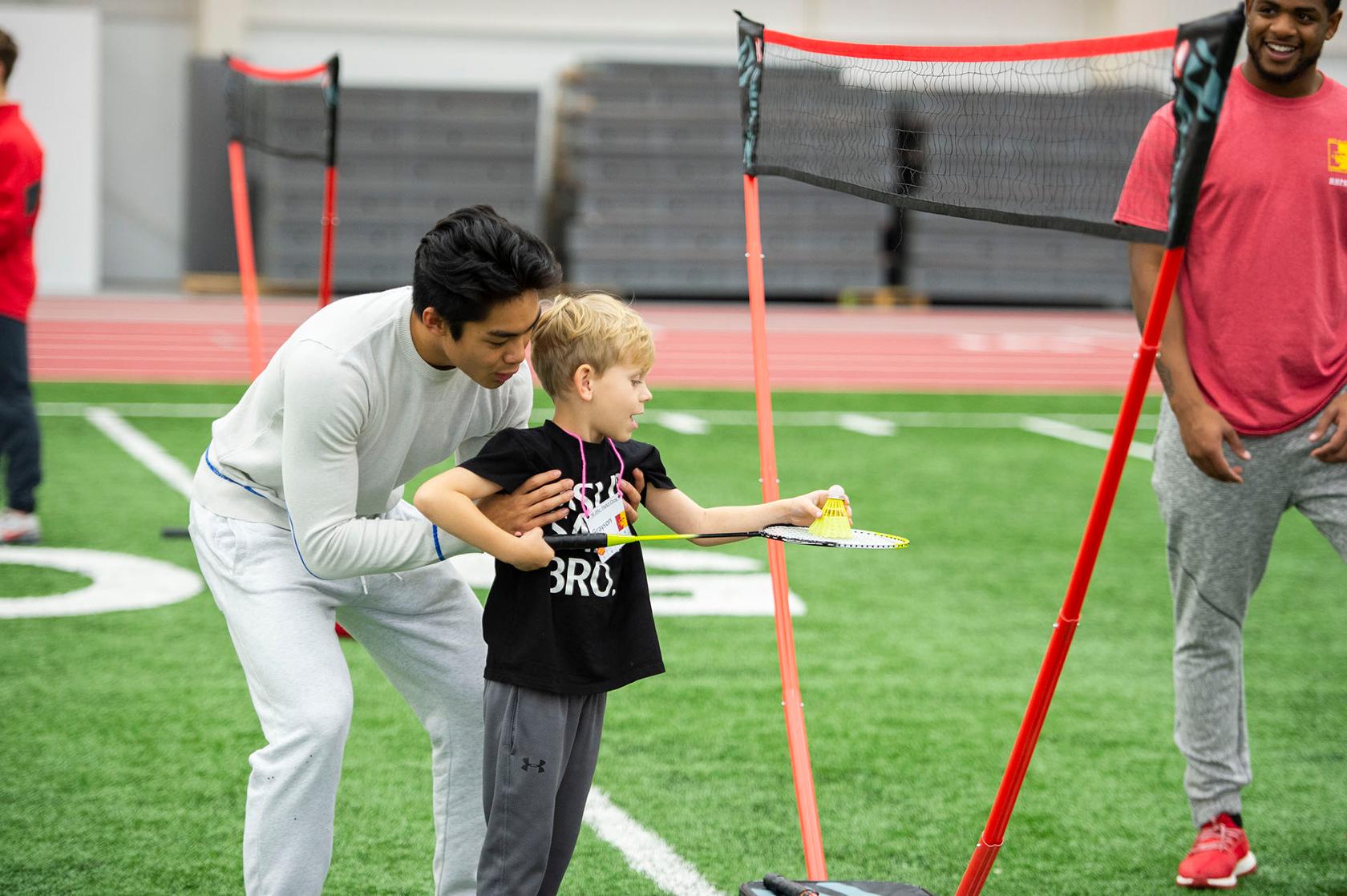 It was hard to tell who was having the most fun — the attendees, or the PSU students. 
Leach stood on one side of a rainbow parachute, and her classmate, Lexi Yager, a senior from Wichita, stood on the other, both gripping the edges and holding it at waste level. In between them, attendees from New Hope, George Nettles Elementary School, Labette County High School, Mosaic, and Parsons State Hospital also gripped the edges. 
"I'm going to lift it up higher — are you ready?!" Leach shouted enthusiastically. "I'm choosing a color! Red! Who's touching the red? Run! Run to the other side!"  
Two attendees ducked under the parachute and scurried across, their smiles as big as Leach's. 
As their activity concluded, Yager and Leach gave each individual a sticker to wear. They were rewarded with a few hugs and high fives. 
"This makes me realize why I'm doing what I'm doing," Yager said. "It's so inspiring and rewarding."
Their instructor, Laura Covert-Miller, an associate professor in the Health, Human Performance, and Recreation Department, said the day always has a big impact on attendees, as well. 
"Seeing the students engage, hearing them come up to me and ask if I saw this or heard that at the event, sharing their anecdotes — this is when it really clicks for the students, because they realize that what they do matters," Covert-Miller said. "People in this field might not always get recognized, but we are making that impact." 
"Most of all we want people to see, through recreation, that we can all have fun together – we're taking out divisions." 
Graduates of her program work in diverse areas: one works at a wellness center for people with physical disabilities in Tulsa, Oklahoma. Another oversees wellness activities in a retirement center there. One works in Omaha, Nebraska, educating individuals with spinal cord injuries who are re-entering the community. Still others work in mental and behavioral health hospitals and agencies with youth and adolescents. 
Leach and Yager said their decision to attend PSU was a good one, because they're not just getting sound academic instruction, they're able to learn by doing. 
"In a classroom, everything is planned out step by step in terms of what needs to happen and when it will happen," Leach said. "This event has impacted me to think quick on my feet in a real-world setting, to provide quick adaptions to activities so that everyone can participate and feel welcomed." 
Their efforts are appreciated, staff from area agencies and schools say. 
"What it means to our consumers is the chance to be active and social, to get out and interact in the community and with other consumers," said John Bankston, support staff at New Hope. "They really, really enjoy it. They talk about it for days." 
Learn more about Therapeutic Recreation at Pittsburg State.