PSU receives federal grant to train registered nurses
  Tuesday, November 20, 2018 10:00 AM
  Milestones, Academics, News
Pittsburg, KS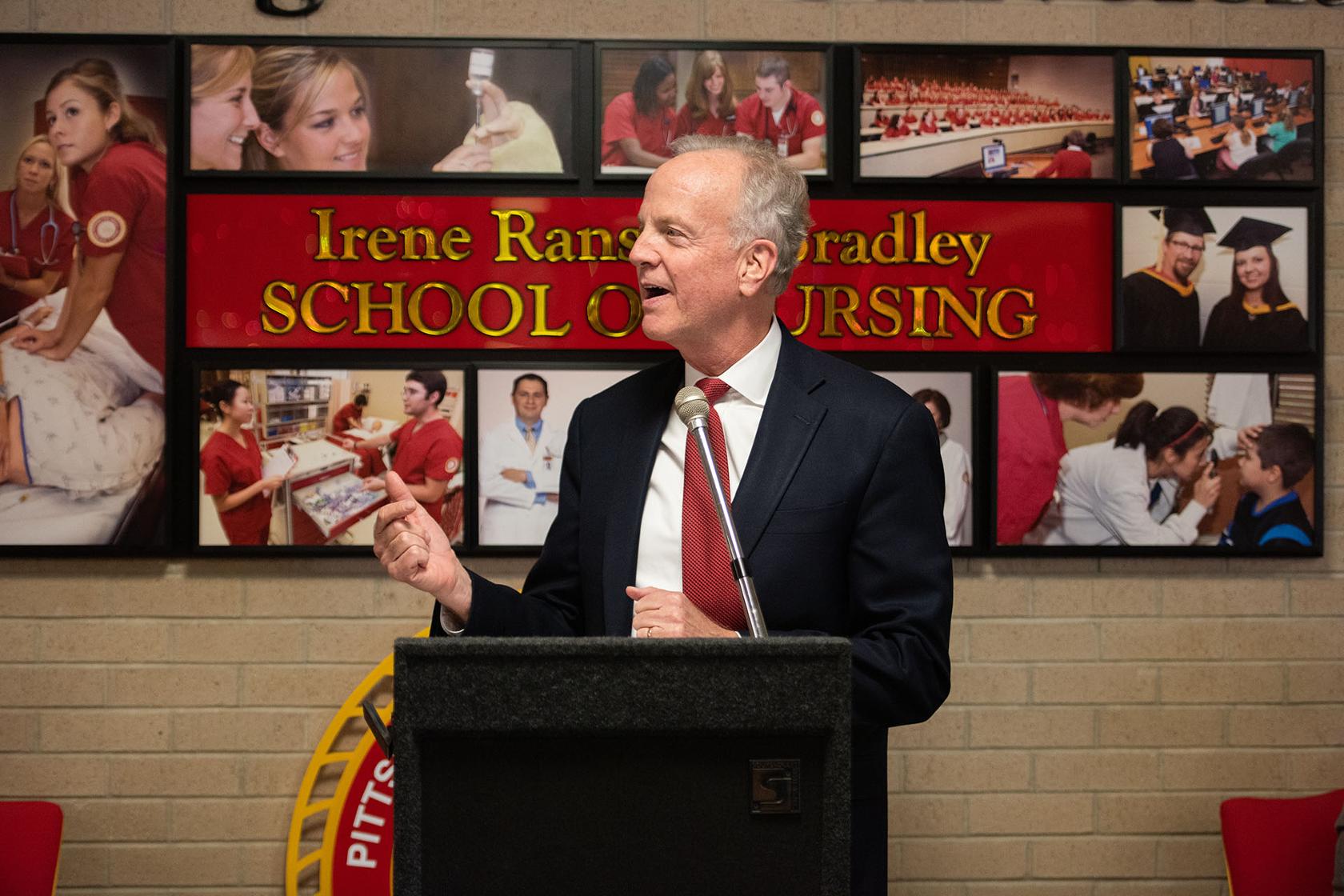 The Pittsburg State University Irene Ransom Bradley School of Nursing has received an $800,288 federal grant that will train sexual assault nurse examiners in order to fulfill a need in Crawford County.
The grant is supported by the Health Resources and Services Administration (HRSA) of the U.S. Department of Health and Human Services (HHS).
The grant was announced Monday afternoon by U.S. Sen. Jerry Moran in a press conference at the School of Nursing attended by numerous community partners, including hospitals and other health care providers, law enforcement, county agencies, and advocacy groups.
Sexual Assault Nurse Examiners (SANE) are registered nurses who have completed specialized education and clinical preparation in the medical forensic care of patients who have experienced sexual assault or abuse. The national program began in the mid-1970s in the U.S. to address the need for a more comprehensive sexual assault exam that could produce better patient outcomes. 
To become a SANE, an individual must first be a registered nurse. Currently, there is just one SANE to serve all of Crawford County, and none in Bourbon or Cherokee County. The demand exceeds the exams that individual can complete, officials say. 
"What I wish I was here to say is that this grant money isn't necessary, that there's no need for that forensic exam," Moran said. "But unfortunately, our society, our country, we as human beings face tremendous challenges as a result of bad behavior that is very damaging to other people. We have victims and survivors so frequently."
The grant was written by School of Nursing faculty member Amy Hite, who was assigned to write a grant while working on her second doctoral degree. Hite, who also works in the Via Christi Emergency Department, wanted to write a "real grant — a grant that mattered," she said.
Her research revealed statistics that pointed to the need for more trained examiners. Wendy Overstreet, a 2003 graduate of the School of Nursing who for the past decade has been the county's only examiner, has completed 268 exams — 151 of them children. Often, victims often must be referred to another facility in a different county or state because of case overload.
"Whether it is working full time or being with my family, I have to make a choice," she said, "either saying I am unavailable, thus sending the victim to another facility, or rescheduling an exam."
Overstreet has been named the coordinator of the PSU SANE program and said more trained nurses — as many as eight per year — will enable better care for victims locally, and will enable better evidence collection, which could mean higher prosecution rates of perpetrators.
In addition to this grant, the School of Nursing was awarded two additional federal grants in 2018, bringing the total to $3.65 million.
Learn more about the School of Nursing.
The grants and programs are supported by the Health Resources and Services Administration (HRSA) of the U.S. Department of Health and Human Services (HHS) with 0 percent financed with non-governmental sources. The contents are those of the authors and do not necessarily represent the official views of, nor an endorsement, by HRSA, HHS, or the U.S. Government. For more information: HRSA.gov