PSU plans Veterans Day ceremony
  Thursday, November 1, 2018 8:00 AM
  Campus Culture, News
Pittsburg, KS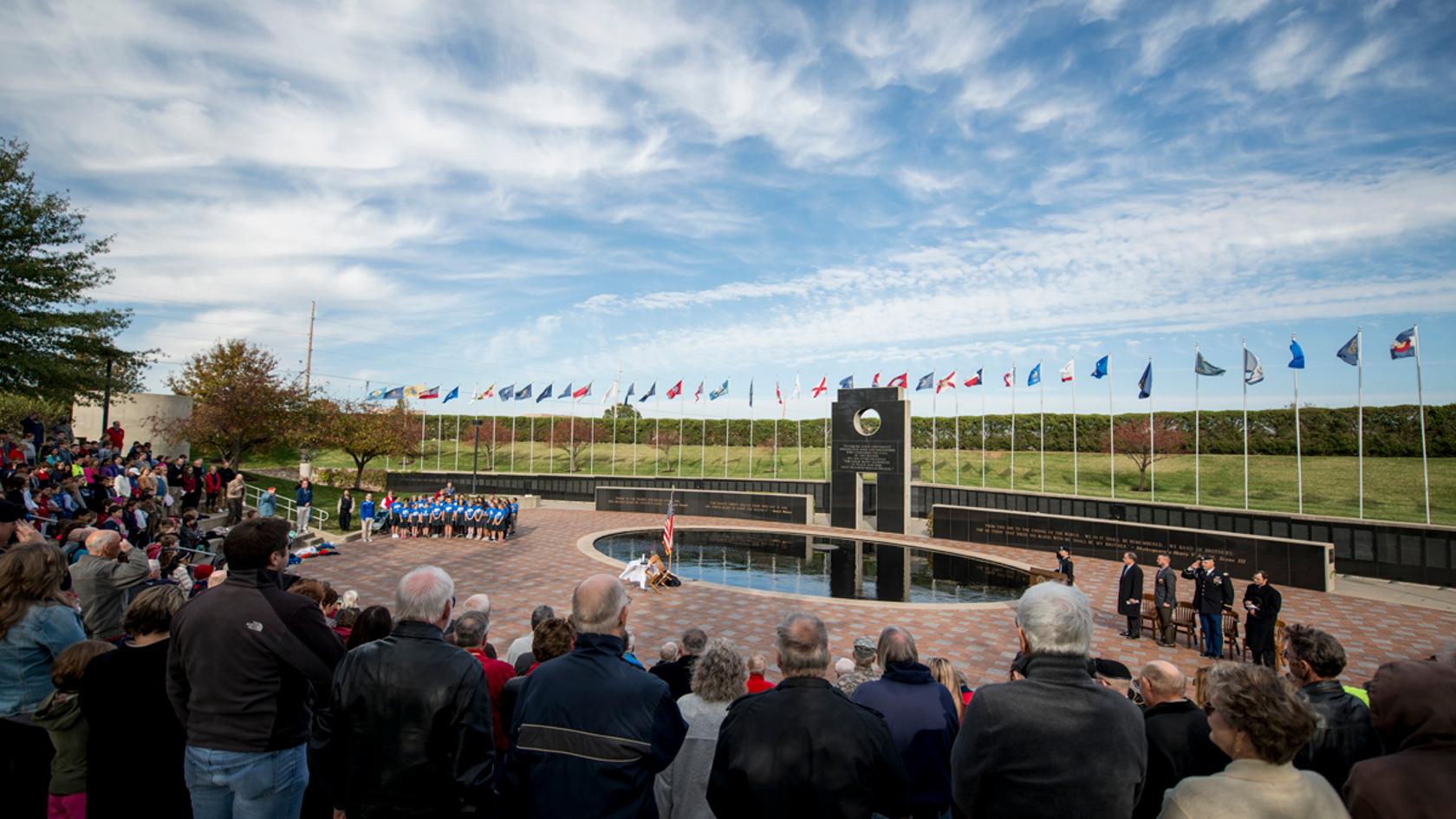 Pittsburg State University has finalized plans for the annual Veterans Day ceremony, to be held at 1 p.m. on Nov. 12. In anticipation of inclement weather, it has been moved from the PSU Veterans Memorial to the adjacent Student Recreation Center.
The event is presented as a civics lesson for local sixth graders and is open to the public. This year's ceremony represents a milestone: it will recognize the 100th anniversary of the signing of the Armistice between the Allies and Germany that called for a ceasefire to World War I effective on the 11th hour of the 11th day of the 11th month.  
World War I, which took place between July 1914 and November 1918, was one of the deadliest conflicts in world history. More than 9 million combatants and 7 million civilians died. Some 4.7 million Americans served in uniform during the war. Of the 2 million deployed overseas, 116,516 never made it home. 
To commemorate the Armistice Centennial, volunteers will hand out poppies to visitors as they enter the memorial — a form of remembrance that has been used since 1921 to commemorate military personnel who have died in war, and was inspired by the World War I poem, "In Flanders Fields." 
Senior Cadet Wyatt Pressnell from the PSU Department of Military Science will serve as emcee during the ceremony and will offer the invocation and benediction. He also will will recognize veterans and their families, including those who have had new pavers installed. 
PSU President Steve Scott will explain the features of the memorial, which includes a scale model of the Vietnam Wall in Washington, D.C. 
The keynote address will be given by Patrick Moss, who has taught for Pittsburg Community Schools for 18 years and currently teaches History, American Politics & Government, and Psychology at Pittsburg High School. For several years, he has served as an adjunct teacher in PSU's Department of History. He has a special interest in military history.
Moss is an alumnus of Pittsburg State University, having earned a Bachelor of Arts in Social Science in 2001 and a Bachelor of Science in Education in 2002. He earned a Master of Arts in History in 2006, and a Master of Science in Teaching in 2008. He also is the recipient of a grant from the Gilder Lehrman Institute of American History, which enabled him to study at both Yale and Columbia University. 
The PSU ROTC will provide a POW/MIA display. 
Pittsburg Multi-Generational Chorus, directed by Susan Laushman, will sing "The National Anthem," and St. Mary's Elementary Choir, directed by Emily Tarter, also sing "God Bless America." Bagpiper Kevin McDonald will play "Amazing Grace." PSU music education student Henry Zimmermann will play "Taps." 
Learn more about the Veterans Memorial.