Pittsburg State announces nearly $2M improvement to Gene Bicknell Sports Complex
  Friday, November 30, 2018 3:00 PM
  Alumni, News, Milestones
Pittsburg, KS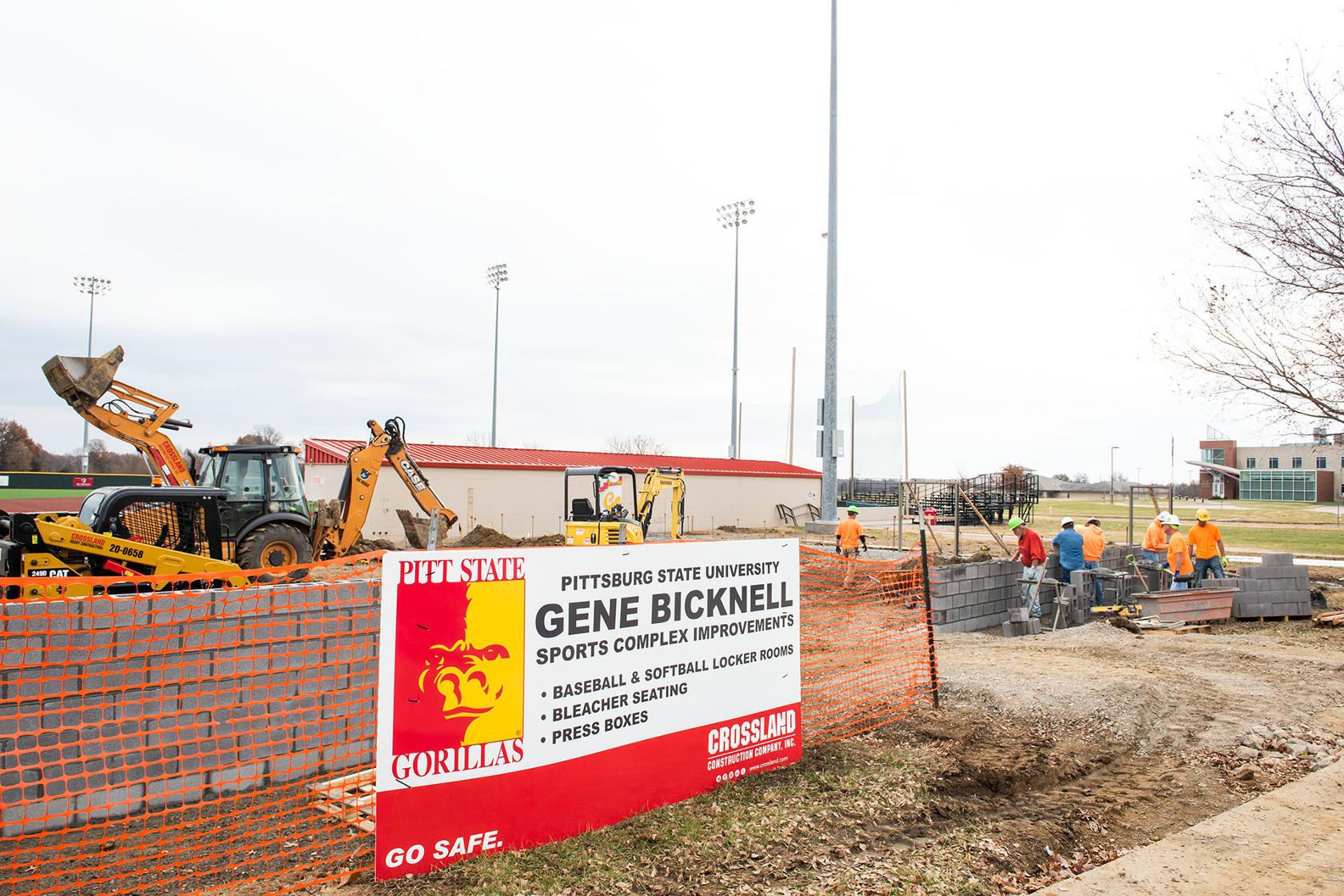 Pittsburg State University today announced the start of a nearly $2 million construction project that will add state-of-the art softball and baseball facilities to its Gene Bicknell Sports Complex. The $1.8 million project, funded entirely through private gifts, will include the construction of new locker rooms, coaching offices, batting cages, press boxes, and grandstands for both baseball and softball.
"We're fortunate to have such tremendous private support," said Jim Johnson, director of Intercollegiate Athletics. "It's making a difference in the lives of our student-athletes and the success of our programs. With this project, we believe we'll now have all of the facilities in place to be nationally competitive in all 12 of our programs."
Plans call for the construction of a new building just off of the third base dugout of the baseball field. This building will house a locker room, coaches' offices, an indoor practice area for baseball, as well as four fan boxes overlooking the third base line and bullpen.
Additionally, approximately one-fourth of the existing practice facility located just to the southeast of the softball field will be converted into a locker room and coaches' offices for softball. The softball program will also assume complete use of the remaining practice space located within the current building. 
 "It's a major step forward for both of our programs," said first-year Pitt State baseball head coach Bob Fornelli. "This is an example of why I came to Pitt State. This community and everyone at this university are committed to helping our students succeed on and off of the playing field. It's exciting to have the opportunity to be a part of something so special."
The addition of these new facilities is actually the second major addition to Pittsburg State's baseball and softball fields since 2017. Last year, the university installed AstroTurf brand synthetic turf to both fields.  As with the new facility improvements, the turf was also funded with private dollars. Together, the improvements equate to just over $3 million in improvements in a little over 18 months.
Investments that will pay dividends in the form of national prominence and game day experience, according to Pitt State softball head coach Ashley Balazs.
"This will definitely help with recruitment," said Balazs. "But, more than that, it will help with team chemistry. Having our coaching offices, locker rooms and batting cages all in the same building is incredible. I'm not certain there's another school in the region who'll have what we have at Pittsburg State."    
Construction on the new facilities, which is already underway, is scheduled to be completed by the start of the 2019 baseball and softball seasons.
"Mother Nature will have some say in our final completion date," said Johnson. "But we're aiming for a February 1 completion date. That would allow us to be done in time for our first home baseball game on February 8 of next year."
The Gene Bicknell Sports Complex is home to the Pittsburg State University Baseball and Softball programs. The Sports Complex is named after Gene Bicknell, a university alumnus, successful entrepreneur and philanthropist whose support helped revive the university's baseball program in 1991 after a 17 year hiatus.
The university's baseball first played at Al Ortolani Field on April 1, 1995. The field is named after longtime PSU athletic trainer Al Ortolani, who was the Gorillas first baseball coach (1962-1972). Prior to this, the team had played at the city-owned and shared Jaycee Ballpark from 1962-72 and again from 1991-1995.
Pittsburg State opened play at its softball complex during the 1997 season. Prior to this, the team competed at a ballfield located near the site of the current Robert W. Plaster Center.