Honor musicians, jazz groups to perform concert
  Friday, November 9, 2018 3:00 PM
  Arts & Entertainment, News
Pittsburg, KS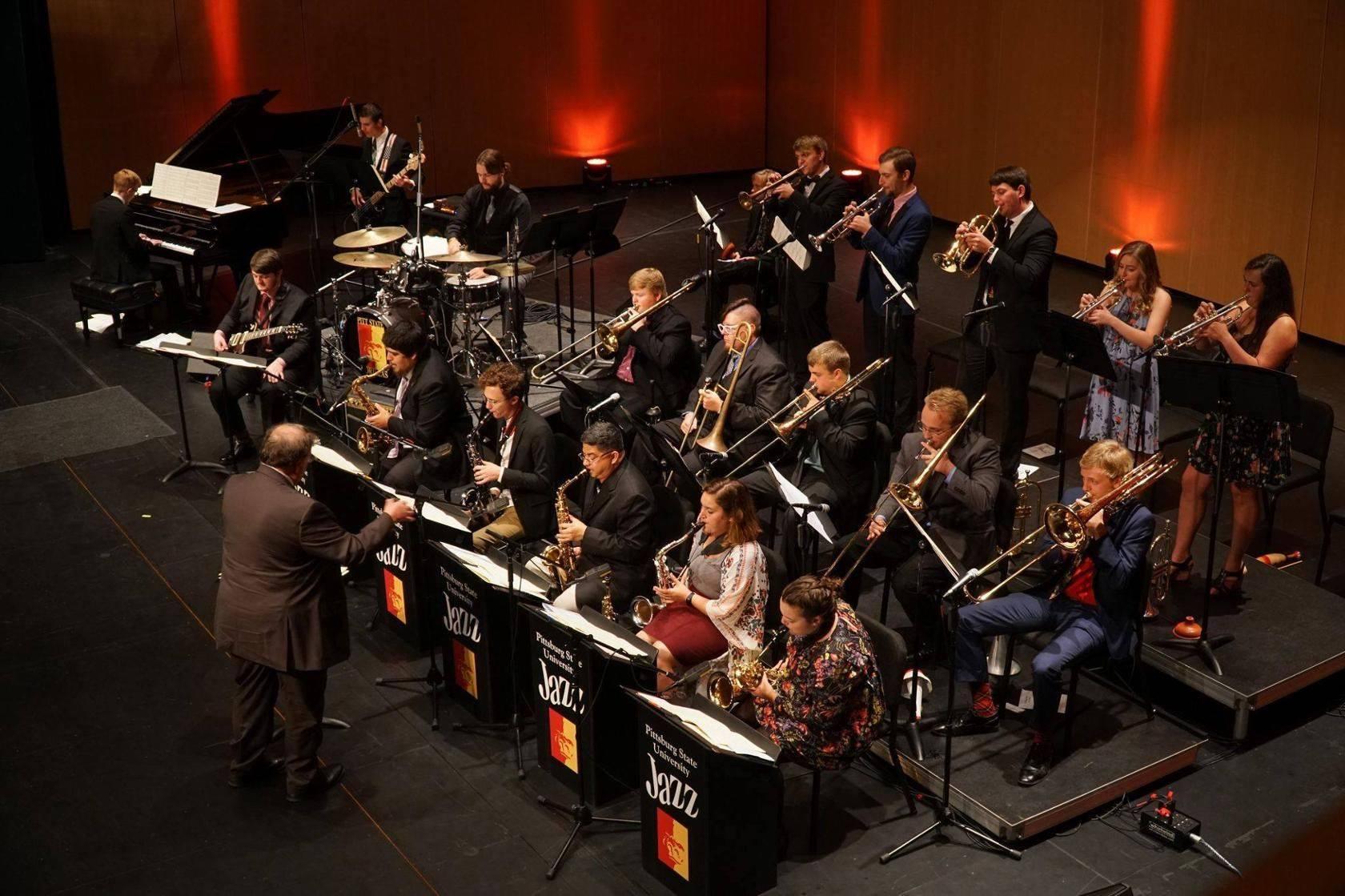 Honor musicians, jazz groups to perform concert 
Students from eight Southeast Kansas high schools who were selected as the best in the Southeast District of the Kansas Music Educators Association will perform in a concert free and open to the public at 7 p.m. Thursday, Nov. 15, in the Bicknell Family Center for the Arts. 
Also performing that evening will be the PSU Jazz Ensemble and PSU Jazz Combo, comprised of 19 PSU students under the direction of Professor Robert Kehle and Professor Todd Hastings. 
Students chosen for the District Honor Band include: 
Pittsburg High School: Meranda Belew and Brittney Bramblett, alto sax; Alejandra Cornelio, trumpet; and Bo McDowell, drums. Their director is Cooper Neil. 
Galena High School: Ayden Adamson and Jakob Gowens, tenor sax; Monte Jones and Jayden Jarvis, trumpet; Ethan Oglesby and Kamaal Sajid, trombone. Their director is Andrea Dinkel. 
Independence High School: Payton Ward, bari sax; Cy Smith, piano; and Brayden Smith, bass. Their director is Erin Shelon. 
Coffeyville High School: Abigail Smith, trumpet. Her director is Brian Nagle. 
Columbus High School: Aiden Moore, trombone. His director is Gae Phillips. 
Iola High School: Kayton Godfrey, trumpet; and Spencer Ames, trombone. Their director is Ranie Wahlmeier. 
Alternates include Michael Price, Katie Weide, Haley Carlin, and Shane Winner, Iola; Reagan Stanley, Galena; Carter Uttley, Pittsburg; Tyler Lloyd, Galena, and Jeff Ramsey, Labette. 
District clinician will be Freddie Green, who is a professor of trumpet at Missouri Southern State University with performance credits that include playing in the national tour of "Chicago."  
Kehle promised the concert to include "something that everyone will enjoy" including jazz standards that range from traditional to contemporary.  
"Jazz is America's musical art form," Kehle said. "Even the U.S. Congress has designated it as such. You can hear its influence with many artists past and present, from the Rolling Stones to rap artists. It's also found its way around the world. There's something about the beat, the melodies, and the virtuoso players that struck a chord with audiences." 
Learn more about the PSU Jazz Studies program in the Department of Music.