Electrical students learn field work during volunteer project at Ronald McDonald House
  Thursday, November 8, 2018 4:00 PM
  Science and Technology, Giving Back, Academics, News, Alumni
Pittsburg, KS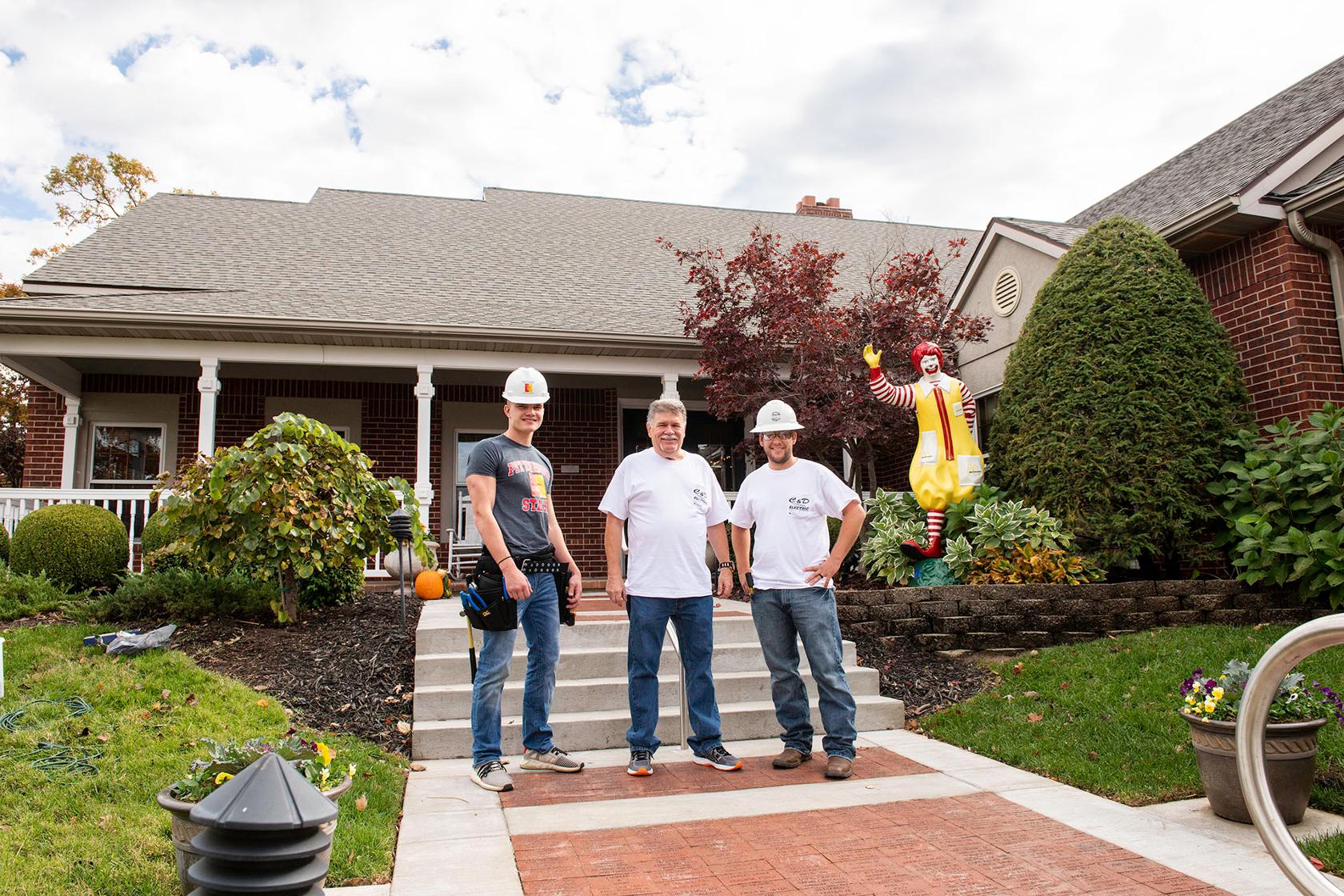 As 23 Pittsburg State University students wearing toolbelts and hardhats used the glow of their cellphones to work in darkened hallways this week, two things were happening. 
The students, who came to PSU from Northwest Arkansas, Southwest Missouri, Northeast Oklahoma, and across Kansas to pursue their degrees in Electrical Technology through the School of Construction, were learning how to be electricians outside of the classroom. 
And, they were providing a valuable service at no cost to the Joplin-based Ronald McDonald House of the Four States. 
Their task: to change out 300 worn plug-ins and almost 200 light switches – quite a bit of work, noted their instructor, Ed Moore. 
It's not the first time they've volunteered at RMH; in 2016, the students did a conversion from incandescent to LED lighting, changing out hundreds of lightbulbs and fixtures.  
"It's partnerships like this that have kept our house open and operating," said Executive Director Annette Thurston. "This collaboration is invaluable." 
RMH hosts 150 to 200 families per year, providing them bedrooms, a kitchen, and living spaces in a comfortable, secure, home-like atmosphere while their children receive medical treatments at nearby health care facilities. Others reside there temporarily while their babies, born prematurely, are nurtured at the NICU in nearby Freeman Health System.  
The majority of families who stay at RMH are from Southeast Kansas, and some, like the students, are from Northwest Arkansas, Southwest Missouri, and Northeast Oklahoma. 
Moore started the collaboration with RMH last year to help the agency, which relies on private donations and grants to operate, and his students, who are being trained in residential electrical wiring, commercial electrical construction, and industrial electrical construction and maintenance. 
"They'll go on to become an electrician, a utility lineman, or an electrical designer at companies across the region," Moore said, who noted their career outlook is good and that companies come to PSU often to recruit. The typical starting salary ranges from $15 to $28 per hour, or higher in larger metropolitan areas. 
Many graduates will go to work for companies here in the Four States, Moore added, including Leggett & Platt, Empire District, TAMKO, Modine, CDL Electric, Eagle Picher, and many, many more. 
Or they may go on to be an independent licensed contractor, like Clint Myers, who with his dad, Chuck Reynolds, operates C&D Electric in Diamond, Missouri. Myers, who earned his degrees in 2011 and 2017, said he believes in giving back. 
"This is the best opportunity to get these guys real-world experience before they graduate, and it helps out a local charity at the same time," said Myers.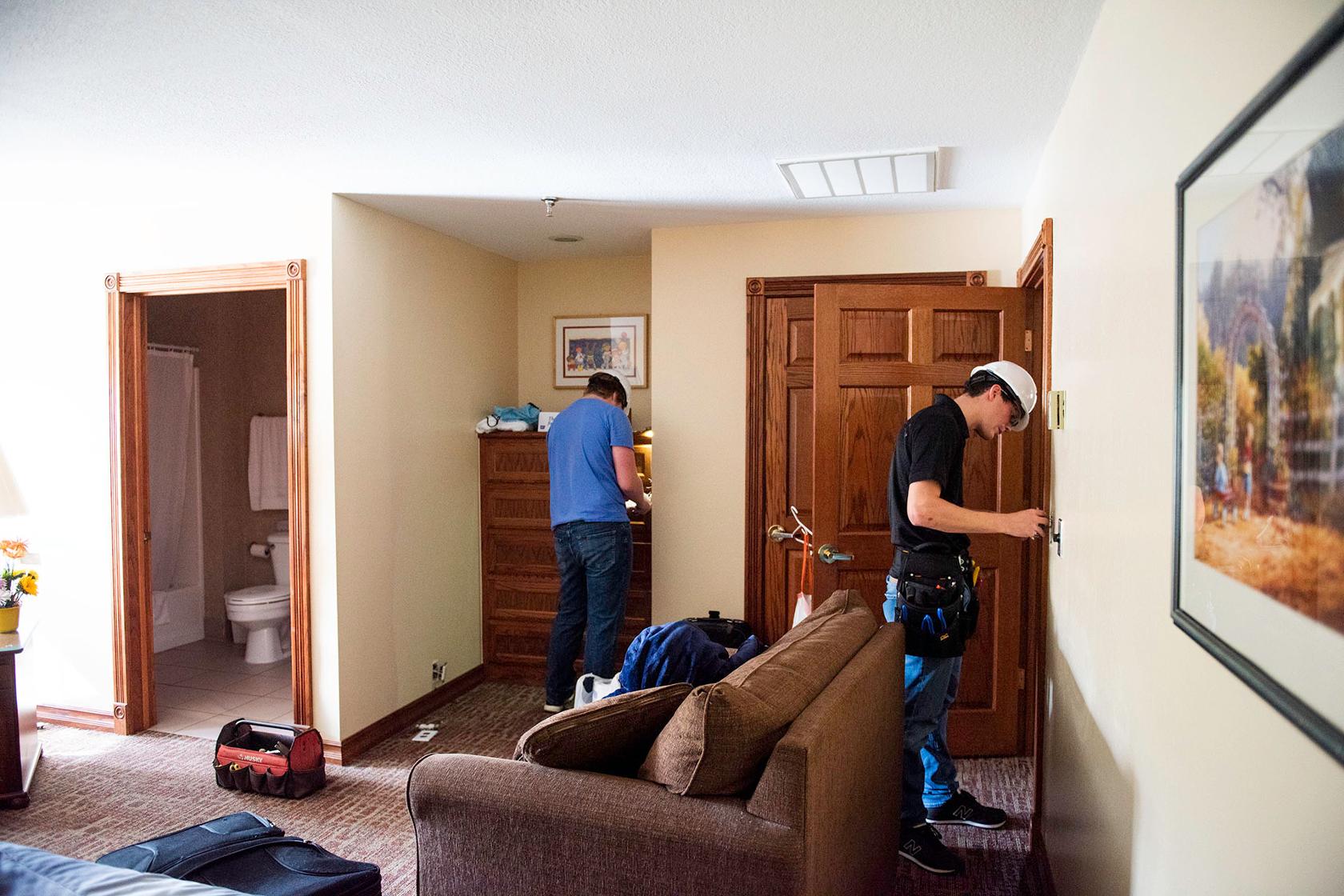 Joe Chapman, a freshman from Parsons, Kansas, said the experience was helpful, as was meeting people in the industry, like Myers and Reynolds, as he begins to look toward a career in the industry. 
"This has given me exposure to actual issues I'll face someday out in the field," he said. 
Payton Darnell, a freshman from Riverton, Kansas, said working at a job site for the first time was intimidating to begin with, especially when he realized there wasn't a safety resister like there is in the classroom. 
"But it feels good to actually be on the job as a student, so we can begin learning the real hands-on stuff," Darnell said. "It's part of what makes this program unique, I think." 
All materials for the project were donated by Covert Electric Supply Joplin Managed by Bob Heiniger, who also has given time and talent to RMH. 
"We've always been committed to putting people's talents and skills to work in a positive way here," Thurston said. "It's a win-win for everyone." 
Learn more about Electrical Technology at Pittsburg State.