Students chosen to perform with U.S. Jazz Ambassadors
  Tuesday, October 9, 2018 8:00 AM
  News, People and Society, Arts & Entertainment
Pittsburg, KS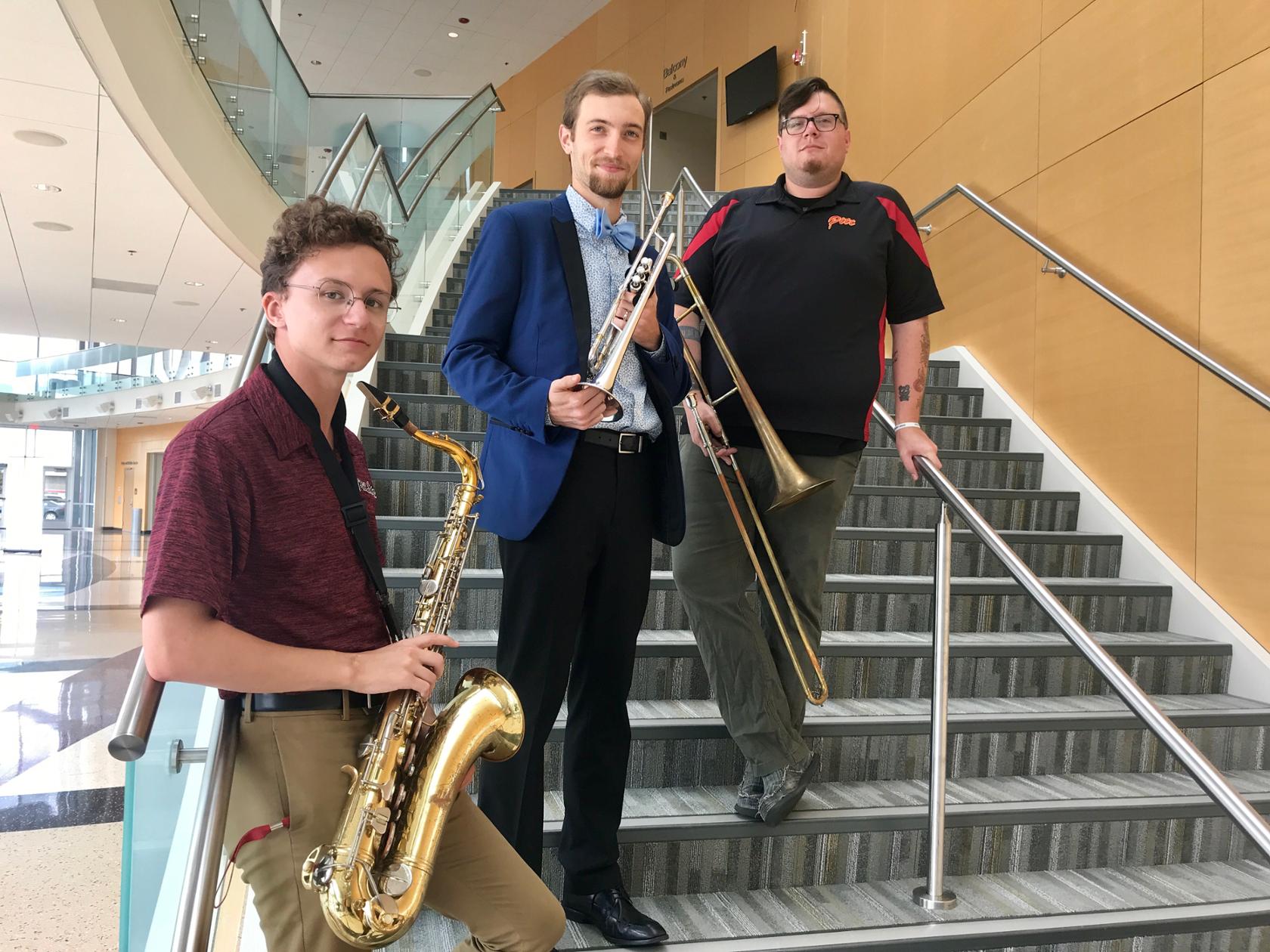 The U.S. Army Jazz Ambassadors from Washington, D.C., added Pittsburg State University to their 2018 U.S. Tour, and as a result, three PSU music majors will have the opportunity to perform alongside master musicians. 
The concert will be held Monday, Oct. 29, at 7 p.m., in the Bicknell Family Center for the Arts. It is free and open to the public. 
Considered the U.S. Army's premier big band, the 19-member ensemble has received great acclaim both at home and abroad since forming nearly 50 years ago.  
"Being asked to sit in with a premier service band like the Jazz Ambassadors is a huge honor," said trombonist Chris Goddard, a senior from Olathe, Kansas, who is majoring in music education. "I'll have an opportunity to play next to some of the best jazz players in the country in what I now consider my hometown." 
Joining him will be trumpeter Henry Zimmermann, a senior from Olathe, and junior Ryan Amick, an alto saxophone player from Pittsburg. 
"I think it's really awesome that the Jazz Ambassadors asked for student performers," Amick said. "Performing with them is going to be a great opportunity to learn what it's like and what it takes to be a jazz musician of that caliber." 
Concerts by the Jazz Ambassadors are designed to entertain all types of audiences, with a diverse repertoire of big band swing, bebop, Latin, contemporary jazz, standards, popular tunes, Dixieland, vocals, and patriotic selections. 
The band has appeared in all fifty states, Canada, Mexico, Japan, India, and throughout Europe. Notable performances include concerts at international jazz festivals in Montreux, Switzerland; Newport, Rhode Island; Toronto, Canada; Brussels, Belgium; and the North Sea Jazz Festival in the Netherlands.  
In 1995, the Jazz Ambassadors performed in England, Wales, Belgium, Luxembourg, and the Czech Republic in commemoration of the 50th anniversary of the end of World War II. The band has also been featured in unique joint concerts with major orchestras, including the Detroit and Baltimore symphonies. 
"The Army remains committed to our soldiers, our veterans and our country and it is the people of the United States who we all serve," said Col. Jim Keene. "It's a privilege to perform in Pittsburg, connecting America to its Army. Using the power of music, our soldiers pay tribute to all service members who have liberated the world and who have preserved America's freedoms and our Constitution."  
Learn more about the PSU Department of Music at https://www.pittstate.edu/music/index.html