Show recorded at Bicknell Center to air nationally on Saturday
  Thursday, October 11, 2018 10:00 AM
  News, Arts & Entertainment, Campus Culture
Pittsburg, KS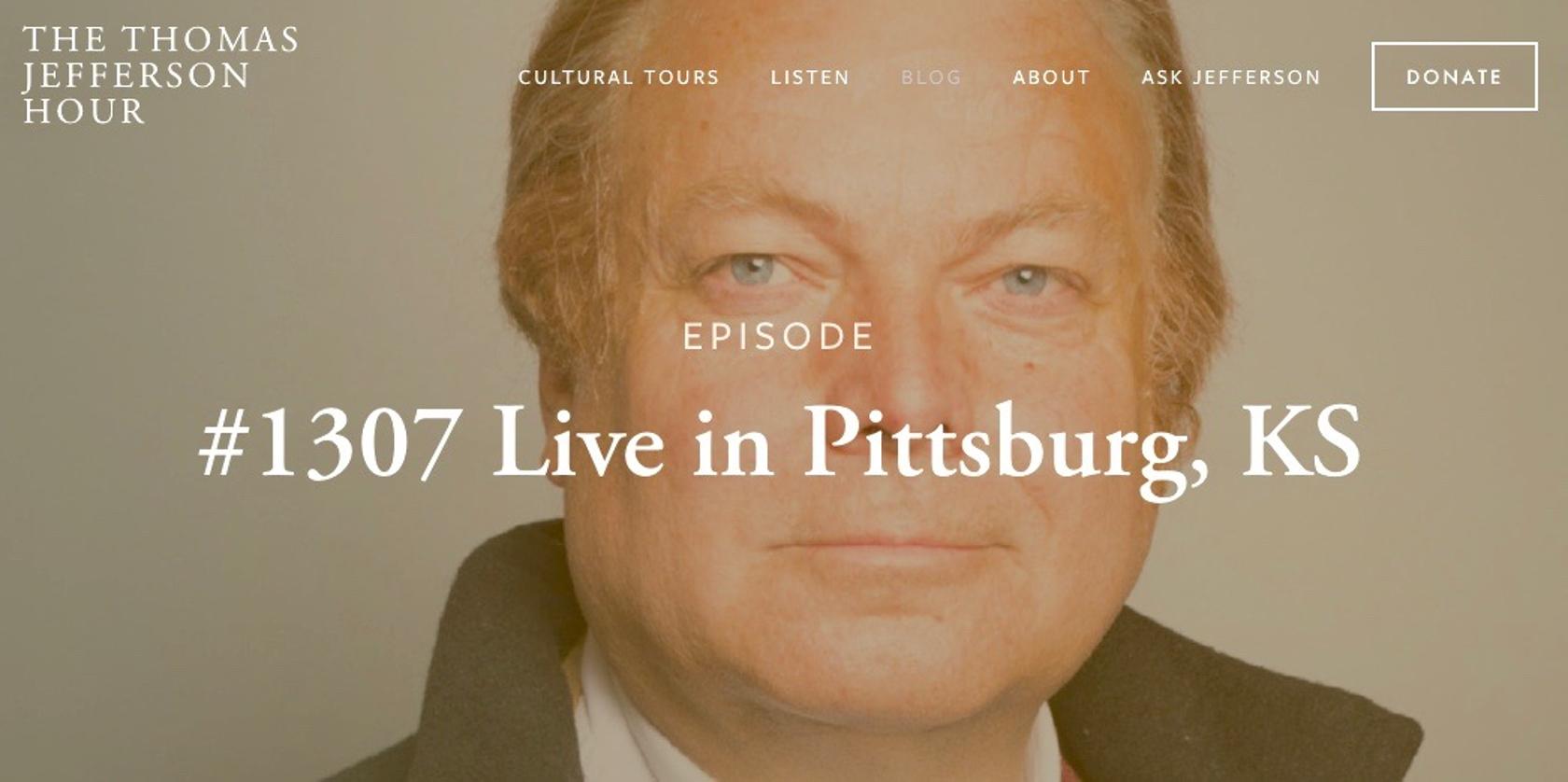 President Thomas Jefferson had great things to say recently about Pittsburg State University and, in particular, the Bicknell Family Center for the Arts and KRPS 89.9 radio. 
Or rather, nationally-acclaimed humanities scholar and first-person interpreter Clay Jenkinson, who portrays Thomas Jefferson on a syndicated radio show that airs coast-to-coast, had great things to say. 
Jenkinson's show, called "The Thomas Jefferson Hour," can be heard each Saturday at 3 p.m. on National Public Radio affiliates, having typically been recorded and produced in Bismark, North Dakota.  
This Saturday, a live version of the show that was recorded in front of an audience of 500 at the Bicknell Center last month, and was hosted by KRPS Program Director Dustin Treiber, will air nationally. It focuses the Louisiana Purchase, and was edited for length.  
The episode also can be heard in its entirety — an unusually long episode, at 90 minutes — online at https://jeffersonhour.com/blog/1307. It begins with Jenkinson gushing to his usual on-air host, David Swenson, about PSU, the Bicknell Center, and the audience. 
"I go all over and I perform in all sorts of places and I'm always happy in a small theatre or a ramshackle old proscenium theatre, a town hall in Seattle — every sort of venue that you can imagine, so I didn't have very high expectations because I thought, 'an auditorium is an auditorium.' They take me there (to the Bicknell), and it is this world class, gleaming, aluminum and glass place..." 
Jenkinson said it "was so much fun to be on that stage, and to look out — and I thought, 'Well, it's a tiny place in Southeastern Kansas, so a couple hundred people might come, maybe. There were 500 people. The energy – you can feel it – the energy they gave to me..." 
Swenson then noted that, "as an audio guy, the recording of the performance they sent us to broadcast this week was just pristine — one of the best ever." 
Bicknell Center Director Joe Firman noted that the Bicknell Center broadcast team, led by producer Jon Eastman, is comprised of students. It includes director Lydia Crownover, audio director Zach Pagel, technical director Elly Swartz, and camera operator Zane Hull.  
Likewise, the facility operations team who helped make it possible, led by event manager Alex Wiedemann, technical and client services coordinated by Nicole Corcoran, is comprised of students. It includes team leaders Sarah Potter and Sam Ortiz, and crew members Cleofas Moreno, Simret Guade, and Daulton Edwards. 
Firman also credited KRPS General Manager Tim Metcalf as a valuable partner in the project. 
"The show was a great success, and Mr. Jenkinson (who portrayed Jefferson) clearly loved the facility, working with our students and staff, and visiting the community," Firman said. "He would like to come back and commended us on our work to connect the facility to Public Radio."  
The video of the event will air soon on Caps 13, or Cable Access Pitt State, a student-produced cable TV station under the direction of the Department of Communication.