Outstanding Alumni: Maggie Fleming, College of Arts & Sciences
  Friday, October 19, 2018 4:00 PM
  Alumni, News, People and Society
Pittsburg, KS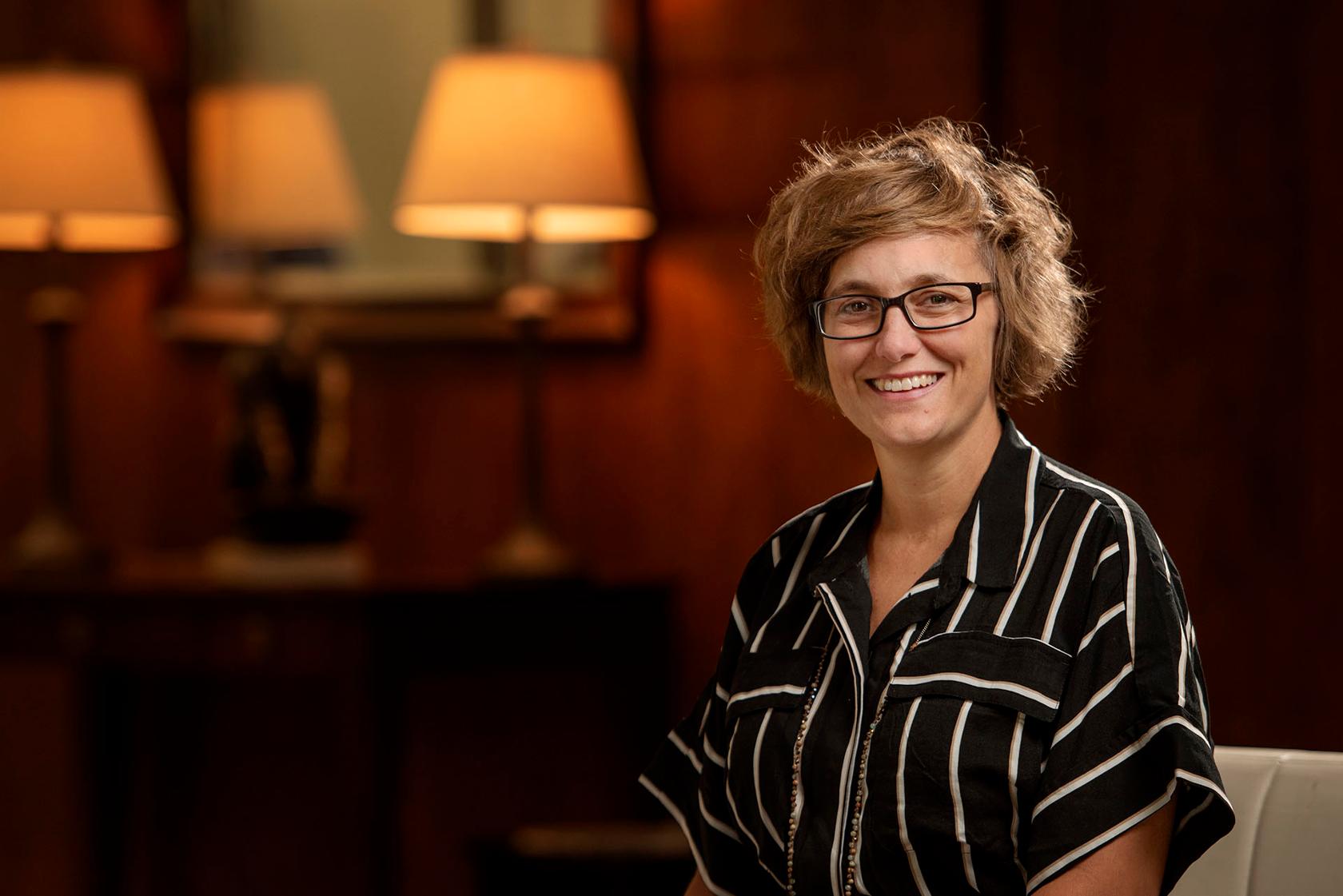 Maggie Fleming was a three-season athlete from childhood until her last university track meet.
But after earning her bachelor's degree from Pittsburg State in May 2001, she hung up her cleats and began traveling the world in search of the right fit for a career.
"I was always intrigued to get out and see beyond the world that I knew," said Fleming, who grew up in Southeast Kansas. "And service work appealed to me."
The years that followed her experience here would see her working in the Peace Corps as a community health and AIDS prevention volunteer stationed in Togo, West Africa; working for the Swiss National Governmental Organization (NGO) Medair in remote areas of the Democratic Republic of Congo that could only be reached by plane; and completing an internship in the then-U.S. Senator Sam Brownback's office on his Human Rights Caucus.
Today, she's being recognized for her accomplishments in her career as one of three Dr. Kenneth K Bateman Outstanding Alumni Award winners,which will be presented during a public reception at the Alumni Center. While on campus, Fleming spent time visiting with students, potential donors, and others about her experience here.
Graduate courses at PSU prepared her for a master's program in African studies from the University of Edinburgh, in Edinburgh, Scotland. Her research focused on gender-based violence in war-torn countries, earning her degree in 2005.
She began her career with the International Rescue Committee (IRC) in late 2009 as a Policy and Advocacy Officer for their Washington, D.C., office. The non-governmental humanitarian organization based in New York City, works with refugees and internally displaced people in 40 countries and 22 cities across the U.S.
In 2012, she moved to South Sudan where she lived for the next 18 months, overseeing health and gender-based violence activities in two locations, and later opened a new refugee camp on the border of Sudan, where her primary home was a mud hut.
In 2013, she joined the IRC's External Emergency Roster, where she would deploy to a new crisis every three months. Over the next two years, she spent time in Iraq, Syria, Myanmar, Lebanon, Jordan, Central African Republic and northeastern Nigeria. 
In 2015, she would go on to become Senior Disaster Operations Specialist with the Office of U.S. Foreign Disaster Assistance within USAID, but returned to IRC in late 2015 to take on the role of Deputy Director of Emergency Response.
Fleming said that what she learned in classes like Intercultural Communications, taught by Professor Cynthia Allan in the PSU Department of Communication, still is useful today.
"When you're directly supervising seven people and managing a team of close to 50 people that ranges across multiple cultures, you use communication strategies that go beyond just words," she said. "That class gave me a great foundation."
She also leans on what she learned from Professor Steve Harmon in the Department of History, Philosophy, and Social Sciences, when it comes to how foreign governments work and treat each other.
These days she deploys overseas less, but still manages teams on the frontlines of outbreaks and crises. Her current primary focus: an Ebola outbreak in the eastern Democratic Republic of Congo.
She is, however, excited to return to Pittsburg with her 6-month old daughter and to be on campus for Homecoming festivities.
"I love my work and where I am able to go, but this is and will always be home," she said.
Fleming also will be honored during the Homecoming Parade on Saturday and will attend the football game in the President's skybox. 
Also being honored as Outstanding Alumni are Steve Sikorski from the College of Technology and Marcella Phelps from Kelce College of Business.